Terrelle Pryor continues his NFL sojourn in next week's OTAs.
The funny thing is, Terrelle Pryor says, he doesn't usually dream. But there have been a couple every year for the past few years where he's quarterbacked three Super Bowl titles. In the dream, there is no logo. No, no memorabilia. Just football.
"I don't know the team. It's always in black uniforms," Pryor is saying during lunch this week. "I didn't see any orange. No, it's not the Raiders. But I believe it can happen because I can visualize it like that. I'm into visualization."
Hue Jackson can see him, too. He has seen him for the last week at the Bengals voluntary workouts and the man who rescued Pryor four years ago amid scandal and purgatory has seen vast change.
"At some point in time,' Jackson says, "life rewards you for the hard times and hopefully some day he'll find his reward. He's responded. He's here early. He stays late. He does everything you would want someone to do…He's more mature. He's come here from three different places and after a while when you're getting your butt kicked, you want it to end, and you're doing everything you can to put yourself in the best possible light with your teammates."
Pryor's almost torturous four-year journey to try and transform himself from college athlete to NFL quarterback takes another twist Tuesday when the Bengals open their set of nine spring practices at Paul Brown Stadium as he returns to the state he once dominated.
He has a thing about the Super Bowl. His five-year ban from the Ohio State program ends next year, but he says he won't go to Columbus until his team wins it.
"Win a Super Bowl first and go back. That's probably the only time I'll go back," Pryor says. "Even if I win it when I'm 32. Whatever road I've got to take from here to get to that point."
Jackson, then head coach of the Oakland Raiders, coached Pryor for exactly one day before the NFL suspended him for the first five games of his NFL career for his college infractions. So he had to dispatch him to the side because he could not only play, but not practice.
It is as if Pryor is now making up for lost time. Jackson, now the Bengals offensive coordinator, finds him at times in his office first thing in the morning waiting for him.
"I tell him, 'Hey, you gotta get out of here. I got a meeting," Jackson says. "I have to throw him out."
The man who is dreaming of winning three Super Bowls is wearing No. 3 for the Bengals, his third team in eight months. The No. 2 he wore to glory and infamy for the Buckeyes is taken by kicker Mike Nugent of The Ohio State  
After not being with an NFL team during the 2014 season following three years with Oakland, Pryor turns 26 next month anxious to show the world that he can be an NFL quarterback and not merely a breathtaking athletic specimen at 6-6, 240 pounds with 40-yard jets.
Has it been four years now? Four years on May 30 when one of college football's kings, Jim Tressel, abdicated as Ohio State head coach in the wake of a memorabilia scandal with Pryor at its center? Has it been four years now since June 7, when Pryor's senior year was wiped out because, he says, he sold some items for $5,000 to help his mother heat her apartment?
"I've got more knowledge now.  More wisdom from God.  Cut people out who I shouldn't be around. That has a lot to do with success,' Pryor says. "I think absolutely I learned that. A lot of times they don't have to be bad people. Drug dealers or something crazy. It could not be bad people, just negative people. All they have is a negative thought."
Pryor is going through the lunch line, but getting a healthy helping of Face Time on his phone. His call back to the Pittsburgh area where he grew up has stirred Terrelle Pryor II from a nap. The 10-month old has a curly mop and is cute enough to give Steph Curry's daughter a run in the media darling department.
"Take a look at him He's big. He's been walking for a couple of months. If you didn't know, you'd say he was two. He's a big dude," says Pryor before he coos into the phone. "I love you. Daddy loves you."
Pryor had no such man in his life. He says his father left about the time he was six and while there was reconciliation, it was cut short nearly three years ago when his 44-year-old father died of a nerve disorder. He admits not having a father growing up can "mess you up," and he says there could be something to the theory that the lack of a father has drawn him to men like Jackson and Tressel.
"Maybe,' Pryor says. "Sometimes in the morning I'll go sit in Hue's office. It's just the presence. I like being around people I like. If I can learn just one thing from them every day…."
Even though Pryor is seen as one of the players that undid Tressel's brilliant career at Ohio State, they talk fairly often. Now the president of Youngstown State, Tressel last talked to Pryor after his tryout at last weekend's Bengals rookie minicamp. Pryor sent him a video and while Tressel has been known to give him a few tips, this time he just told him he looked good.
And when they hang up, Tressel makes sure he tells him, "I love you."
"That says a lot. He stands by you," Pryor says. "He still preaches to me. He can talk about anything. We'll talk 30-35 minutes. We catch up. We'll talk about life's decisions. 'Did you see this happen?'"
Did you see what happened when Texas A&M quarterback Johnny Manziel didn't even get a full game suspension back in 2012, a year after Pryor got basically the death penalty for also cashing in on selling memorabilia? Pryor got an NCAA suspension long enough that it chased him out of Ohio State his senior year and then came the unprecedented five-game suspension to start his NFL career.
When the Manziel decision came down, Pryor didn't rip it and told SI.com, "I was young when I made that mistake, and if I could have it back, I'd go a different route and make better decisions. It was a poor choice when I made it, but all I can speak on is myself. It was just setting forth that in terms of the NCAA, you have to do everything right."   
It has been three years and there has been time to think. And not just for him. A year ago former NCAA investigator Tim Nevius, according to Cleveland.com, thought the underlying rules Pryor and other Buckeyes violated that were the catalyst of the investigation were "silly."
"Compared to a lot of stuff that's going on out there nowadays…Stuff Manziel got away with…Worse. Worse," Pryor says.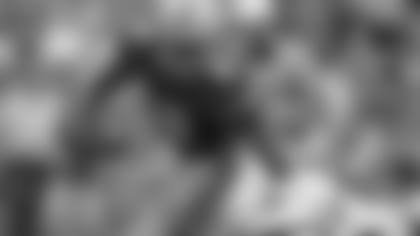 Terrelle Pryor back in the day.
He has since bought his mother a home near where he grew up in Jeannette, Pa., on the outskirts of Pittsburgh, but back then she lived with his younger sister in a two-bedroom apartment.  She was behind on the rent, a couple of months, he recalls, and the only heat was coming through the oven. He needed to get her money and he remembers the amount as $5,000.
 "I did sell a couple of things. The reason why I did it was because my mom called me and said it was freezing outside…I said forget it. I'm going to sell this stuff. She needs to get this money. So I sold some of my stuff thinking if I ever got in trouble, you'd think they'd have a kindness of heart that he did this for his mom," Pryor says. "A good story instead of a bad story. I would probably make the same choice…I wanted to make sure they were fine."
 Pryor realizes a rule had been broken. But he is now on his fourth team since that summer he came out in the supplemental draft when Jackson and Raiders owner Al Davis tapped him in the third round. He is still fighting for his NFL life and he wonders about those five games he lost at the beginning.
"I understand there are rules and you have to abide by them," Pryor says. "In my mind, I was thinking these people should have some type of heart (and) say, 'That's the kindest thing ever.' Rather than... 'Suspend him for seven to eight games. Don't let him back on campus for five years. And get in the league and get suspended for (five) games.'  What? Come on man…Where is the fairness?"
One day, Jackson's project arrived in Oakland. The next day, he was on the sidelines.
"It was hard. He worked with somebody individually on the side trying to stay abreast with what we were doing," Jackson says. "And that's not advantageous for a young guy coming out of Ohio State who hadn't been in a real pro system and trying to learn it and how to play in the National Football League. That's tough. But those are the rules and that's what he had to deal with and he has dealt with it."
Pryor has responded by saddling up for work and not getting on a soap box. He is just off his third visit with quarterback doctor Tom House at USC. He impressed the Bengals coaches with his leadership and command of the offense in the rookie minicamp and Jackson liked the way he improved daily with his mechanics.
He has been all over the facility and is already a staple in the equipment room of Jeff Brickner and Adam Knollman. After the night meetings at rookie camp, Pryor could be seen at 11 p.m. on the turf field throwing a baseball against the wall working on his release. After one workout he thanked center Russell Bodine for snapping the ball to him in some extra work and he detailed how he stayed late on the field helping a linebacker break on the ball.
"He seems really down to earth," Nugent says. "Just a good dude. I like him a lot."
Pryor is a happy man. If there is bitterness, time is nibbling it away.  He says when he goes home, Terrelle II smiles, yells, and comes after him to play.
"If you don't have God in your life, I don't think I can be in your life. That's how I look at it," Pryor says. "There's no way possible with the stuff I've gone through, the politics I've had to deal with on some of the other teams I've been with, never getting opportunities, there's no (other) way I could handle that with a smile and work harder…I've been going through so many issues, I'm thinking I need something to get past it. A lot of it was hanging on me. it was draining me. Now every single day, I smile…I'm a joyful person."
Pryor can't have anything to do with the Ohio State program for five years, the team he kept alive for three years, juking and chucking and sprinting to a 31-4 ride that claimed a Rose Bowl and a Sugar Bowl. He watches and he would love to talk to head coach Urban Meyer and who ever might be playing quarterback.
"I follow them very strictly" Pryor says. "I cheer for Urban a lot. I cheer for any quarterback there.  I have so much info now, I wish I could talk to those guys, and get them to really understand. I understand the quarterback position. I watch a lot of film. I haven't had a whole lot of experience in the NFL yet. But it's coming."
He says he's got three credits left for a degree. One day he would like to get his OSU degree.
"I want my son to see that I got a college degree," he says.
But the biggest thing for him now is that post-graduate Crash Course now accelerating into its fifth season. Pryor told Jackson the other day that he's learned more in a week here than he has in all his years bouncing around the league. On this day, the one new thing he learned came from one of the huddles in the office.
Pryor recites the play, something along the lines of, "Double right 2 Jet all go Puma Alert."
"We hadn't gone over it yet," Pryor says, "but I wanted to know how to get from that play to another one."
He hopes that's about right. Now that he's back in the land of the Buckeyes, it sounds like he's checked off and is into the next play.