It's been a tough year for Billy Price. Make that was a tough year. With a June wedding in the works and the impending marriage of Zac Taylor's new offense and running back Joe Mixon, the Bengals sophomore center is happily walking down the aisle into the new season.
"This is a huge year for myself. Just staying healthy and having more consistent play," said Price Thursday when told this seems to be the best he's felt since he's been a pro. "I would absolutely 100 percent agree with that statement.
"Had no issues with the pec. Had no issues with the foot. We've been cutting. We've been squatting. We've been pressing, exploding, doing everything we have normally done in the past offseasons. Things have been good."
When the Bengals gather Tuesday to start Taylor's first off-season program, it's a good time for Price to take stock of a year that began when the franchise made him their first-round pick even though he tore his pectoral muscle two months earlier at the NFL scouting combine. That prevented him from practicing until preseason and before he could get his sea legs they got ripped out from underneath him in the 19th snap of the second game with a foot injury that cost him two more months.
"It's been crazy," Price said. "Quite a roller coaster if I look back to last year at this time to where I am today."
Price likes where he is finally even though the Bengals changed the offense and the line scheme for the second straight year. Taylor went with an offensive line coach that's been with him during three previous stops in Jim Turner. He likes their first moves up front when they decided to pretty much keep the line intact with the re-signing of right tackle Bobby Hart's athleticism and sixth man Trey Hopkins' ability to back up all three inside spots.
Throw in new right guard John Miller and his 46 starts during four seasons with the prolific-rushing Bills and Price is thinking about the late run to help Mixon win the AFC rushing title that allowed the Bengals to post their best yards per rush (4.7) in the 18 years since Corey Dillon broke Walter Payton's single-game rushing record on 22 carries.
"Toward the end we were starting to really click. When we played Pittsburgh the communication was awesome," Price said of the finale at Heinz Field. "Having another year, having the guys together, playing the AFC North defenses and then playing them again, we'll just blow the dust off a little bit and we'll remember where we were … Having the best yards per carry in years, that comes with a lot of continuity, the chemistry with us in the room and Joe's production. We're just looking to build on that in Coach Taylor s offense coming in. It's going to be explosive, physical and we're going to go after it."
Now, Price hasn't seen any playbooks and hasn't talked any ball with the coaches. Outside of a how-you-doing-I'm-Billy-Price intro with Turner, there has been basically no talks with coaches because it is frowned upon by the collective bargaining agreement. But Price has seen some flickering of film from Taylor's Rams of last season.
"You see that explosiveness," Price said. "(Running backs) Todd Gurley and C.J. Anderson in the backfield. I know the guys would be happy in Cincinnati to do that, plus some. Just get everybody healthy and more consistent on offense and we'll be good to go."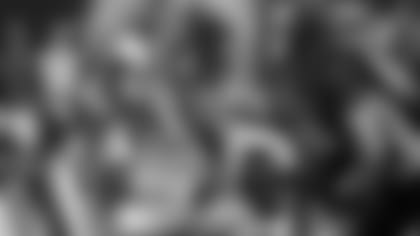 That's Price's watchword. When he visited Paul Brown Stadium this week before heading back to Youngstown for more wedding plans, he chatted with quarterback Andy Dalton how this had been his most restful and healthiest offseason in about six years, or before he went to Ohio State to play in a Buckeye-record 55 straight games. He had time to take stock of his game and he kept coming back to it.
This is why they made Price their first pick, besides the talent, of course. Bright. Accountable. Competitive. Willing to say it. Even more willing to own it.
 "It's going to be hard to assess based on last year just because the playbook is going to be changing. The offense is going to be different," Price said. "But I do think the thing you can assess is consistency. Make sure I'm on the same page with my guys. You can't have those lapses in communication and that goes back on me. I'm the young guy in the room and I have to put that accountability on myself to make sure I'm focused in on everything that's going on and not shutting my ears off as the play starts to develop."
It's all new. After his tough year, Price will gladly take it.
"They've made changes from head to toe," Price said. "Anytime you do that, you create opportunity. It's a new team, it's a new day in Cincinnati. It may be cliché, but it's the perfect message."