KANSAS CITY - Joe Burrow looked loose as he warmed up for Sunday's AFC title game against the two-time champ Chiefs, whipping long-sleeved clotheslines to analytics guru Sam Francis in Arrowhead Stadium's freeze-dried sun of 40 degrees.
Boomer Esiason, no longer the last quarterback to lead the Bengals to a conference championship, certainly was loose.
Esiason, on the sidelines near the set for NFL Today on CBS, spun out of the way when Francis couldn't snag a high one and the ball took a bounce.
"Hey kid. What's going on out there?" yelled Esiason to Burrow with a wide smile. "Giving me a black eye for TV?"
Burrow is used to studios on the field and extra cameras and teeming security. He's 5-0 in the postseason, including that 3-0 run to LSU's national title two years ago. As he revealed last week while prepping for his rematch with Chiefs quarterback Patrick Mahomes, it would be hard any other way.
"I work really hard for these moments," Burrow said. "If I worked really hard and never got to a position I'm in right now, playing in the AFC Championship game and a chance to go to the Super Bowl, I think that would be tough for me mentally to work as hard as I do each week in the offseason to come in and go .500 every year and be a fringe playoff team. I work so hard so I can get in these moments and play well."
Burrow is hot, but what about Mahomes? No quarterback has had a better first 10 postseason games than Mahomes. He's 8-2 with both losses to Tom Brady. Brady beat Mahomes and the Chiefs in overtime in the 2018 AFC Championship. That's his only postseason loss in Arrowhead and he's looking to go to 7-1 Sunday. The Bengals gave the Chiefs their only loss since Nov. 1 with Burrow throwing four touchdowns and 446 yards in the middle of this 11 TD-one-pick run in his last five games.
But he's coming off a nine-sack game in Tennessee and he's trying to walk the line between holding the ball long enough to create plays without taking dangerous sacks for player safety and ball security. He says two of his sacks against the Titans were because he didn't get rid of it.
"I just try to give my team the best chance to win, try to make plays out there," Burrow said. "Throw the ball away when I feel like the ball needs to be thrown away and I try to extend the play when I feel like I have an opportunity to do so. It just depends on the situation. I'm not scared to take hits but obviously the lesson is the less you can take the better for your career.
"I just get up and play the next play. That's what football is."
Burrow says he's not trying to send a message by taking shots. But he knows quarterbacks have to act a certain way.
"I think as a quarterback it's important to be an extension of the coaching staff, to the media and within the locker room," Burrow said. "Just to portray the message that a head coach wants to portray throughout the team," Burrow said.
He drew praise for speaking Friday night before the game in Tennessee when head coach Zac Taylor asked the captains to talk. But that's not going to happen every day.
"I don't always have something to say but when I feel like I have something worth hearing I try to speak up and say my piece," Burrow said. "If you start to say too much, guys kind of tune you out. So I try to pick my spots here and there to really have a message not every day but maybe once or twice a week."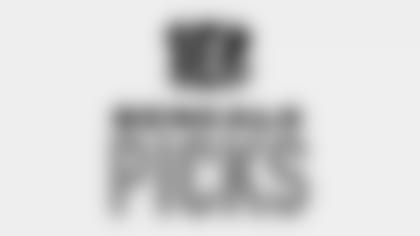 Bengals Picks, presented by OHIO Lottery
Play Bengals Picks every week for a chance to win prizes. Predict individual and team outcomes and compete against other Bengals fans for a chance to take home the prize, and the bragging rights!
INACTIVES: Backup defensive lineman Josh Tupou (knee) just couldn't make it after playing only five snaps against the Titans and then not practicing this week. Another tough loss is rookie defensive lineman Cam Sample (hamstring) when he got hurt playing well in Tennessee.
That means two players added from other practice squads in the last ten days are going to play. Damion Square, who plays all the spots, got here Wednesday and tackle Zach Kerr, who took 12 snaps against the Titans. Square just got here after playing 21 snaps for the Raiders in the Bengals Wild Card win two weeks ago and, according to Elias, is poised to become the first man ever to play in a postseason for a team that he played against in the same postseason.
Also inactive were wide receivers Stanley Morgan, Jr., and Trenton Irwin, running back Trayveon Williams, cornerback Vernon Hargreaves III and offensive tackle Fred Johnson.