The Boys of '81 convened for a reception and dinner before they were honored at Thursday night's Bengals-Jaguars game for taking Cincinnati to its first AFC championship game.
And a Lady of Super Bowl XVI.
Probably as bubby as she was that night in the letter jacket fall of 1964 when she walked her future husband of 51 years off the field after a Union Academy football game in their hometown of Bartow, Fla. It was Barbara Riley's first date with Kenny and as she greeted his old teammates all these years later he was still making her smile.
It may have been Eddie Edwards, still the gregarious sack master, who was telling her that when they would be cussing out each other on the field, Kenny Riley, the quiet schoolteacher captain, would approach them to smooth things out.
"It's because you guys are doing it wrong," Barbara Riley said and then he would tell them what to do.
Barbara Riley and son Ken Riley II were here to do what Kenny couldn't. He's been gone for almost a year-and-a-half and along with Kenny II's sons and his sisters, they were going to usher him into the Bengals' inaugural Ring of Honor class at halftime in a ceremony with Anthony Munoz, Ken Anderson and the great grand-daughters of his old coach Paul Brown. Mrs. Riley came decked out in a blue jean jacket that had her husband's No. 13 above a pocket and spread across the back his name and the years he played the most Bengals games in history with 207, 1969-83. She topped it off with a white Who Dey ball cap complete with "Riley," on the side.
The unassuming Kenny Riley never would have worn such a jacket or lid, but they fit his widow just fine. She agreed with her son.
"He was so quiet, you never knew was the big man on campus," Mrs. Riley said.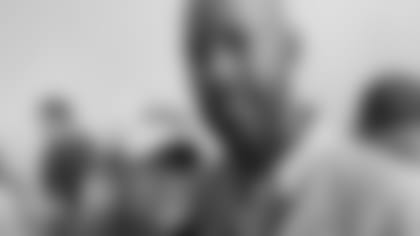 Somehow Reggie Williams, the only man to start a Super Bowl while serving on city council, got a hold of one of those team pictures in which the photographer must have said do anything you want because there were some curious poses. Munoz had his back and massive No. 78 to the camera while Williams flexed a bicep.
"Have to show off the guns," Williams said. "There's Kenny. Always serious."
Riley allowed only a big smile in the picture, but that was the order of the day. There were Kenny Riley smiles all around as they reminisced about that first Super Bowl team.
Kicker Jim Breech, the all-time leading scorer, grabbed cornerback Louis Breeden and showed him to a passerby. "Great. Not good. Great baseball player," said Breech and Munoz, the old USC pitcher/third baseman allowed, "I can't throw a ball from here to there."
Cackling Eddie Edwards, wearing a No. 73 Edwards Bengals T-shirt, had everyone laughing as usual and one of his topics was how he still is the Bengals all-time sack leader now that Carlos Dunlap is gone, one shy of his record 83.5 and he was wondering who he did have to worry about now.
"Nobody yet," he was told. "If someone gets close, they'll trade him.
"I hope I'm safe for about ten more years," Edwards said. "Dunlap had me worried. If he got one ahead of me, I would have come and come off the edge on one third and-10."
Svelte and trim Isaac Curtis, the prototype of the 21st century wide receiver, looks like he's got a go pattern left him.
"No way," Curtis said. "Maybe a hitch."
Williams' eyes swept the room.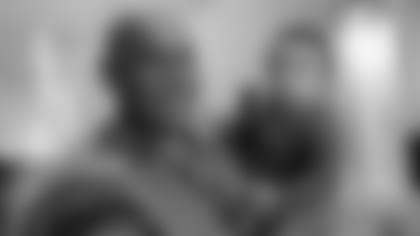 "Some guys have aged well like Isaac Curtis," Williams said. "And some guys have not aged so well."
That's the kind of chemistry Curtis says helped the '81 Bengals win. He could chat easily with the Throwin' Samoan even though Jack Thompson had just flown in from Seattle and was seeing everybody for the first time in 40 years. And then he could turn and talk to Breeden, his closest friend on the team still and 40 years later they still run a foundation giving scholarship money to needy students.
"We were a close-knit team on and off the field, "Curtis said. "After games or practice, we'd go out, hang together. Offense and defense. It didn't matter."
Leave it to Williams, the poet laureate of that team, to sum it up. This is how much that team meant to him. He made the event a four-generation reunion. He invited his 86-year-old mother Julia to meet her great grandson Ezekiel on his nine-month birthday. The son of his son Kellen. Named after his godfather Kellen Winslow.
"It's great to get the opportunity to renew the soul of combat with your fellow warriors for one more time in your life," Williams said.
Then he scooped up Ezekiel for his second photo of the day. He's already in one with a football Williams picked up at the Bengals Pro Shop commemorating Super Bowl XVI. A four generation shot.
"The first Super Bowl," Williams. "That's a special team."
INACTIVES: No surprises when Bengals head coach Zac Taylor rolled out the inactive list. No free safety Jessie Bates III for the first time in his career, no wide receiver Tee Higgins for the second straight game, no cornerback Chidobe Awuzie and no right guard Xavier Su'a-Filo again to give rookie Jackson Carman his second straight start.
Also out was tackle Fred Johnson and defensive tackle Tyler Shelvin.
With third safety Ricardo Allen out, five-year special teams maven Brandon Wilson could get his third NFL start. Practice squad safety Trayvon Henderson has been activated to play his ninth game in four seasons. They could also toy with moving some cornerbacks to safety, too.