STOP AT THE NEIGHBORHOOD BAR
After the game Bengals head coach Zac Taylor gave a game ball to the city of Cincinnati. Then he delivered one personally to the Mount Lookout Tavern on his way home. It's a move he's been thinking about ever since he became coach three years ago.
Taylor:"I drive by one bar in particular … every day for the last three years and Thursday night, Friday night, Saturday night, Sunday night I always see people in there with Bengals gear. That's kind of the time when I drive home from work or drive into work where I think those big picture things and something I had on my mind for a long time to do. It worked out to where we had that opportunity to do that last night."
Free safety Jessie Bates III: "I think it says a lot about what our team is about, starting with our head coach. Zac could have easily took all the credit. He could have gave all the game balls to the guys inside that locker room  … He could have just went home to his kids. Two weeks ago he is going to an AAU basketball game to watch his son play after a big win. This time he is going out to a bar. Just a lot of respect for him. It just says a lot about how special this team is."
Coaches called the plays and the players executed them, but both praised the Paul Brown Stadium record crowd of 66,277.
Offensive tackle Jonah Williams:"It was incredible. The fans' energy the entire game was wild. I've never heard the stadium get that loud, I haven't heard a lot of stadiums ever get that loud. I think we fed off that energy as a team and we really appreciate that support.
"When Germaine (Pratt) got the big pick, and the offense came out on the field to kneel it away, seeing the fans going wild in the stands, it meant a lot to us. As a team we just felt proud (we were) able to deliver that game to the city."
Taylor: "Awesome. Really awesome. Without even maybe knowing it, in some situations because (the Raiders) had the false start … they also had a lot of play clocks that went down to zero and a half … It stresses an offense when you're coming down to that last second. There was a moment there I was going to call a timeout on that last drive but you could just see the communication that they were struggling with because the stadium was so loud where I thought 'Hey, they're stressed right now, we're not going to bail them out with a timeout here'."
"Even moments like that the fans may not realize, impacted, me not calling a timeout and let our defense have an advantage because the crowd was so loud."
Defensive coordinator Lou Anarumo: "As loud as it was last night, it makes it hard on the defensive players. In a lot of ways it helps obviously because it gets the offense but, we can't communicate as well because of it being so loud."
The Bengals' defensive line rotation, particularly at tackle, took a huge hit Saturday night.
Taylor: "(Tackle) Larry (Ogunjobi) has a foot injury. We'll keep assessing that over the next 24 hours to determine what the severity is there. (Tackle) Mike Daniels (groin) is not looking like he'll be back. Right end Trey (Hendrickson) is in concussion protocol."
"(Concussion protocol is) really a daily thing. The process will start on Tuesday. It has to get him clear, then he's got to do physical activities and then get back to contact practice. There's certainly enough time in a week to get that done if he's feeling up to it and can clear day-to-day."
Hendrickson came by way of free agency this offseason and set the single-season franchise sack record with 14. Ogunjobi also came in through free agency and has been a starter alongside defensive tackle D.J. Reader. He had seven sacks and picked up the fumble off Hendrickson's sack-strip early in Saturday night's win.
Daniels was a practice squad call-up for Saturday's game but suffered the groin injury prior to kickoff and played just one snap.
Defensive tackles Josh Tupou (knee) and Renell Wren (ankle) went down injured in Week 18 in the loss in Cleveland. 
Taylor:"I think there's a chance (for Tupou). It'll be hard to say until we get him on the field and get him moving around a little bit. But, I know he wants to and so we'll just have to play it day-to-day with him … (Wren) is a guy who's day-to-day as well so we'll have to assess that also."
Taylor said the Bengals are looking at maybe going outside the building to get another tackle.
Since the team's Nov. 14 bye week, the offensive line has had more continuity and they displayed their cohesion against one of the NFL's best defensive lines on Saturday. The offensive line only gave up two sacks, five quarterback hits and five tackles for loss to a defensive front featuring Pro Bowl-caliber players Yannick Ngakoue and Maxx Crosby on the edges. 
Williams: "We've grown together more. Thousands more hours of practice, studying, film, drills. All of those things, when you're playing a position like O-line where every detail is so crucial and the slightest mistake can wreck a game and doing it right is something that no one notices. You can do it right 70 times and wrong once and you just ruined the game, that's the ultimate challenge of playing O-line."
"The only way to get good at it is by doing it over and over and over again. We've had the opportunity to do it a lot more up to this point in the season and we're fortunate to have another week of practice here to keep on drilling it and try to even be better this weekend."
Taylor:"I think the culture is really impressive in (the offensive line) room, those guys work really well together. Their communication, I've been impressed especially these last couple of weeks. I think they did a great job for us yesterday … Not scoring touchdowns and kicking a couple field goals were really the only setbacks."
"We punted there in the third quarter, when we had a penalty on the jet sweep that kind of set us back. We had a sack on third down but aside from that I thought we moved the ball really well."
PLAYOFF PRAISE FROM FORMER BENGALS
Bengals from bygone eras were there in spirit. Seattle edger Carlos Dunlap, who had his record broken by Hendrickson, reached out to Bates. So did Arizona wide receiver A.J. Green. Green left this offseason with 649 catches and 9,430 yards both second in franchise history. Green is also a seven-time Pro Bowler.
Bates: "Having A.J. text us after the game. Text me, (Tyler) Boyd and Tee (Higgins) congratulating us says a lot."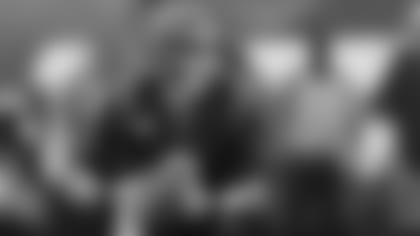 ANNOUNCING YOUR CINCINNATI BENGALS
The defensive starters were supposed to be announced on Saturday, but, defensive end Sam Hubbard led the movement to switch it to offense.
Bates: "Sam Hubbard was like 'No man, we need Joey B running out of that tunnel, we need Ja'Marr Chase running out of that tunnel' … We don't need all the lights and cameras on us, (we) would love to have (Chase, Burrow) and all those guys do that."
Taylor: "I think everyone understands, the impact of Joe Burrow running out of the tunnel last would have on a playoff game. Proud of our guys for understanding that, you never know how people are going to take that but, just good to see everyone was on board and I think it was the right thing to do."
Linebacker Germaine Pratt put the game on ice when he intercepted Raiders quarterback Derek Carr on fourth down from the 9 with 12 seconds left.  Pratt's takeaway fit his new nickname.
Bates: "It's Playoff P, that's what we call (Pratt) now … It's crazy, usually you give people nicknames, he gave himself that nickname before the week started. He said 'I'm Playoff P'. You go make that type of play, you can name yourself whatever the hell you want to."
Quarterback Joe Burrow has been lights out the last few weeks and the playoffs were no different. He was 24 of 34 for 244 yards and two touchdowns against the Raiders. The praise for 'Joey Franchise' continued to roll in from teammates and coaches. 
Williams: "I've always impressed with (Burrow) … He has great knowledge of scheme. We trust him to get us into the right play whether it's him having to decide between two plays called in the huddle or him checking to a different play at the line. We trust him with his adjustments and pretty much all the time he's right. It's awesome to have a guy like that behind you when you're on the line."
Taylor:"I haven't seen many defenses that surprise him. He's got the answer. I think the best play from yesterday, quite honestly, was the seam route to C.J. Uzomah, just because that's not (the Raiders) primary coverage. A secondary coverage for them that they don't major in all the time, so for him to recognize that they were getting to that and going to where that progression would lead you, was really impressive."
"Kind of shows you where he and C.J. are at a chemistry standpoint and where Joe is at from seeing 'Hey this isn't why we called the play, but I know this is a great answer versus that coverage look'. I thought that was an outstanding job by those two."