ORCHARD PARK, N.Y. _ Tyler Eifert caught his first pass since Sept. 14, 2017. John Ross scored his first touchdown since Dec. 2, 2016. Andy Dalton threw his first 50-plus touchdown to someone other than A.J. Green since Dec. 24, 2016.
After Sunday's fireworks at New Era Field in the 26-13 victory over the Bills, the Bengals' first offense put away its weapons until the Sept. 9 opener in Indy with the hope this diverse keg of yards can get them back to that 2015 season of offensive ease that is head coach Marvin Lewis' best out of 16 seasons at 12-4.
"I think we looked real good from here. We can only get better," said Ross after his stunning 57-yard touchdown catch woke up everybody on the first play.
Ross says he won't get too infatuated with that play and watch it every time Sports Center shows it. "It's really no big deal," he said and that's because he's still seething about dropping quarterback Andy Dalton's perfect third-down slant late in the first quarter. That would have been an almost certain 73-yard touchdown for a man who once ran the 40-yard dash so famously at 4.22 seconds. But it was also a perfect example of running before catching it. He wouldn't have even had to do what he did to get in the end zone the first time.
After hauling in the bomb from Dalton at the 10, Ross scattered cornerback Vontae Davis and safety Jordan Poyer like bowling pins without even touching them. He brought both to the ground with two lethal cuts, one one way and one the other way. All that was missing was a Three Stooges Whoo-Whoo soundtrack.
"He's so fast and quick. He spun like a top," Eifert said. "It's crazy how explosive he is. It was on display on that play."
Eifert and Ross played together just once in the 2017 regular season. Eifert's last game before he hurt his back for good was in the second game of the season on Sept. 14, which was Ross' debut when he played just five snaps after fumbling his first NFL touch. After seeing everyone lined up again on a day wide receiver A.J. Green caught a vintage 14-yard Green-Dalton TD on third-and-12 and wide receiver Tyler Boyd caught a vintage third-and three for a first down that got them a field goal, Ross was suitably impressed. Eifert caught his one ball for the day, an 11-yarder out of the slot, and a few plays later running back Joe Mixon went to the same place and, like, Eifert, went down the seam, this time for 23 yards.
"He draws so much attention," Ross said of Eifert, "and then when I draw attention he's wide open. He's just a big-play guy. Whenever he's in you have to hold your breath. He's going to make a play."
The Bengals' passing game was so good that while Dalton was sifting 11 of 16 for 180 yards and a 145.8 passer rating, the running game remained in sand. Mixon had two yards on four carries and running back Giovani Bernard nine yards on three carries. Still, if the running game is the biggest concern heading to Indy, the efficiency and diversity of Sunday's passing game had everyone dreaming.
"The Sky's the limit for this offense," Green said.
"We practice that every day," Eifert said. "We see the guys that we have. We've talked about it plenty. It's good to see it on the field. You have to translate what you work on in practice."
"We just have to play to our potential and I feel like we started the game how we wanted to," Dalton said. "I felt like we moved the ball and scored points and that's what happens on offense."
Dalton-to-Green represents how good this offense has been. Dalton-to-Ross represents how good this offense can be. If all the kinks can be worked out. Like dropped slants. Like negative runs.
"I mean there's a lot that went into that," Dalton said of the first play, scripted just for Ross. "I think just for us, take a shot with John and we knew that was going to be the first play. I said in the huddle it was going to be a touchdown. I said on the sidelines before the game it was going to be a touchdown. So I'm glad it happened that way … I mean everybody knows his speed and he can run. So we just put it out there and wanted him to make a play."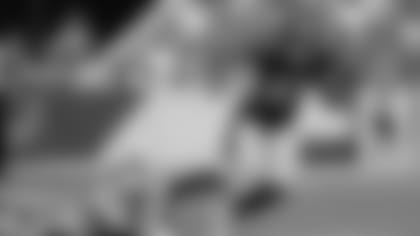 Lewis put a lot into getting the running game revived after the worst rushing season in franchise history. He hired a new offensive line coach and they tore up the scheme. After three games, Mixon is averaging 1.8 yards per carry and Bernard 3.1. Safety Clayton Fejedelem is still the second-leading rusher off his 49-yard fake punt in the opener nearly three weeks ago.
Heading into Indy, the line is still trying to get footing. Alex Redmond got the start at right guard Sunday and was part of the marvelous protection on the Ross play. He may be fast, but it took him time to ease into a stop-and-go route. But when Redmond false started and then held on the next series, they went back to Trey Hopkins.
But Lewis believes the running game is better than it looked and that the Bengals were able to do what the Bills let them.
"We are going to continue to take what the defense gives us and that's a nice job by our
quarterback," Lewis said. "A lot of those throws today are running plays and off run and so forth, we've got to continue to play football that way. We've got some things in the running game that we have to make sure we get better at, there's no doubt about it. That's all a part of NFL football. We have 11 guys out there are we have to attack them and use the guys as much as we can."
The line kept Dalton clean, he found six different receivers and the points were available. The offense may be more like Eifert, than anything. Just trying to get in sync. He says he should have caught one contested ball.
"I got some action and got banged around a lot. I feel good. I feel awesome," Eifert said. "(The offense) looks good. We just have to keep it rolling into the regular season. We're on the right track."