If the Bengals were looking for an epiphany on some of their roster battles in Thursday night's pre-season finale against the Colts at Paul Brown Stadium, there didn't seem to be any that made the decision-making process any easier.
That seemed to be the reaction Friday morning when they got back into the offices and moved on from 11 players. If anything, the 13-6 loss to the Colts made things even more complicated if the fears of rookie running back Rodney Anderson's knee injury are realized.
But then again, an NFL pre-season finale isn't exactly scientific, anyway. A total of 35 of what is expected to be their top positional players didn't play. Then there are 14 others that figure to make it that took some snaps Thursday. That's 49. So figure they've got four spots to iron out, either here or on the waiver wire. And the only one that may be active on Opening Day in Seattle nine days from now is the third running back behind Joe Mixon and Giovani Bernard.
Don't forget possible trades. Given how they're trying to find depth at linebacker and cornerback, Sunday could be as active as they've been in years on the waiver wire.
A final roster look before Sunday's final cut. (NFL years of experience in parenthesis.)
Andy Dalton (9), Jeff Driskel (4), Ryan Finley (R), Jake Dolegala (R).
Losing the last two games to a hamstring injury betrayed Driskel's chances to make the 53 as a Swiss army knife. The undrafted Dolegala has shown upside as big as his 6-7, 242-pound frame. He flashed the big arm early Thursday night, but he also showed he's coming out of a small college and needs to refine things, such as going through his progressions and his decision-making. But he's clearly shown he's worthy of a practice squad spot. Now the Bengals have to decide if there's a team out there that thinks he's worthy putting on their 53. With all their injuries up front, at wide receiver and running back, this may be the year to keep just two quarterbacks. But then again, maybe not.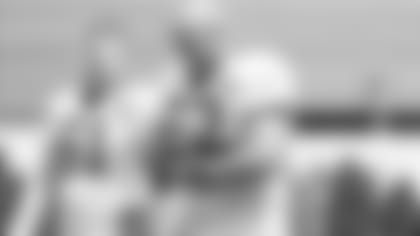 L-RT Andre Smith (11), G-T John Jerry (9), LT Cordy Glenn (8), RT Bobby Hart (5), RG John Miller (5), G-C Trey Hopkins (4), G Alex Redmond (4), C Billy Price (2), T Justin Evans (1), C Brad Lundblade (1), LT Jonah Williams (R), G-C Michael Jordan (R), O'Shea Dugas (R), G Keaton Sutherland (R).
It looks like they've got a solid eight, with Redmond coming back in a month after he serves an NFL suspension. Jerry is their kind of guy at guard, but he allowed two sacks at left tackle Thursday. He's not going anywhere, it would seem, but most teams keep nine O-linemen and they've got to decide if they have to go elsewhere to get more tackle depth. Especially with Glenn in concussion protocol. Williams looks headed to the physically unable to perform list (PUP) and out of the first six weeks of practice.
Friday was Redmond's last day at Paul Brown Stadium until Monday, Sept. 30 and head coach Zac Taylor made sure he talked to him.
"He's got to have a great plan in place for him for four weeks," Taylor said after Friday's practice. "I'm about to visit with him this afternoon to make sure we're on the same page with everything. That's league rules. We'll follow them."
A.J. Green (9), Tyler Boyd (4), Cody Core (4), Alex Erickson (4), John Ross III (3), Josh Malone (3), Auden Tate (2), Hunter Sharp (1), Ventell Bryant (R), Stanley Morgan (R), Damion Willis (R)
Wow. Have to keep seven, right? Green, Boyd, Ross, Erickson, Willis, Tate would seem to be set, right? That would appear to leave the two vets, Core and Malone, fighting for that last spot. Core is one of special teams coordinator Darrin Simmons' core guys, pardon the pun. And all he did was go out and lead the team in receiving and finished 12**th** in the league in the best preseason of his career catching the ball. And Malone didn't exactly throw away his chance with some nice catches and, maybe even better, his speed picked up a pass interference penalty and could have had another last week. He also threw in a 31-yard kick return.
On one hand you have Core's experience and expertise in the kick game. On the other you have Malone's speed on a team that desperately needs it with one speed guy (Green) looking like he's going to miss multiple games with his ankle injury and the other speed guy (Ross) with a tentative injury history. After those two, there are no scorchers.
Taylor is giving up nothing on Green's return because everyone is in a guessing game right now and that includes the doctors. He hasn't been on the rehab field or out of the boot and it's been a day shy of five weeks since Dayton.
"He continues to rehab to get back. I don't want to make statements or predictions about when he's going to come back. He's still working hard. There's been no change," said Taylor, who won't guess when he's boot-less. "I don't want to make that speculation. We approach each day as they come with him. We know it wasn't going to Week 1 of the season. We'll continue to let operate the pace, and then we'll talk about it every week."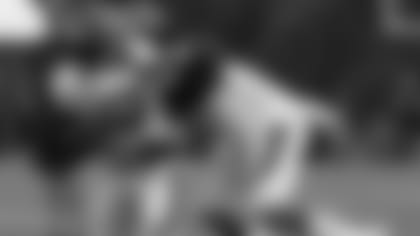 Giovani Bernard (7), Joe Mixon (3), Quinton Flowers (1), Trayveon Williams (R), Jordan Ellis (R), Rodney Anderson (R)
Sick-to-your stomach heartbreaking. Anderson is headed to season-ending injured reserve Saturday. When Williams (foot) got hurt two weeks ago, Taylor said he'd be out the first couple of games. On Friday he wouldn't go that far.
"Still take to him week-to-week right now," Taylor said. "Again, we'll continue to rehab him this week and approach it as we get to next week. Don't want to make any predictions."
But Williams was on the rehab field Friday and you certainly can't go into Seattle with just two healthy backs. Will they keep Ellis or Flowers, or go for someone with more experience on the waiver wire?
"Those guys all know the system. They got a lot of playing time in the preseason," Taylor said. "They've proven they know what to do. That's position, just like any other, where we've got to evaluate what's available and compare that with what we've got to make decisions in the next 48 hours."
Tyler Eifert (7), C.J. Uzomah (5), Mason Schreck (3), Cethan Carter (3), Jordan Franks (2), Moritz Bohringer (1), Drew Sample (R)
They've stayed healthy and if you can read the tea leaves (i.e. Thursday's snap counts and captains) it is Carter sticking as the fourth behind Eifert, Uzomah and Sample. Carter was one of the five captains and played just 10 snaps while Schreck (38) and Franks (34) did the heavy lifting. Bohringer goes to the practice squad as the roster-exempt 11th player.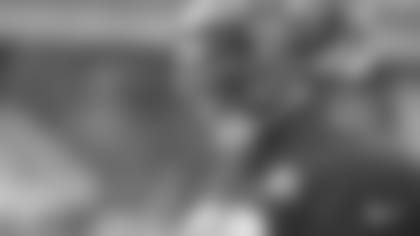 LE Carlos Dunlap (10), T Geno Atkins (10), E-T Kerry Wynn (6), NT Andrew Billings (4), E Jordan Willis (3), E Carl Lawson (3), DT Ryan Glasgow (3), NT Josh Tupou (3), RE Sam Hubbard (2), E Andrew Brown (1), T Renell Wren (R).
Toughest cut of Saturday. But maybe it doesn't have to be if you keep two quarterbacks, eight offensive linemen, five linebackers and nine defensive backs. But that would leave them with just three offensive tackles and five cornerbacks. That's a little light in some key positions. Ideally, they could trade one of the back-up guys. But why trade guys that can rush the passer? The big question could come down to, do they keep two back-up nose tackles in Tupou and Wren? Or does one have to go? Tough. Wren has too much size and upside to whack and Tupou has been one of their best players against the run. Thursday night seemed to solidify Willis and Brown, if they even needed it.
MLB Preston Brown (6), SAM Nick Vigil (4), WILL Jordan Evans (3), MLB Hardy Nickerson (3), WLB Malik Jefferson (2), WLB Germaine Pratt (R), SAM Deshaun Davis (R), MLB Noah Dawkins (R).
The young guys needed a big game, but the Colts converted nearly half of their third downs. The Bengals cut two rookies on Friday and Jefferson seems to be in a tough spot after not playing with a non-football injury. The guys they seem to be looking at are Davis (48 snaps) and Nickerson (43 snaps after being named a game captain). Davis responded with a team-high seven tackles and a pass defensed and Nickerson had four tackles. It looks like they've got four in Brown, Vigil, Evans and Pratt, but is the fifth guy here, or on the waiver wire? Keeping five backers allows you to keep a sixth corner, or a fifth safety like Henderson that can play nickel backer.
CB Dre Kirkpatrick (8), S Shawn Williams (7), CB Darqueze Dennard (6), CB B.W. Webb (6), CB William Jackson III (4), S Clayton Fejedelem (4), CB KeiVarae Russell (4), CB Tony McRae (3), S Brandon Wilson (3), S Trayvon Henderson (2), CB Darius Phillips (2), S Jessie Bates III (2), CB Davontae Harris (2), CB Anthony Chesley (R), CB Jordan Brown (R), S Tyree Kinnel (R).
Of course, the sixth corner may be Russell, but he didn't play at all in the preseason with an injury that appeared to keep him out of the finale. Phillips looked like he was the fifth corner even before his high-point interception and 72-yard punt return TD that got called back. It was called back on Henderson's illegal block in the back and that may be tough for him to overcome Harris was active with two tackles on defense and a forced fumble on special teams. He may have shown enough, but he'll be compared to waiver wire guys. And they'll have to make number judgments. Like is the ninth O-lineman better than the sixth corner? Dennard starts the season on the PUP list.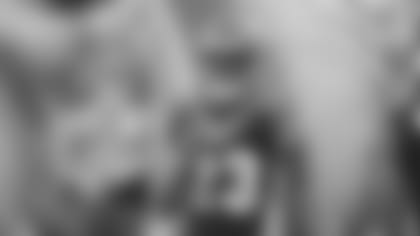 P Kevin Huber (11), LS Clark Harris (11), K Randy Bullock (8).
They go into together for the third straight opener. In Seattle, Huber plays his 159th game, moving out of a tie with linebacker Jim LeClair and into a tie with linebacker Glenn Cameron for the 15th most games played in club history. Harris plays his 153rd, moving out of a tie with lineman Robert Geathers for 18th most.