Marvin Lewis answered the call Tuesday at Withrow High School.
In her excitement at how decisively and well Bengals head coach Marvin Lewis answered her call on Tuesday during a 45-minute visit at the end of the day at Withrow High School, Katie Frankey thought of the ultimate in athletics.
"A hole in one," but the 10th grade English teacher immediately caught the mixed metaphor.
"Wrong sport," she acknowledged.
But her instincts cut right through a fairway that has not always been so easy to negotiate these days.
Even at storied Withrow on the eastern fringe of the Cincinnati Public Schools, where down through the years it has stood as an architectural gift as well as a local powerhouse yielding a diverse roster of alumni.
A Hollywood legend in Rosemary Clooney. One of the most powerful women CEOs at the turn of our century in Lifetime's Carole Black. A secretary of defense under President Dwight D. Eisenhower in Neil McElroy. A former NBA player and college head coach who was the first big school sleeper recruit for a young Syracuse assistant coach named Rick Pitino prowling Madison Road in Louis Orr.
Last month, after the campus got hit with a spray-paint hate crime of swastikas and racial slurs, Lewis is one of the first people Frankey thought of that could help a student body that is 98 percent minorities.
"I work with such amazing students and they were really shocked and surprised by it," Frankey said. "So their reaction to it inspired me to want to contact somebody who can shine light on them and let them see that they mean everything to this community and that they are worth caring about."
Even though Frankey comes from up the road in Columbus, she has been at Withrow for four years and that's long enough to know what Lewis means in Cincinnati. 
"I was thinking about a leader in the community," Frankey said. "He has a heart for kids in this community. Everything I've read about him ever since I've lived in Cincinnati has always been about 'How can I benefit the kids in the Cincinnati community?' He's always willing to help them. The worst that could happen is he can say no."
Lewis doesn't say no to kids. That's how you become a community icon for, well, the biggest applause from the assembly of about 250 students culled from the leadership position came when he ran through his resume and noted he was in his 15th year as head coach of the Bengals.
It may be the offseason. But the Bengals are still September big.
You don't become just the 11th head coach in NFL history to be with the same team for at least 15 straight seasons dwelling on the negative.  Speaking in an old school Lewis talked old school.
Don't let anyone label you. Don't let anyone limit you. The man whose father told him he had to work twice as hard to make it talked about hard work. The man whose father feared he would struggle to advance as a professional coach because of his color told the kids to embrace whatever they wanted as long as they committed to be the best they can.
"Their reaction to it inspired me to want to contact somebody who can shine light on them and let them see that they mean everything to this community and that they are worth caring about."
"I got out of high school in 1976," he said, "so I'm old.
"I googled what went on here at the school. That is cowardice what that person did. To come here and deface school property and have a mask on, very cowardly and offensive to any person. But life isn't fair. You have to learn how to make things happen in your own life and your future and the No. 1 way is to continue to be a strong student.
"You don't realize it right now, but you're in the best place in your life. Once you leave these four walls, you pay for everything. Once you leave here everything has a cost.  We lose track of that because we're so busy trying to get to the next level."
Lewis reflected on when he came to Cincinnati and there weren't as many NFL head coaches "of color," as there are now. But "I was given this opportunity through the relationships I had in my life. Look to your left. Look to your right and to your front and back and you'll have the opportunity to help shape lives and they'll have the opportunity to help shape yours."
Lewis wanted to make sure he spoke to the girls as well as the boys and he knows that hasn't always been the case for a leader of 53 men.
"Anyone ever hear of Simone Manuel?" Lewis asked and they had because they knew she had two gold medals from last summer's Olympics.
"She was the first African-American woman to win individual gold medals in swimming," Lewis said. "Research her because she didn't let anyone set limits on what she can do."
Lewis has watched women steadily break NFL glass ceilings since he took the Bengals' job in 2003. He has seen women attorneys, accountants, salary capologists, medical staffers, trainers. The Bengals' current Pilates instructor is a woman.
Lewis also told the story of Kim Fields, the current chief strategy officer for the NFL.
"An impressive young woman," Lewis said. "She got two degrees from Virginia (engineering and law), was an attorney, and is now working in the NFL as a vice president in football operations.
"You don't have to be a great athlete to have a great career and a great profession," he said.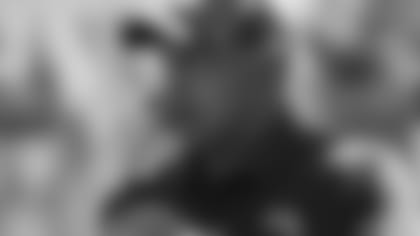 The Q and A was wonderfully all over the place, ranging from DB play to maintaining a balance between classes and sports in high school.
Junior safety Dominic Johnson asked Lewis how he could improve as a defensive back and what drills he could use.
"Flip the hips," Lewis said. "Back and forth. Work on keeping the footwork tight."
Someone asked who had the most impact on him growing up.
"Great question,' he said. "My high school football coach and my father."
Someone else asked him how he balanced classes and sports while in high school.
"The first thing that has to happen is you have to take care of your books,' he said. "At one point when I was in the eighth or ninth grade I got a D in a class and my mother took away every privilege I had. No wrestling. No going to the playground to play basketball with the guys. Nothing. Your grades have to come first. Sports will always be there. You have prioritize the activities you're involved in."
All of which got a big thumbs-up from Katie Frankey, who ended up scoring a touchdown with her letter written in the face of a tough defense. She ended up doing what Lewis advised.
"Look ahead,' said the old school coach in the old school. "Don't look back. Always continue to look ahead." 
Marvin Lewis visits Withrow High School to speak with Student Leaders 2/21/2017