Bengals defensive coordinator Lou Anarumo knows exactly the first two things he's going to do when his players are allowed back at Paul Brown Stadium at a yet to be determined date.
He's not sure he can do the first, but he'll do the second as quickly as he can.
"I'm going to give them a hug. If I'm allowed. A hug while I'm wearing gloves and a mask," Anarumo said. "Then get them on the field as fast as we can. Immediately."
Head coach Zac Taylor's staff begins to head back into the office Friday for the first time since March 13, when Anarumo and the staff got pulled off the road scouting for the draft. D.J. Reader was still a Texan, Trae Waynes was still a Viking and the Bengals defense was still evolving from a 4-3.
What a difference 84 days makes. And although he has yet to see his revamped defense on the field, Anarumo has seen enough of the additions on tape after last year's struggles to know one thing.
"Ultimately, we'll all be judged how it plays out," Anarumo said, "but we're happy where we are today."
And he certainly couldn't say that 84 days ago. Certainly not before February's NFL scouting combine, when he mapped out what the team wanted to do during the offseason to a defense that had finished three rungs from the NFL bottom in his first season running the show.
"The idea is to get better at all three levels," Anarumo told Bengals.com in his office, pointing to numbers that said they simply needed better players. "There's a bunch of different things I think we need to improve, but you start with helping all three levels."
Now as he heads back to that office, Reader is his nose tackle after the Bengals made the Pro Bowl-caliber free-agent the richest at his position. His middle linebacker is Josh Bynes, the middle man of the Ravens' No. 5 rush defense. His two new starting cornerbacks are the steel-belted Waynes and slot man Mackensie Alexander, a pair of Mike Zimmer-bred corners who have no fear supporting the run.
When the secondary went through a playbook quiz during a recent virtual meeting, they used the Family Feud format. But they would have been better off playing the Name Game and introducing everybody to each other.
"Look at what we did," Anarumo said. "We turned over the secondary room in free agency. In the draft we made over the linebacker room. Obviously signing D.J. Reader is a heck of a cornerstone on the defensive line. Between the coaches and the personnel people and the front office and everybody working in unison, we were able to get as many new players and as many quality players as we did."
Think of it. Of all the offseasons the Bengals have been out of the office. When the players do get back, 30 of them will be pulling into the PBS parking lot for the first time. A total of 18 play defense and as many as five or six of them could be on the field when Anarumo deploys the first third-down package in the opener against the Chargers.
"This is obviously going to help the older teams that have been together for a long time," Anarumo said. "Teams like us that are new, with new players, nobody cares. We have to be up to speed with these guys. That's the way we're looking at it. We just have to know that and we have to be in tune right away."
In those 84 days the defense that started out last spring as a 4-3 and then slowly evolved into a hybrid 3-4 during the second half of the season now looks to be a more established 3-4 than ever before. That's after a draft that brought them back-to-back linebackers in the third and fourth rounds, Wyoming's Logan Wilson and Appalachian State's Akeem Davis-Gaither, a pair of productive linebackers who they believe can move seamlessly inside and outside.
That's one of the ideas behind the 3-4. The Bengals picked up two rookie defensive ends that they believe can both rush the passer and drop into coverage in Notre Dame's Khalid Kareem, a fifth-round draft pick, and Kendall Futrell, an undrafted free agent out of East Carolina. The dimensions of the 6-4, 268-pound Kareem and the 6-2, 222-pound Futrell are vastly different but they showed those traits in college and they would have had a pretty good idea by now if they could continue that development.
"That's the type of thing you need to see on the field," Anarumo said. "It would have been nice to have a spring. That's the only way you can see what suits them."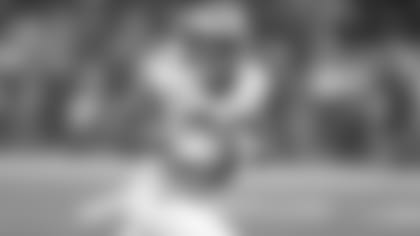 Since the second half of last season, Anarumo has been building toward multiple looks with as many role players as he can find. The defense got better as the season went and they adjusted to his style and he adjusted to them. They finished last against the run, but they were ranked 22 in the last eight games. They finished 29th overall, but were four spots better than that in the last eight.
Not good. But better. The versatile style was the thinking behind the free-agent signing of Saints strong safety Vonn Bell, an addition that may end up putting incumbent and captain in Shawn Williams in more situational football, as he was breaking into the league eight seasons ago. A three safety-look would be a nice fit in an AFC North currently ruled by the No. 1 rushing Ravens and a Cleveland team boasting two explosive runners in Nick Chubb and Kareem Hunt. Williams could be a swing linebacker/safety
"We'll find roles for the good players," Anarumo said. "If you've got a lot of roles for a lot of players, you're going to be fresher at the end of the year. (Williams) did a lot of different jobs last year. That's the beauty of a guy like Shawn. First there's his personality. And he can do a bunch of jobs. He proved that last year and before that. The more we can find guys that can do more things will make us better."
The one thing Anarumo has going for him, something that will counter the shorter time for a new defense to gel, is that his new veterans have been around. All five potential starters are coming from play-off teams. Bynes won a Super Bowl title with the Ravens, Bell started for the Saints' last two post-season heartbreaks and Reader earned the praises of J.J. Watt, his future Hall of Fame linemate in Houston.
Anarumo was struck by a scene that began one of the virtual meetings, which always start with the entire team meeting. There were three old Ohio State teammates chatting it up. Bell. Right end Sam Hubbard. Rookie quarterback Joe Burrow.
"Two of those guys are new, but they all know each other and that's kind of nice to see," Anarumo said. "Vonn Bell, he's all ball. He's a very serious guy. You can see why he's been successful in his career and been on winning teams. He's like all these other guys we brought in. He cares. He wants to do well."
After 84 days, Anarumo returns to the office with a few more furnishings.