C.J. Uzomah, otherwise known as the last man standing in the Bengals tight ends room, knows exactly what next Sunday's 1 p.m. game at Paul Brown Stadium against Tampa Bay means (click here for tickets).
"We'll have a fire in our (butt)," Uzomah said Monday. "It's a gut check where we have to really dig deep. This is the biggest game of the year ….how we approach this game and how we approach this week going into this game is the key."
Uzomah calls the date with the Bucs "a staple game" for the 2018 season. A win and the Bengals are in first place at 5-3 in the AFC North when they take a bye before a Nov. 11 PBS game against the Saints. A loss and Bengaldom stews into the Nov. 4 bye at 4-4 with the worst three-game losing streak in the eight seasons of the Green-Dalton Era. A last-minute home loss to the Steelers. A Sunday night blowout in Kansas City. A home game against an issues-filled 3-3 Tampa team that has already fired its defensive coordinator.
All the staples of a team in urgent mode were on display Monday. In a cards-on-the-table meeting offensive coordinator Bill Lazor traced for his unit how it has declined since the giddy 37-36 shootout win in Atlanta in what now seems like 22 years ago instead of 22 days ago. Uzomah talked about how on Monday team leaders spoke up in the offensive and team meetings. Wide receiver Tyler Boyd, who had 349 yards in September marked by a career-high 132 in Carolina, has just 133 in October and is vowing to get back to details.
It must be late October and a game over .500.
Beyond Xs and Os, Lazor is pleased how his leaders responded on Monday.
"I felt like (they were) professionals. I'm interested to get back to work Wednesday," Lazor said. "That's the day that will tell. I'm hopeful. I'm very hopeful. I like this team. I like these players. When you have a team that has proven like they have this year that they'll win the game at the end, that they'll be poised, that they'll be tough, that they won't quit, they're fun to work with. No one likes what happened yesterday, so let's get back to that other team."
One of those guys is Boyd and he says he was hurt by what unfolded Sunday when all that talent came up empty.
"The sky should be the limit for this offense. But it hasn't been. That showed last night," Boyd said. "That's what hurts more than anything … We know what we can do … Bill pointed out that we've declined."
Maybe it's because match-up nightmare Tyler Eifert was lost for the year in Atlanta with a gruesome ankle injury, the beginning of an unbelievable injury spate that has cost them three of their four tight ends. But for whatever reason the Bengals have gone from 407 yards against the Falcons to 332 against the Dolphins to 275 against the Steelers to 239 last week. First downs have gone from 30, 17, 19 to 15 in K.C. Passing yards? 308, 229, 213, 178.
"(What) really good teams in this league do is they improve and we were very clear with talking about that with the players," Lazor said. "And I think they're 100 percent on board. They agree. You're supposed to improve as the year goes on. You're supposed to see issues that you deal with in training camp and preseason, early in the season and then hope not to have those same mistakes come up. That's not pointing at the players. That's coaching, players, that's as a team. So we just have to look long and hard about that."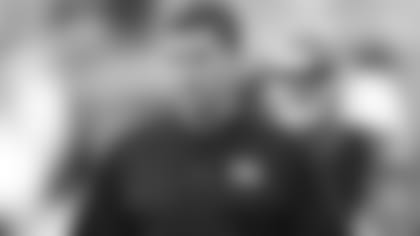 Both Uzomah and Boyd say it is the details of the thing.
"We kill ourselves. We kill ourselves with penalties. We kill ourselves with certain assignment errors," Uzomah said. "Certain looks we might see one time, when that one exception comes we have to stick to our rules. We can't freak out. We think we have to do more than our one responsibility because we see something a little different … We've got to try and get that cleaned up."
Boyd is talking about leverage in blocking the run game. He is talking about the receivers running proper depth in their routes. And, like Uzomah, Boyd says, "Missed assignments. We've got to get back to the details."
Lazor talked about the decline with his players, but politely declined to discuss it with the media.
"If it was real clear, I wouldn't say it. We had some things we talked about this morning," Lazor said. "I don't think it's worth saying it out loud. That's more about us getting back in the right direction. So I don't think its right to say it out loud."
The most popular theory for the month-long offensive decline is the decapitation of the tight end positon, which has inhibited the run game while allowing defenses to adjust and swipe their two major threats in the pass game in Boyd and wide receiver A.J. Green.
Forget that the Bengals scored 117 points in the first 14 quarters of the season with Eifert and 67 in the 14 quarters without him. It is also how Lazor shaped his offense around multiple tight-end sets.
Often double tights and sometimes triple tights, Lazor used Eifert, Uzomah and Tyler Kroft at least 32 percent of the snaps and none more than 65 percent in the first three games. In the last three games without Eifert, Uzomah has played at least 92 percent of the snaps because Kroft broke a bone in his foot. Without Kroft, in the last two games combined new No. 3 tight end Matt Lengel has played six snaps and Mason Schreck played nine before he suffered what appears to be a season-ending knee injury.
So the drip-drip of the tight ends matches the withering of the numbers. It may be a bigger blow to the run game, but they're still averaging 4.3 yards per rush even as they evolved into a three-receiver, one tight-end team.
"I don't want to make excuses. You've got to go with what you got and personnel is a big part of that," Lazor said. "Defenses look at who you are. I think, in the NFL they're very conscience of your personnel and today they're dealing with who we have at the moment, so no excuses. We have plenty of good players to make yards and score points and the other points, yards, first downs, I think is very telling. When you look at it, that's where we've hit our rut in the road right now and we've got to dig out of it. That's the plan."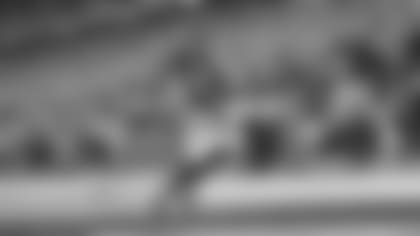 But the plan needs somebody to step into the pass vacuum now that defenses are able to ignore the middle of the field and concentrate taking away Green and Boyd. In the last three games Green's longest catch is 31 yards and Boyd has had one catch longer than 16 yards, none of 20 in the last two games.
The Chiefs' strategy was obvious. As long as Green didn't beat them deep, they'd take those seven catches for 117 yards for no TDs. Green said what KC unveiled was a wrinkle they hadn't seen on film.
"They played a lot of two-man," Green said. "They didn't show that on film during their previous games. So they played a lot of two-man and they didn't bail that much on film, and they bailed a lot on me."
So Lazor knows what his players know. They need more catches from more people.
"We went into this game expecting we were going to get more out of the run game. We went into the game expecting the pass game would be spread around. So we were disappointed how both those things turned out," Lazor said.
So is the true offense the one in September? Or October? And can they get back to September by November?
"I think the theme is it's our job to make sure Wednesday when they walk in that they've seen some of it," Lazor said, "and we have answers on what the themes should be."