Sophomore center Billy Price returns for Friday's padded workout on the Paul Brown Stadium practice fields and that means his left guard is veteran John Jerry. When they line up that way it's also a reminder and probably a bit surprising given the fortunes of this star-crossed offensive line that Price is still the kid up front with his 10 NFL starts.
To his left is Jerry, a ninth-year player with 101 starts. To his right is John Miller, a guard that has started all 47 games he's played in the league during four seasons. Bookending them on the left is tackle Cordy Glenn with 90 starts dating back to 2012 and on the right is tackle Bobby Hart and his 37 NFL starts before he turns 25 the day before the third pre-season game his old Giants team.
So it's not like it's their first rodeo and Price is glad for the help Jerry and Miller provide.
"They both have a lot of experience, which I think is something that really helps me, especially being the young guy," Price said. "They've seen a lot of ball. What, Jerry's going on his (ninth year), Miller's going on his (fifth) year … A lot of experience and it really helps us up front. Again, they've seen it before. They've been in that situation. It's just furthermore developing our game experience, which is going to help us mid-to-late season."
Price centered the line during the spring, so he shouldn't have much of a problem adjusting. It will take him four plays, he says. Jerry, who arrived last minute to the last spring camp is in the process. This is far from the offense he and Bengals offensive line coach Jim Turner were a part of with the 2012-13 Dolphins.
"Every offense is different," Jerry said before practice. "Different scheme. Techniques are similar. You have different plays, different terminologies. Different timing. It's an offensive line-friendly offense, I can tell you that. I'm not going to tell you how, but it is offensive line-friendly."
He's not the first Bengals offensive lineman to say that. Glenn said it on the first day of workouts back in April and he was referring to Taylor's commitment in the playbook to running the ball. Any O-lineman likes that. Like Jerry said, "You throw it every play and (the pass rushers) tee off on you." Any O-lineman also likes play-action and just going by practice these Bengals sure do like play-action passes. "It makes it easier," Jerry says.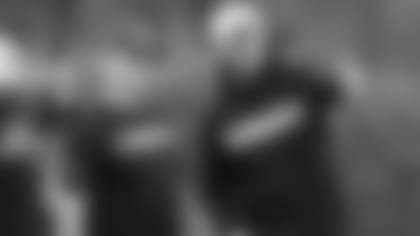 Price also thinks the way Turner is teaching the scheme and what he's asking them to do has made things "friendlier," up front. It's the school of black and white and Taylor has been preaching it since the day he arrived. He's trying to rinse away the gray in all areas of his leadership. From fines (which are posted on the wall outside the weight room office for being late or missing a workout) to how he wants his coaches to teach.
The defense has already praised defensive coordinator Lou Anarumo for being so definitive and the offensive line is saying the same thing about Turner.
"Yeah, and being efficient with it. You don't have to do the 'rah, rah, rah.' It's one call for me, maybe a corresponding call for Bobby, corresponding call for Cordy and snap the ball and go play," Price said. "Again, it's simpler yet complicated. Put it in categories, make it fun and make it easier for us, and we're confident and we play fast and there's a lot of good things that will happen."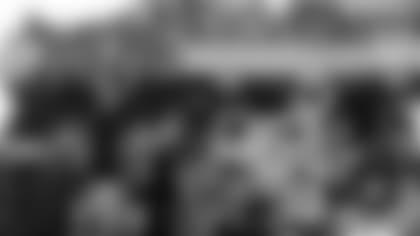 Purchase Bengals Tickets
It's a NEW DEY. Claim your place in The Jungle!
Heck, it's what Taylor said about Turner last week when asked if he had one line to describe the man that he's brought to two different staffs after working with him in two other spots. Both in college and the pros.
"Very detailed. Very clear communicator. These guys know exactly what is being asked of them," Taylor had said. "There is no gray area there. That's what you're looking for in a line coach. I've been around Jim for a long time. He always got the most out of his players. Jim requires more than one line."
Here's how Price says it is offensive-line friendly:
"It is black and white. It's either you're going to block this guy, or you're going to block this guy. There's no questions as to what happens if the corner runs by or safety runs into the box or backside to this or that, it's black and white rules for us. Coach (Bill) Callahan and Coach Taylor and the guys up there make it very easy for us. The less thinking we have to do, the faster we play, the more confident we play, the more explosiveness you'll see from (running back) Joe Mixon and the skill guys as they are running around. I can't elaborate, but I'm sure you can figure it out from there."
"You're not going to go slam the past coaching staff by any means," Price said when asked if it is better explained or simpler. "Both … But it is. It's simpler yet still complicated so for us, it's black and white."
The line is facing timing issues with the left guard rotation. When they return from a day off Sunday, Christian Westerman figures to be back at left guard. But Price is rolling with the punches. He says it takes just four snaps to get used to new personnel and you can probably thank some of the black-and-white for that.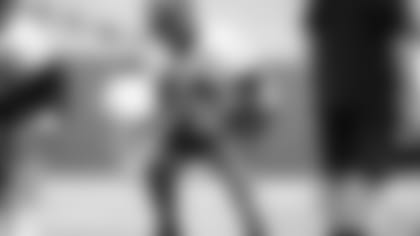 "It's not long at all. Our system now that has been put in place, it's two possibilities, it's maybe two calls and that's it," Price said. "It's the body language. It's the mechanics of how quick he is on a chip block or how quick he is on a reach block or how he down blocks. So, about four plays of each play concept and we will be good. Even in walk-through, 'Hey, I'm going to play this way. OK, I'll adjust myself."
One left guard, two, nine it doesn't matter.
"That literally is the system we are in now," Price said. "It's plug and play. You've got special athletes and guys who can play but the guys around you have to adjust to whoever is next to you because he can get his foot stepped on by a 340-pound dude and be out. Got to go play."
That's what happened to Price last season in his second NFL game when massive Ravens nose tackle Brandon Williams did the honors to cost him six games. Now he's trying to revert to his college health, when he set the Ohio State standard with 55 straight starts. More black-and-white. Price is also responding to what Taylor has crafted in programs off-the-field.
"It's like Christmas morning, something I've been waiting for," Price said. "That's the beautiful thing about football, man, I could go out there today and somebody could get thrown and you could see me back in that (training) room. It is a fact of life. It is a risk. I will say guys are a lot more confident going into this year and we've got better routines.
"I would say you don't necessarily need the injuries, because it's football and things happen, but we're in a better situation and we're surrounded by people to make sure that our routines are better so it's prolonging for the 17 weeks and the four preseason weeks to make sure I'm in the best condition possible."