BENGALS WR TYLER BOYD VS. RAVENS CB MARLON HUMPHREY
Nowadays if the kids agree with you, they simply say, "Facts." As in, Sunday's game (1 p.m.-Cincinnati's Channel 12) for the Bengals in Baltimore is as big as it gets.
Boyd is no longer a kid as the Bengals' first quarter MVP growing up before our very eyes, carrying this offense with 37 catches that puts him on pace to break T.J. Houshmandzadeh's team record of 112.
But he'll fire out a good "Facts," for you in conversation.
Boyd is an NFL elite wide receiver.
Third-down reliable. He's got nine catches on the big down, one behind Keenan Allen among AFC wide receivers, one of the guys he's studied because they have such a similar game and size. Big-play potential, as evidenced by last week's tying 42-yard touchdown catch with two minutes left that buffaloed the Arizona secondary with his deceptive route running. His 406 yards project to about 1,300 and profootballfocus.com has him with the most targets in the league (50) without a drop.
Don't take it take from him, although the fact he believes it is a big key to his development. Take it from the elite of the elite in A.J. Green. Take it from his receivers coach Bob Bicknell, an NFL lifer who has seen them come and go. And take it from Houshmandzadeh himself.
"John Ross told me, 'Hey, T.J., Tyler Boyd is the bleep," says Houshmandzadeh of the Bengals wide receiver he's mentored on The Coast. "So I started paying more attention to him and I'm thinking, 'Damn, the Bengals have a really good receiving corps,' but it's not translating because of the injuries up front."  
Green goes as far to compare the 6-2, 203-pound Boyd to the 6-2, 200-pound Houshmandzadeh, the man with the fourth most catches in team history with 507.  A top slot receiver that can quietly do more. He never played with Houshmandzadeh (in that record-setting fall of 2007 Green was a senior at Summerville High), but he hasn't played with a guy like Boyd here. There was a take-the-top-off guy in Marvin Jones and an enforcer-in-the-middle guy in Mohamed Sanu. But never a guy that did as much as what Houshmandzadeh did toiling in the shadow of the NFL's first reality show called Chad Johnson.
Tough, huge third-down catches in the slot. Big balls down the outside. Digging out a linebacker on a run.
"T.J. caught a lot of balls. Him and Chad," Green says. "In the slot. Deep."
Take the comparison another step and Boyd is a running mate of a perennial and more well-known Pro Bowler like Houshmandzadeh was with Johnson. Except injuries to Green have allowed Boyd to be a No. 1 receiver and prove his mettle over what amounts to a full season.
"That's a pretty damn good comparison. Tell A.J. he'd be good on TV if he talked more," Houshmandzadeh says. "Except I think was better than Chad and I don't think he's better than A.J., but Tyler Boyd is pretty damn good.
"It's kind of like he's better than you give him credit. When you watch him at the top of the route, which I'm really big on, he gets in and out of his breaks really well. He creates separation. And he's quarterback-friendly because of the amount of separation he creates. It goes unnoticed because he's on the Bengals and plays with A.J., but if you understand the receiver position and watch him, you say he's pretty damn good."
"Of course," Green says. "He's still got room to grow, but he's playing unbelievable. I've seen the guy grow from not playing that much to go to the elite. His route running is unbelievable. Hands unbelievable. The biggest thing is he's a dog. He competes every day. That's what I love about him."
More on the Houshmandzadeh comparison from the man himself:
"He'll go block. He'll pay outside. He'll go inside and make a tough catch," Houshmandzadeh says. "He can block a linebacker. He can block a defensive end and you don't realize the little things he's doing until he's out of the game. Then you have somebody else do it and they can't do it."
Boyd is the first guy to tell you his 49-yard touchdown catch on the last snap of the 2017 season in Baltimore that knocked the Ravens out of the playoffs jump-started his career. Before that play he had 176 yards all season. Since that catch, he's become a 1,000-yard receiver, a $40 million man and a team MVP candidate  
"Opportunity and confidence," says Bicknell, who has coached him these last two seasons. "He came back from making that play in the offseason with more confidence. The playmaking ability showed up that he's had his entire life. When it comes right down to it, in the NFL if you make plays, meaning the game on the line, you get doubled, you're getting people on you, and you're still able to make a play, then you became an elite player in this league and I just think that's where it is."
Green has been a more than interested bystander.
"He's matured more. He got older," Green says. "He takes the job more seriously. He's that guy now and he knows he's that guy. I saw it from day one, how aggressive he is catching the ball and his route running and if he could put it all together he'd be hell."
Sunday marks another milestone in Boyd's go route to the elite. And not just because he's back in Baltimore, the scene of where it all began. On that 49-yarder, Boyd got lost in a zone and that's not going to happen this trip. Everyone is expecting Humphrey, the Ravens' best defensive player, to shadow Boyd one-on-one. That's what Humphrey has done in the last two games, heading up with the Steelers' best, JuJu Smith-Schuster, and the Browns' best, Odell Beckham, Jr. Humphrey held Beckham to two catches on six targets for 20 yards and Smith-Schuster to three catches on three targets for 49 yards.
"He's a great player. He's working his tail off," Boyd says. "He's been taking the best receiver every week. Now it's me. I see I'm getting the respect across the league that I deserve and I want to go out there and keep it that way and show why the top corners need to follow me."
But Boyd says it's going to be on his terms. The 6-0, 197-pound Humphrey doesn't have the dimensions of a slot corner and doesn't work in there much. According to PFF, he's taken 29 snaps in there and been targeted just four times. He may be in there 29 times Sunday.
"He'll be in my world," Boyd says.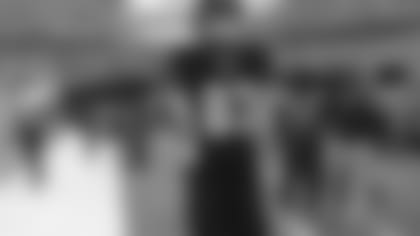 The slot is one of the spots the Bengals may have an edge on the Ravens. The Baltimore secondary has been as decimated as the Cincinnati wide receivers and they've given up gobs of yards in the slot with Tavon Young out.
They've had to turn to Brandon Carr in the slot, a good player who usually plays on the outside. Safety Tony Jefferson is out for the year. Cornerback Maurice Canady, the man beat Boyd back in '17, was cut in training camp, brought back with the injuries and he played the fourth most defensive snaps last week.
Boyd spent a few minutes with quarterback Andy Dalton this week to explain their radar rapport. Dalton, who lockers next to Boyd, called it like this: "You know where he's going to be by the way he releases and by how the defender is playing. The thing about him is that he's consistent."
This is how Boyd sees it: "He knows. I'm not going to screw around at the line of scrimmage. Just get bleeping open."
It's more complicated than that, of course. A lot of it is leverage: "You have to be creative. You can't keep running the same route the same way … It's a little harder to watch me because I sell routes. I know how to get a DB thinking I'm going away and go the opposite way."
Boyd knows the double teams are coming. He's seen some. The Ravens like one-on-one, but as he gets closer to middle he expects more traffic.
 "I can't half-ass it because I know I'm getting double-teamed," he says. "I still have to clear lanes and get out of the way for guys to make plays."
He has Houshmandzadeh's full blessing to break the record. Why not? He sees something familiar.
"He's good at the line of scrimmage. He's good at the top of the route. He gets separation," Houshmandzadeh says. "He can put his foot in the ground. He catches the ball. And he's tough. And just like me, he's a good-looking dude."
Boyd would no doubt respond with, "Facts."