BENGALS OFFENSIVE LINE VS. 49ERS DEFENSIVE LINE
Take your pick and you won't go wrong here with any matchup inside Sunday's intriguing Paul Brown Stadium opener (1 p.m.-Cincinnati's Channel 19) pitting the Bengals vs. the 49ers.
The Bengals have struggled mightily against tight ends from around the league in the recent past, so what does new defensive coordinator Lou Anarumo and his New Energy Defense have in store for 49ers record-breaking tight end George Kittle?
The Bengals unveiled Taylor's New Age Offense last week in Seattle and produced an emerging star in wide receiver John Ross, a supersonic sort testing his speed against the craftiest of NFL cornerbacks in 31-year-old Richard Sherman.
Joe Staley, in his 13th season as the 49ers anchor at left tackle, is the only Niner left from the misery Jim Harbaugh's men visited on the Bengals in the PBS debut of rookies A.J. Green and Andy Dalton in 2011 as the Niners fled to Youngstown, Ohio with the only 13-8 win in NFL history to wait out the Eagles the next week. Now Staley returns at age 35 and faces a guy that was in junior high that day and Bengals right end Sam Hubbard just happens to be one of the hottest defenders in the league after his two sacks and ten tackles in the opener.
But the lines are a classic matchup, really. The Bengals' scrappy and surprising offensive line down to its third left tackle and adjusting to a new center against a 49ers line that may have the draft's second pick line up on the edge, although end Nick Bosa's status for Sunday is unclear after he missed his second straight practice Thursday with an ankle injury. Then there is the Bengals' Trey Hopkins, undrafted in 2014 and the highest graded center by profootballfocus.com after last Sunday, opposing DeForest Buckner, the seventh pick in the 2016 draft.
"He's a great player and it's another great front," Hopkins says. "They've really invested in the pass rush. They've got some great rushers and really get after it. We'll have to execute and do what we're coached."
Hopkins and his guys have been hearing this for months and now it's evolving into how they're a band of overachievers. But how about maybe they're just better than people thought after coming out of the Seattle sound machine with those 429 yards in Taylor's first crack at it?
"I was undrafted so long ago, I just don't even think about that. It's just getting ready for another great front," Hopkins says. "Call it what you want. We're the guys our coaches and peers have trusted to lead us on the field as the first line. I look to my left and right and I see Mike (Jordan) and John (Miller) and I don't see anything about where anyone was drafted. I know we've got great guys and players that are going to fight every minute. I think we saw that last week. That's what we expect. Whether we run the ball every snap or throw it every snap, I know I've got guys that will fight with me."
They all get decided in the trenches, don't they? The Bengals' defensive front battered Seattle into submission and had the game won until the offense couldn't convert 429 yards into a victory. Now the offense gets another shot against another formidable front, a San Francisco defensive line that claims three first-round picks after an offseason they invested even more in a unit that finished No. 13 in the league last season.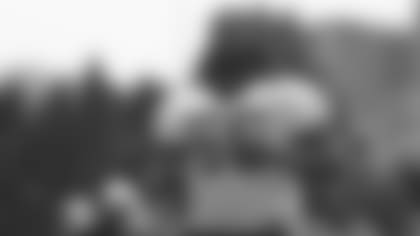 Until last Sunday, it was a much-maligned Bengals offensive line. But not now after a nearly seamless effort in the league's noisiest stadium quelled the skeptics with no false starts and a down-field passing game that kept one of the league's more opportunistic defenses at bay. Rams left tackle Andrew Whitworth was more than an interested observer. He knew his old tag-team partner in Cincinnati, Andre Smith, would play well moving from right tackle to his old spot because he watched Bengals head coach Zac Taylor work the last two years in Los Angeles with Rams head coach Sean McVay and how they made things easier on the line.
"I had an eye on it," Whitworth said this week. "I was watching after our game (a win in Carolina) and keep tracking of it on my phone."
That's how Whitworth sees Andre Smith. One of Hopkins' tough, gutty guys. While Whitworth became one of the league's best tackles, Smith emerged one of the steadiest right tackles and a guy you simply didn't want to face in the run game. They bookended five straight play-off teams and two AFC North champions. Since Whitworth went to the Rams two years ago, Smith has come and gone three times. The last time three days into this training camp at age 32 as a backup. But then he made his second NFL start at left tackle after 92 at right in one of the craziest, loudest, weirdest openers ever on the edge Sunday.
In the hour after the Bengals drafted Alabama left tackle Jonah Williams No. 1 back in April, who would have called Andre Smith vs. Jadeveon Clowney in Seattle?
"Any time you go to Seattle, that's a tough environment. You can't hear a thing the whole game," Whitworth says. "After playing on the right so long and to go play that well on the left in that situation, that's a real credit to him as a pro … To go up there against those guys with 50 passes, it's not always going to look pretty. But you fight. That's the kind of player and guy Andre is … He's a guy that's always had the ability to do it. I'm so proud of him. Andre and I have been through a lot of wars together. It's great to see that."
Whitworth, who endorsed Taylor for the job to run his old team, is a big admirer of how McVay and Taylor approach offense. ("Zac is a talented guy.") He and Taylor talked a few times during camp to catch up, so he definitely had his eye on debut. He kind of had an idea Taylor would come up with a Rams-like solution to help Smith. Profootballfocus.com charged Smith with five pressures, but only one hit on the QB and one sack.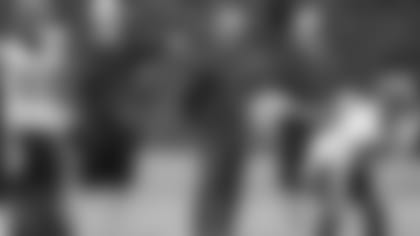 In that building, on 51 pass attempts, against Clowney? Strong. And they helped Smith. Quarterback Andy Dalton got rid of the ball quicker than any QB in the league last Sunday, so it wasn't all pure drop-back passes. And maybe between five to 10 or so of those passes were run-pass options (RPOS), which they consider runs and not passes.
"The greatest thing that Zac and coming from this system and you see some of these successful offenses, that's what they do well," Whitworth says. "They have you a little on your heels whether or not it's an opportunity to get after the quarterback or not all the time … When you know you need to help a guy, when you know he's moving to a new spot, you have to be friendly where you put the quarterback, how you call plays and realize it's not always about the arrogance of our guys can block these guys. It's what best for the success of the team.
"But you know, Andre has been through some great times, time, and knows how to play the game, too."
Which is why offensive line coach Jim Turner can't say enough about Smith.
"Love him," Turner says. "Big. Smart. Tough."
During previous regimes the Bengals were never known for giving their tackles a lot of help, but that's changed in this new offense as outlined by coordinator Brian Callahan.
"There are so many good pass rushers in the NFL. We're always going to have to help," Callahan says. "To ask a tackle to go out there and block one-on-one for 70 plays is not realistic. The rate of success is not going to be good over the course of time. We're going to help. We screened, we chipped, we play-actioned. We did all the things you do to help a tackle. I think it worked pretty well. He was comfortable when he had to go one on one and when he did, he won, he kept the pocket clean for Andy most of the time. A couple got away at the end when they knew we were throwing the ball down the field. That happens, but I think you're always looking to help the offensive line. Most teams are. To sit there and drop back 50 times and play the way those guys did against a good pass rush team was admirable."
Now, they have to do it again. They've got the signature performance to hang their hat on for the rest of the year. It's a New Dey for even a guy like Smith that's been around.
"Andre fought and I'm proud as hell of Andre," Callahan said. "He did I think better than anyone thought having not played a lot of football and all of sudden he comes in and he's playing 70 plays at left tackle, which is not his natural position over his career. He did an outstanding job and he fought hard for those guys up front and our team. That's a big deal."