BENGALS OLBS NICK VIGIL AND JORDAN EVANS VS. PANTHERS QB CAM NEWTON AND RB CHRISTIAN McCAFFREY
Remember when Vigil was a rookie and Vontaze Burfict called him "Luke," because he reminded him of Panthers Pro Bowl middle linebacker Luke Kuechly?
Well, on Sunday in Carolina (1 p.m.-Cincinnati's Channel 12), Vigil shares the field with The Cincinnati Kid and even though Burfict stopped calling him "Luke," a long time ago, Vigil is looking forward to being in the same game with a guy he considers one of the best. But it's just as well Burfict pulled the moniker because now Vigil is making a name for himself.
Vigil, the Bengals' every-down linebacker who really has played every down this season, doesn't have to drink the Kool-Aid. But water is nice as he hopes to keep his skein going after two sweltering practices in the low 90s at Paul Brown Stadium. With Bengals equipment manager Adam Knollman calling for 81 degrees and 20 percent chance of rain Sunday in Charlotte, Vigil is looking at a cold snap.
"If you don't drink the water you will," says Vigil of potential cramps as the NFL leader in defensive snaps played with 167, according to profootballfocus.com, readies to direct the defense with the helmet mike for the second straight game.
As the Bengals finished their last full-scale practice Thursday prepping for Newton's frightening array of talents and McCaffrey's many masks, Vigil, Evans, middle linebacker Hardy Nickerson and strong safety Shawn Williams were the last ones into the locker room. That happens when you stay behind to do some extra running, which Vigil also did Wednesday with three gassers up and back on most of the 100-yard field. Then he denies that he's a robot and chalks it up to conditioning.
"I run after every practice for the extra cardio," Vigil says. "I just want to make sure I get the legs under me and get a couple of extra lifts in during the week … You work up to it through the preseason and then once you get into the season you're taking every snap in practice and after a couple of games you get your legs under you."
Linebackers coach Jim Haslett watched Vigil play every snap but one or two last year in the nine games before he suffered a season-ending ankle injury and believes his third season is turning into a break-out year for the 2016 third-rounder from Utah State.
"He gets better every time he goes out there," Haslett says. "He's stepped his game up a notch. He's done much better overall. He's becoming more of a leader. He's valuable. A good cover guy. Great speed. He's very fast and he's been very good against the run."
Vigil lines up at SAM backer to start the game, but on passing downs he'll team with either Preston Brown, if healthy, or Nickerson if not. Vigil has impressed the brass enough that he was finally handed the helmet mike for last Thursday's win over Baltimore. The only other time he wore it was in a pre-season game his rookie year, but he relayed first-year defensive coordinator Teryl Austin's signals seamlessly enough to get it for Newton.
"Some guys don't like it, they just want to focus on the game, but I do," Vigil says. "(Austin) is calm, collected. He gives you tips before the snap on what to expect with their personnel. He does a good job communicating. If you make a bad play he's not screaming at you. He tells you to move on."
With Brown (ankle) limited at practice these last two days and Nickerson getting his feet wet in his sophomore season, it sounds like all hands are on deck. That may mean the sophomore Evans, the starting WILL backer and fastest linebacker they've got, gets more snaps after Haslett charted Evans for his best game ever against Baltimore with nine tackles coming on just 20 plays.
"He needs to play more. We'll try to get him on the field more," Haslett says. "We'll see how it all shakes out. It's a pretty good group. All the guys can play. I feel good about all of them going in the game."
It's a good thing because they've got their hands full with Newton averaging 50 rushing yards per game to go with his 96.9 passer rating. Then there is McCaffrey, who lines up everywhere and is leading the NFL in yards after catch. PFF says all but one of his yards have come after his 20 catches, second most in the NFL after he tied Steve Smith's franchise record with 14 catches in last Sunday's 31-24 loss in Atlanta. Evans would love the work. He always took the Panthers because of Newton in Madden because "I'd run it with Cam."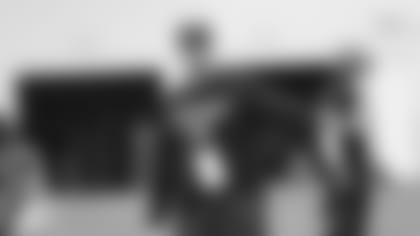 Haslett has experienced the real power that is the 6-5, 260-pound Newton, a vexing problem for coordinators. When Haslett was Washington's defensive coordinator in Newton's rookie year of 2011, the draft's overall No. 1 pick nicked him for 59 yards on 10 carries. Last year when Austin was running the Detroit defense, his guys sacked Newton three times and held him to no yards on seven rushes. Still, Newton beat them spinning it for three TDs and a passer rating of 141.8.
"Not too many guys that big do what he can do," Haslett says, recalling the rookie Newton that is now even better. "We couldn't tackle him. It's not even the zone reads or the bellies. It was just running. Running plays. It's not easy. When you catch him, he's big. Not easy to tackle."
Vigil says they have to start out by finding the 5-11, 205-pound McCaffrey. Against the Falcons Newton targeted him 15 times, 12 times out of the backfield and three time out of the slot.
"They're two of their better players," Vigil says. "Stop No. 1. Find No. 22. (McCaffrey) is a dynamic guy. He lines up all over the place, not just in the slot, but wide and in the backfield. Cam does what he can to get the ball to him. It's going to take a big effort to stop him.
"Cam is so big, but you watch him on film and he's running past guys. He runs hard, he can cut. He's as good as any runner in the league. You've got to keep him in the pocket. He'll get out some times, everybody knows that because that's the kind of player he is. We have to limit that. When he does, you have to have to keep an eye on him."
The oldest trick in the Amos Alonzo Stagg playbook is to put a "spy," on a running quarterback with one defender tracking his every move. Evans, who'll be trying to run with Newton after running with him virtually, doesn't think it can be one guy's responsibility.
"He makes a lot of plays with his feet," Evans says. "He's a freak athlete. We have to play fundamental football and rally around the ball. Everyone, whether you're on him or not, has to be able to key in on him and stop him. He runs the zone read and you go watch film and he's juking people, running over people. He's an elite athlete back there."
And then you've got McCaffrey, who did in Atlanta what his father Ed never did in 185 games and 13 years in the NFL with 14 catches. His son has turned Yard After Catch (YAC) into a cottage industry. On Sunday, a check-down pass is more than that. It's not enough to make Newton check it down.
"It's not a win if you miss the tackle. It's only a win if you give him less than five yards," Vigil says.