It was just a few months ago on Draft Day that Michael Johnson first called Sam Hubbard's name.
As a former NFL Man of the Year nominee, the stately Johnson, a 10th year right end, was the Bengals' man in Dallas to call out both third-round picks for the television audience. Hubbard, an Ohio State right end, was the first at No. 77 and then here was a beaming Johnson calling Hubbard's name again in a relieved and resolved Paul Brown Stadium locker room after they had each saved Sunday's outrageously torrid fourth quarter to score their first NFL touchdowns to cap another Cardiac Cats comeback.
You have to go back to Oct. 27, 2013 and the blowout of the Jets to find the last time the Bengals scored two defensive touchdowns in a game. (Take a bow Chris Crocker and Adam Jones).
"I like Sam," said Johnson, who left his Dallas home a little early to have dinner with Hubbard back in Cincinnati rather than throw him under the bus as a potential replacement. "I've said this before. He's not your average rookie. He's far beyond his years. The way he approaches the game. His professionalism. He's always ready to go. He's a team-first guy. Like myself. It's great having a guy like that."
After scoring his first touchdown in 144 games, Johnson kept talking about Hubbard's first in his fifth game. Since Hubbard's 19-yard fumble return off left end Carlos Dunlap's sack-strip sealed the game at 27-17 with 2:37 left, Johnson said he felt like he was running with him.
"That tells you all you need to know about Mike," Hubbard said. "All he wants to do is win and that's how you get a winning culture. You can't be selfish. You have to eliminate the human element and put the team first. ... He's been a mentor for me right away. I watch how he goes about his business. He does it the right way."
How else to explain what is going on here in Bengaldom after their second straight fourth-quarter comeback, third of the season and biggest since 2015 when they erased a 17-0 lead in the final 20 minutes before a crowd of 52,708 that is beginning to believe? Head coach Marvin Lewis began his culture wars reviving the franchise's mindset back in that first season of 2003 on the defensive line with the signing of free-agent tackle John Thornton. Thornton passed it on to guys like Robert Geathers and Domata Peko and while Thornton never played with the 31-year-old Johnson, he's his agent and now there are sophomores and a freshman like Hubbard, Carl Lawson and Jordan Willis.
Johnson, like he did on his ricochet interception, is paying it forward.
"Last week it was the offense," said quarterback Andy Dalton of the final 4:08 march of 16 plays in Atlanta for the winning score. "This week it was the defense."
Defense as in that defensive line. Its two Pro Bowlers are a big part of the culture wars. Perennial Pro Bowl defensive tackle Geno Atkins didn't wait to the fourth quarter to blow it up. Atkins, who leads the NFL in QB hits, had three more Sunday and two went for sacks for his second two-sack game of the season and eighth of his career to give him six for this season and a pace to record 19.5 sacks. It's believed the season record by an interior player is 17.
"It really started with Geno setting the tone, getting after them early and Coach Burney telling us to relax and have some fun and do what we do," said Hubbard of defensive line coach Jacob Burney. "And that is what we did in the second half."
And then there's left end Carlos Dunlap, looking to accompany Atkins to a Pro Bowl for the third time and his sack-and-strip of Dolphins quarterback Ryan Tannehill that set up Hubbard for his fourth sack of the season should help.
"We have a lot of depth here, which helped in a tough game like this," Dunlap said. "The cornerbacks gave us an opportunity to get after the quarterback. As you saw, Tannehill didn't have a target open, and I was able to come around the edge and get the strip. Then Sam was able to intercept the ball. (On the first interception), M.J. never gave up on the play, and he was able to finish it off in the end zone. It was amazing."
Johnson's play came with 11:43 left in the game and it tied the game. Dunlap said it was more than that, it turned the game. With left tackle Laremy Tunsil out of the game with a head issue, Johnson found himself working against back-up Sam Young. Johnson blew by him and then blew by Tannehill to miss the sack as Tannehill stepped up.
"But Mike didn't give up on the play. He stayed with it," Dunlap said.
With Atkins making a mess of things and nose tackle Andrew Billings wrapped around his legs, Tannehill made a weird little flip that bounced off tight end Durham Smythe's helmet and even more weirdly shot right to Johnson backward and since Johnson bounced up off the ground after he missed the sack, the rest was 22 yards and history.
"When you're playing out there," said Johnson, who's not quite sure how it ended up in his hands, "it's all a blur."
But Hubbard knows exactly how he got the ball. It looked like an interception, but it was ruled a fumble.
"Carlos Dunlap," Hubbard said. "It's really a credit to Carlos Dunlap. He was chasing the quarterback down and hit the ball right into my lap. All I had to do was run straight."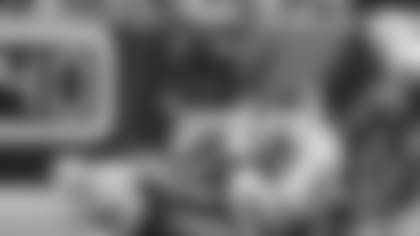 How many times have we seen Dunlap put away PBS games in the fourth quarter with athletic turnover TDs? Twice against the Colts. And last week he had a huge third-down sack when the Falcons were on the doorstep for a touchdown after a blocked punt put the ball on the Bengals 8 and Dunlap forced them into a field goal. That might as well be a game-breaker in what was a 37-36 victory.
On Sunday, Dunlap simply ran past right tackle Ja'Wuan Jones and came all the way around and roamed up the pocket to grab Tannehill's arm from behind. Hubbard reached down and picked it off the ground even as he continued to pass rush.
"I was going for the ball. I don't want him to be able to throw it," Dunlap said. "He was trying to make a big play for his team. I made it that far and I wanted to finish the play off."
Forget going against a backup. What got Johnson fired up was an unnecessary roughness call on the Bengals' first defensive snap of the second half. It was only the second time in his career the gentlemanly Johnson had such a flag (the first one was last season against the Colts) and Johnson was incensed. He said his man blocked him after the whistle.
"I hip tossed him and he pulled me down on to him," Johnson said. "I kind of pushed myself off him. They said it was a little too much, but that really got me going. I'm not with all that … That got me going … I wasn't trying to hurt the team."
Not today. Not this defensive line. They won a game that was lost. This was an awful lot like '13, when the Bengals went unbeaten at home with sack-stuffed wins. Johnson kept being asked about Hubbard.
"Look at what he does," Johnson said. "In the goal line on offense he comes in (as the fullback) and every time we score a touchdown. Last week he played (tackle) for the whole game and today he was inside and outside. I've done that where you have to do different things. It's not easy being a rookie. It's exciting having a teammate like that."
On Sunday it was Hubbard and Atkins rushing the passer from the tackle position on that last play. Hubbard noticed Atkins getting a lot of attention from the blockers.
"He's a Hall-of-Famer right there," Hubbard said.
Canton won't come calling for Johnson's jersey or Sam's spikes. But it was history.
"It's not everything," said Dunlap of two linemen taking it to the house on the same day in the same quarter. "But I've never seen that."