Offensive line coach Frank Pollack says Jonah Williams and Jackson Carman are still battling for the right tackle spot and there is no timetable to name a starter as the coaches set the lineup for Friday's preseason opener (7 p.m.-Local 12, NFL Network) against the Packers at Paycor Stadium. Before that is Wednesday's workout with Green Bay on the Kettering Health Practice Fields.
"I love it to be day one of camp, but we'll let these guys compete," Pollack said after Sunday's practice. " We'll let our guys get through a couple of games and get (practices against) Green Bay, so I think it's fair to both those guys to really up their game and compete against another team, as opposed to our own."
They've been rotating with the ones and Williams has responded on two fronts, his rehab from surgery for a dislocated kneecap and his move from left to right tackle, a position he hasn't played since his freshman year at Alabama. The quickness of Williams' transition has surprised Pollack.
"It's really been a lot more seamless and smooth than I would anticipate for any guy. So it just shows the quality player that Jonah is," Pollack said. "He looks like he's been there for a few years. I'm impressed. I mean, hats off to him. It shows that he took the challenge and he worked on it every chance he could while he was rehabbing his knee."
Carman hasn't played the right side in the NFL in a game, but he backed up both spots last season in practice and Pollack is hoping more snaps on one side leads to more consistency.
"He's having a good camp. He may have a down day, but he recovers from it the next day. He doesn't spiral out of control," Pollack said. "He still jumps out as far as his athleticism and his power. He's getting a better understanding as far as what it means to be a tackle from an assignment standpoint, how to handle different movement and pressures and communicating better with his guard.
"He just needs to get a little bit more from a consistency standpoint."
In the backup ranks there has been a pretty good battle brewing between two guys who were here last year for the backup center spot. Right guard Max Scharping, who came off the bench last year to start the three playoff games when Alex Cappa injured his ankle, is giving incumbent Trey Hill a run.
"We're still working through that. Trey's been the guy," Pollack said. "But Max is a guy that if he wants to add value to the team, he's got to be able to play a swing position. Last year when he came here was new, it was guard. This year it's guard- center. So I'm trying to maximize his exposure to be able to show what he can do at both those spots, as well as Trey Hill get more guard reps because he was so heavy center last year. (We want) to see who can really be comfortable at both those spots."
Cappa left practice midway through Sunday's practice, but Pollack indicated it was precautionary for a strain and 'no big deal."
DOMINANT DEFENSE: After responding to coaches and unit leaders following Saturday's day off, the defense suffocated the offense Sunday in the two-on-two and three-on-three ball drills, as well as the move-the-ball drill in team. The only touchdown came on a fourth-down slant to wide receiver Tee Higgins and even that was hotly debated by a defense that felt Higgins would have been tackled before the goal line.
"The coaches challenged us," said veteran safety Nick Scott. "After a day we had (only) a walk-through or a day off, we felt like the defense came out slow. The coaches and some of the leaders on the team challenged us to come out right away with the right intentions ready to go and attack this move-the-ball scrimmage or period or whatever you want to call it. So we took that to heart. And tried to play as hard as we could."
QUOTE OF THE DAY: Cornerback Mike Hilton
"Put that in your notes. Offense is struggling."
Hilton, the seven-year vet, wasn't shy about letting some of the media know his view of practice. But they were struggling because his defense didn't do much wrong.
Such as in two-on-two, rookie cornerback D.J. Turner II's coverage was magnetic. He picked off a go-ball running in stride at the receiver's hip. In team drills, defensive tackle B.J. Hill got in on a couple of stops on runs from running back Joe Mixon. Linebacker Germaine Pratt met wide receiver Ja'Marr Chase right when he caught a pass from quarterback Trevor Siemian.
During the final team period, Siemian threw a deep pass to Chase who was being defended by cornerback Cam Taylor-Britt. Chase made the catch and stepped into the end zone, but special teams coordinator Darrin Simmons called a push-off on Chase.
Chase later joked, "I guess I did. Coach told me I bench-pressed him, so I guess I did.".
Despite the offensive struggles, Chase said he and wide receiver Tee Higgins are building consistency.
"We're definitely moving in the right direction. Troy told us earlier that (camp) has been one of the best," Chase said of wide receivers coach Troy Walters.
Higgins: "Not too many guys can go out there with a guy like him and work with a guy like him and push each other the way we do."
PLAYER OF THE DAY: DE Trey Hendrickson
Any time a player can make a big play on their first day back from injury makes them a top contender for player of the day. Hendrickson did just that with at least one sack (depending who is scoring), but what can't be debated is he had a ton of pressures.
Hendrickson has been one of the most "consistent pass rushers in the NFL", according to Pro Football Focus. He finished this past season with 32 tackles, eight sacks, three forced fumbles, and three pass breakups.
He has been out since the first weekend of camp because of a lower body issue, but his comeback Sunday made it seem like he never left.
"It's good to be out there with the guys. I obviously missed it. I think we have a really special team and being a part of that unit is going to be fun," Hendrickson said.
Hendrickson said there is still some conditioning work to be done to make up for the days that he missed.
"Most of it will be conditioning and getting my lungs back," Hendrickson said. "Getting my legs ready to get four quarters underneath me. It's the first day of a long season. So, I'm excited to be back."
PLAY OF THE DAY: Rookie CB D.J. Ivey
After a dominant defensive performance, it's no surprise that the play of the day comes from a member of the defense.
"Finish," is what cornerbacks coach Charles Burks yelled at Ivey as he tried to meet each receiver and finish each play with great effort and Burks seemed to be pleased. During the last team period, Ivey played like a heat-seeking missile.
During a third down, Ivey was in man coverage. He saw the quarterback check to a screen when the defense showed blitz. There were only so many options for Siemian and it appeared Ivey was prepared for any option.
"Once I saw he threw a screen, I just triggered, beat the block and thudded up the man that caught the ball," Ivey said.
The rookie out of the University of Miami has been having a stellar camp. He emphasized doing the little things correctly, such as finishing assignments even if he gets beat.
"You're not going to make every play, so just keep going, keep pushing," he said. "We told ourselves they weren't going to score, and they didn't."
Rookie wide receiver Andrei Iosivas made two third-down catches in the move-the-ball drill … First-round pick Myles Murphy had a nice drop in coverage on the edge and stymied Mixon on a screen … Head coach Zac Taylor almost had the play of the day. After Scott covered tight end Drew Sample and both spilled into the sideline stands clearing out some fans, Taylor came over to check on everybody and signed some autographs …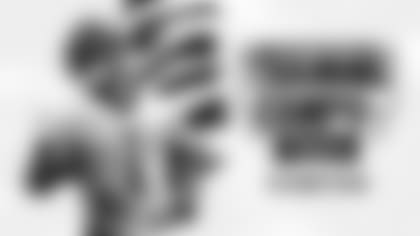 Training Camp 2023 Center
The official source of news and information about Bengals Training Camp 2023.