The author on the next book about the Bengals is going to have to circle March 19, 2021. It's the day the Bengals officially became the team of quarterback Joe Burrow in his second year in the second year of the second decade of the Zooming '20s.
He could have lit a cigar like he did to celebrate LSU's national championship. But his new right tackle, battle-tested vet Riley Reiff fresh from old friend Mike Zimmer's NFC wars in Minnesota, got the stogy instead.
Jeff Ruby, Cincinnati's ubiquitous restauranteur, gave Reiff one during head coach Zac Taylor's up-tempo Thursday night recruitment dinner at Ruby's plush Precinct. After Reiff pushed away from the table with Burrow and Bengals defensive end Sam Hubbard, Reiff had made up his mind.
"I went away from eating that steak and I was like I want to block for this guy," Reiff said. "Seeing him on the film, but he's even better off the field."
Steak Burrow was on the menu and the Bengals' salary cap sizzled with the second straight free-agent buffet. This year's bill is now at about $130 million in committed money and nearing $30 million in the salary cap.
"There was some business. I wanted to (sign) right after meeting some of the guys," Reiff said. "Joe, Sam. Feel like I fit right in here. There's business to it, too, but yeah."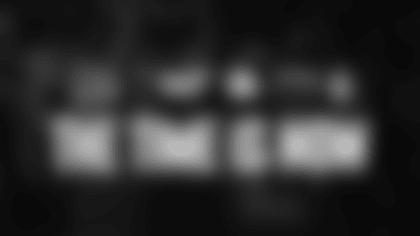 Be A Part Of Something Special
Join the team with your own Season Ticket Membership. WHO DEY!
When Taylor announced Friday that eight-time Pro Bowl defensive tackle Geno Atkins (as well as right tackle Bobby Hart) had been released so the team could fit Reiff and four defensive starters, there were just 13 players under contract left from the previous regime.
And only three left from the 2015 Wild Card, the last of head coach Marvin Lewis' seven playoff games.
And no starters. A.J. Green's signing in Arizona Thursday. Burrow's recruitment of Reiff Thursday night. Atkins' release Friday morning. That's all you need to know about beginning and ending chapters.
Heck, even the last Bengals quarterback to beat the Steelers was gone Friday when they traded Ryan Finley to Houston.
"Spending time with these guys, getting to know them better. We really are pleased with the direction that we're headed in with our roster," Taylor said.
With the addition of edge rusher Trey Hendrickson, cornerbacks Mike Hilton and Chidobe Awuzie and Geno protégé Larry Ogunjobi at defensive tackle, the Bengals are poised to start two defensive starters from Taylor's first game that opened the 2019 season in Seattle. The Fab Five all Zoomed with the Cincinnati media on a March Madness Friday. No question, they said, Burrow was a draw.
"Just seeing what they are building. Over these four years playing against these guys, I seen the type of players that they had and what they were building," said Hilton, the former Steeler. "Once they brought in Joe (Burrow) to be the franchise guy, he showed me what he's capable of and that definitely attracted me here. I'm excited to be here and get the train rolling."
With those players in the fold Thursday night and Reiff on his recruiting visit, Taylor adeptly got everyone together in an upstairs room at The Precinct, Ruby's east side spot. Front and center of his recruiting effort was Burrow and he apparently had Reiff pretty much at hello.
"Just the way he conducts himself," Reiff said. "Carries himself. Seems like a down-to-Earth Cincinnati-type guy. We just sat there crapped around a little bit. But really impressed with him. … Tough, Midwestern, blue-collar. Comes to work."
Hilton, who played with Big Ben in Pittsburgh, also sensed Burrow's big presence. All five of them got to see it when they passed through the rehab space and Hilton saw it at dinner.
"Man, just talking to him. Like I said he has an aura about him," Hilton said. "He's a young guy but he commands the room. He takes pride in being the leader of the team and just embraces the room."
Reiff, 32, is the piece de resistance of the Bengals' week-long free-agent effort spearheaded by director of pro scouting director Steven Radecivic.
The Bengals began the week looking for offensive linemen as well as edge rushers. They had one plan in which if the $15 million reduced salary cap drove down prices, they thought they'd have a chance to grab two edge rushers while also making a run at a guard.
But they also were prepared if the prices were at pre-pandemic levels and, like last year on the first day of free agency, when they quickly got off the linebackers, they adjusted to escalating numbers and went to another plan they had devised.
They knew they had to drop a big number on just one rusher and did when they inked Hendrickson on a club-record $60 million deal on the first night of free agency. Also that first day, they apparently had interest in the best guard on the market, Joe Thuney. But as the bidding skied beyond $50 million, they also knew Reiff was out there and they were noticing there were some good cornerbacks out there, too. They ended up getting two starters in Hilton and Awuzie for what many were paying for one cornerback.
Ogunjobi has been a thorn for the Bengals while playing in Cleveland and they had high marks on him. While they were filling the need for a three technique on Wednesday night, Radicevic was constantly on the phone getting Reiff in on a visit for Thursday.
"My agent reached out to me and was like, these guys are being pretty persistent," Reiff said. "Would you like to go see what they are all about? I said, absolutely. Not being in this division we really didn't have much crossover but once I got here I was super impressed with the guys, coaches and I'm excited.
"Tell you truth, if it didn't work out. I just wanted to see the stadium. If it didn't work out, I have played nine-10 years, usually you play in a lot of stadiums and I hadn't played here. If all else went to fail at least I could say I have seen the stadium."
Reiff was key. The Bengals wanted to give him more than a tour. They didn't get Thuney, but they also knew they had a shot at Reiff, one of the NFL's most consistent lineman since the Lions took him out of Iowa in the 2012 first round. A proven protector for Burrow had been a priority all along.
"I think we did a really good job being patient. You know, there were some really high end players that you'd love to add to the fold. And we got one in Riley Reiff," Taylor said. "So, just being patient throughout the process, we had several needs we wanted to address. I think we were patient and got what we wanted. If you asked us last week how we'd hope this would turn out, it would look like it does today. And so it doesn't matter how you got there. We got there, and we're really happy with the guys we've got."
They also know that Reiff is flexible. He played guard at Iowa. He says he'll play where ever. So you can start the fantasy football now because his signing doesn't take Oregon left tackle Penei Sewell off the board with the draft's fifth pick. If it were today, the opener would have Reiff at right tackle and Jonah Williams at left tackle with guard still very much a focus in free agency. And they're still apparently in the mix with Lions wide receiver Kenny Golladay.
"I know in the past year guys have played guard before they moved to tackle. I don't think there's one way to do it. I think the situation would be determined by the player and how that fits with their skill set," said offensive coordinator Brian Callahan. "It's hard to make a hard and fast rule on what that would look like. But there is a lot of ways to go about doing that."
What's very clear as the dust of the revolution settled Friday is this is Burrow's team. They wanted a guy to protect him and Burrow helped sell him.
"I see that every day I've ever been around him. So you know, it's nothing new for me to be around him (Thursday night). But he certainly has tremendous impact when you got a quarterback that you believe in," Taylor said. "Everybody in the organization, everybody in the city believes in the guy, he believes in himself, and so that is very clear to those that are considering the Bengals and want to be a part of this. He's certainly a great draw because we know with him we can do a lot of special things here."