Jessie Bates III saw the message from his mom last week that she picked up in the midst of the Bengals' free-agent news cycle. He's the only starter from the 2018 finale projected to start the 2021 opener.
"Time," says Bates, "definitely flies."
As the lone player from the 2019 starting secondary and after living through 2020, Bates also knows time is a thieving scoundrel after the pandemic wiped away spring practice and summer games.
That's why Bates is coordinating an effort with fellow safety Vonn Bell to connect the new secondary with texts and tips. After cornerbacks Chidobe Awuzie and Mike Hilton signed on the line last week, Bates reached out to Bengals video director Travis Brammer to send iPads equipped with X and O video to the defensive backs while Bell made sure they stayed in touch with the four new defensive starters and anyone else via a group chat.
"I feel like the years before I was kind of in the flow a little bit too much and kind of sitting back and letting other people make those decisions," Bates says. "I'm excited for that role. I'm trying to be more vocal with the guys. To be the guy to come to. I feel like years before I was the guy going to the guy. I want to be the guy people come to."
Bell and nose tackle D.J. Reader, major names from last year's free-agent class, are also two of those guys. While Bell constructed a revamped defensive text tree, Reader has been checking on the new guys, such as the man who is going to play next to him, three technique Larry Ogunjobi, a guy that played high school ball in Greensboro, N.C., a few years after he did.
"Vonn was telling them we just have to start with a sense of urgency," Bates says. "And start this thing in the right way."
When Bates asked Brammer to get an iPad to Reader and it showed up faster than a Joe Burrow headline, Bates took note. Why not get them to the DBs even before the OTAs begin in May? In the offseason, player-driven volunteerism is not frowned upon by the league.
"That's part of being a leader," Bates says. "I'm trying my best to really step into the leadership role this year ... You're trying to set the culture early. And just do it with a sense of urgency. I have to remind myself it's still the offseason. Enjoy it. But if you get time, take a look at it."
Bates has been a young man in a hurry ever since he opted to leave Wake Forest at age 20 after two seasons and 24 games. He was an Opening Day starter at 21 and by 23 he was already Pro Football Focus' highest graded safety and a Pro Bowl snub. At the ripe old age of 24 he has played 3,223 snaps with interceptions as old as a pick of Joe Flacco as a Raven and as new as a theft of Ryan Tannehill as a Titan. He knows what comfort means back there and it was tough getting it in 2020's obliterated offseason.
"We're just trying to get to know people so we can feel comfortable," Bates says. "That's very key in the DB room. To have a really good bond. Especially when you have to communicate so much in the back end. With the offenses now, it has to be natural and not forced. Know each other's strengths. Just small things that can lead to some success."
Bell, who is just 26 himself, has played the most NFL games of any of the all projected defensive starters (77) and has no doubt been an influence on Bates. Bell already wears the captain's "C," and has respect in all nooks and crannies of Paul Brown Stadium. In the final month of last season Bates was vocal about finding committed players like that. Guys that wanted to be here, is what Bates called it.
He's been quite pleased about what they brought in last week. He hasn't spoken to any of the new guys verbally. That's coming. But he has reached out to each in informative, revealing texts.
Take his hometown buddy, Cowboys linebacker Jaylon Smith of Fort Wayne, Ind. He played in Dallas with Awuzie.
"He was good friends with Jalen and Jalen had nothing but good things to say about him," Bates says. "It's nice to hear good things from people you value their opinions."
Both Awuzie and Hilton have been quite active texting to the DBs. Bates remembers team meetings before they played the Steelers and how much regard the coaches have for Hilton's versatility.
And Bates is impressed by new edge rusher Trey Hendrickson's excitement and thoughts on culture and how expanding relationships beyond football makes teams closer on the field.
"It's nice to have new people in the room," Bates says. "We haven't had much success in the years I've been there. Usually that happens. People exit. They have to get a new group of guys to get it rejuvenated. I think all of the guys they have signed and they are guys that have something to prove. They're willing to work.
"They don't really care about getting fame or anything like that," Bates says. "We're not going to win in the sexiest way. But we're going to grind stuff out. I love the people that we signed."
The text tree has already had a good time joking with Trae Waynes, the other new starting cornerback that didn't take the field all last year because of injury. It seems you can tell by the colors of the text if someone has an Android or iPhone.
"He's got an Android so we kid him that he's cheap," says Bates of the highest-paid cornerback in the past two free agencies.
So young. So old. Just right to feel good about a new season and a new role.
"The way they're texting me, it's a little different," says Bates, who is no longer sitting back. "Just having new guys in new places sometimes is a good thing. For both parties."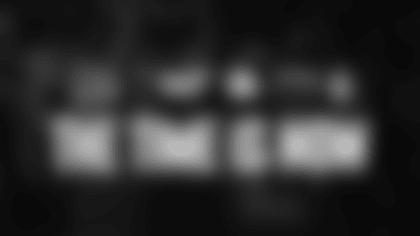 Be A Part Of Something Special
Join the team with your own Season Ticket Membership. WHO DEY!