Bengals new tight end Irv Smith Jr. has been in the NFL for five seasons, was a blue-chip recruit at Alabama and his own dad played in the league seven years.
But even his seen-it-all eyes lit up when offensive coordinator Brian Callahan came to him Wednesday and asked him what routes and plays he liked.
"Give me a handful of things you really like," Callahan asked him. "What you feel good about and let's get you some targets. Kind of tinker with you and see where you fit. See what we can do with you."
So Smith went out and had a day and a half Thursday on the Kettering Health Practice Fields along with the rest of an offense that bounced back from Tuesday's defensive domination on the first day of pads.
With the pads on again, Smith caught five balls on a variety of routes showcasing his athleticism in team drills and seven-on-seven. Meanwhile, quarterback Trevor Siemian enjoyed going off script to miss just one of 16 passes in 11-on-11 in leading the ones to a pair of touchdowns in the first move-the-ball period of camp.
Jake Browning followed it up by leading the twos to a touchdown on big catches from rookie wide receivers Charlie Jones and Andrei Iosivas as the offense easily won the lock-out drill by reaching 18 points first.
The only damper of the day came when Jones left the field on a cart after his diving 25-yard catch on Browning's ball that met him at the left sideline put the offense inside the 5.
"Good ball, good catch," said No. 1 slot cornerback Mike Hilton on the sidelines as he looked at the spot with a nothing-you-can-do shrug.
Jones fell hard on his right shoulder as smashed into the ground and held on, but left gingerly holding his right arm against his chest. Jones, the fourth-rounder from Purdue, has played well in camp and has made a bold move for the No. 4 job behind the Bengals' Big Three receivers.
Princeton's Iosivas, a sixth-rounder, is adjusting to the pros from the Ivy League that hasn't always been smooth but is always teeming with potential as big as his 6-3, 205-pound frame. He showed his progress two snaps after Jones' play on third-and-six from the 10 when he launched himself over cornerback Allan George for the touchdown.
"He's a guy with nice size. You play to your size," Callahan said. "It's good to see him show up in a big moment and make a huge catch that's contested, physical."
At 6-2, 240 pounds, Smith doesn't have the size of his two predecessors at tight end, C.J. Uzomah and Hayden Hurst, but he's also quicker, and more diverse. On Thursday he caught balls racing down the seam, cutting through out patterns and setting up defenders in the flat.
"Never on this level," said Smith, when asked if an OC had actually wanted to know what he wanted. "This is the best coaching staff I've been around. I put a lot of time and effort into getting better in the offseason and they've seen that and it's a blessing."
For tactical reasons, Callahan and Smith didn't elaborate on the routes they discussed. But from what took place Thursday, it's clear Smith is at home in space. It's another example of head coach Zac Taylor's regime that emphasizes player relations.
"We try to call things guys like. That tends to make it work. That tends to make a good play," Callahan said. "Irv is good in space. He's different than the tight ends we've had before. He has real ability to separate and win after the catch."
YAC has been a big topic this camp with tight ends coach James Casey. In Smith, he's got a guy that thrives on making people miss.
"Coach Casey has been harping on us about not just making the guy miss after the catch, but having a plan before the catch," Smith said. "Having a plan so when you catch it, you get yourself in transition to make the right move."
PLAYER OF THE DAY: QB Trevor Siemian
Siemian had to think when asked if had missed any passes in team drills because it sure didn't seem like it. Yes, he said. During red zone in the corner, where cornerback Sidney Jones IV knocked down a pass.
Still, 15-for-16 is pretty good. For the first time in camp, the Bengals staged Taylor's move-the-ball periods, where plays are called into the quarterbacks as if in a game instead of working off a script that everyone knows.
"Which I enjoy," Siemian said. "It kind of feels like when you're in the team periods and there's a script, it feels a little bit like a drill. So it's good to get those competitive periods. We're well-coached, I think that's evident. It was evident when I first got here (in May). Really well-coached."
Siemian broke into the NFL in Denver eight years ago in a quarterback room where Callahan was an assistant. Thursday's practice came right off the back of Siemian's football card.
"I think you saw both of those guys play well today and they both have taken advantage when they've been in there with the ones," Callahan said. "Jake has the benefit of being here and comfortable. Trevor is catching up a little bit. He's played in every offense imaginable. To see him come out and execute efficiently, which he's done his entire career. He put us in position to get first downs and that's what he did all day. Make good decisions, manage the huddle, manage the line of scrimmage."
Siemian used everybody, doling out two and three catches each to The Big Three and Smith. The protection was much better than Tuesday, although there was some debate if middle linebacker Logan Wilson's blitz got there before Siemian unleashed a 20-yarder to wide receiver Ja'Marr Chase reaching back over Sidney Jones and yanking it off his helmet.
Here's a guy who won his first NFL road start across the street for the Broncos in the 2016 Paycor opener with wide receivers Demaryius Thomas and Emmanuel Sanders both getting 100-yard games. But on his fifth NFL team, Siemian says this is the best group of skill players he's been around.
"And that's from top to bottom," Siemian said. "There's really good depth, a lot of guys that can make it easy on the quarterback.
"The guys win and they win usually really quickly on the routes."
PLAY OF THE DAY: WR Trenton Irwin
Here's the guy making an equally bold move to keep the No. 4 receiver job.
Working on cornerback Cam Taylor-Britt, having a good camp himself, Irwin tracked a back-shoulder fade at the right pylon and made a one-handed catch and tucked it in while falling backward.
"The lock-out drill. We've lost it the last two years," Irwin said. "(The offense) gets seven points for scoring a touchdown. We kick a field goal, they get three and (the defense) gets four and if we miss a field goal or don't score, they get seven."
What may have been the play of camp and just not the play of the day was one of three touchdowns that made sure the offense was the first to 18. They were also helped by Evan McPherson's desperation field-goal try in the 65-yard-ish range that was four yards short.
Irwin thinks the play may have been made at the line of scrimmage.
"Got man coverage (in the red zone), he's going over the top. Press coverage, the ball's coming out," Irwin said. "Whoever it is (covering), I try to dissect their tendencies and just base my release off them. I just tried to work him at the line, give him a little time to keep some room on the sideline.
"It's all about timing. Getting open at the right time, being able to save space. The quarterback threw a great ball. The quarterback gave me an opportunity to make a play."
QUOTE OF THE DAY: TE coach James Casey on TE Irv Smith Jr.:
"With our offense over the last couple of years, what we're studying as coaches with Zac (Taylor) and Brian (Callahan), is a big aspect is going be catching those underneath balls and run after the catch and he's got a chance to be really, really good at that because he's quick, he's athletic. He's got to be one of those guys who can catch underneath and the first guy who hits him doesn't bring him down. He can break tackles and turn a 2-3 yard flat route into a first down and that's critical. That will take our offense to the next level."
SLANTS AND SCREENS: Before he even made his big catch, Iosivas had seen it the night before. Every night, he says, he visualizes making tough catches.
"If I'm chilling or not studying, I'm just trying to think of ways to get better," Iosivas said. "I like to visualize what I have to get done."
Iosivas is heartened by the fact that the play came in man coverage. "The Ivy defensive backs are good, but we didn't see much man." He also hasn't consistently seen the fastballs NFL veterans Siemian and Browning are firing.
"They've got to get the ball to you now and it's coming in hot," Iosivas said. "I've been working getting my head around and my hands up fast."
That's exactly what he did Thursday, launching over the coverage and snagging a rocket from Browning ….
Running back Trayveon Williams, who sprained his ankle Tuesday, indicated he'd be back anywhere from two to three weeks …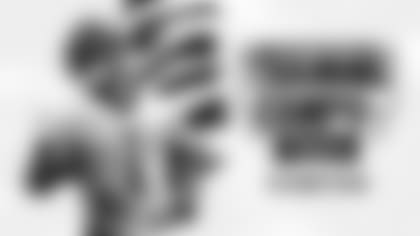 Training Camp 2023 Center
The official source of news and information about Bengals Training Camp 2023.