It turns out Fredi Knighten, the Bengals' creative artist of an offensive assistant coach who likes to keep clicking those Wikipedia links to see who is related to who in history, is a cousin twice removed of Aaron Rodgers.
In his first year in the pros, the 28-year-old Knighten (the Daily Double answer to "The only Bengals assistant to be MVP of the GoDaddy Bowl") is the current Alex Trebek of the Bengals' now famous night-before-the-game Quarterback Jeopardy shows based on the next day's game plan.
Catch up with Knighten during the bye week in the catacombs of Paycor Stadium where the coaching "Boiler Room," simmers with ideas and itineraries and he's self-scouting his last performance on the eve of the 42-point extravaganza against Carolina.
"I thought the pop culture questions would be easier for them," he says a bit glumly.
But he brightens when he recalls that in the category, "Finish The Call," one of the $600 questions actually showed up in the game when quarterback Joe Burrow noticed a shift on defense. ("Finish The Call," is the category where the answer is a playcall that has missing letters and numbers and you have to finish the call.)
"Maybe it helped," Knighten says.
Like baseball and poker and all other great ancient games, the origins of Bengals Quarterback Jeopardy have been lost in the mist of myth. One thing is for sure, though. Knighton's documentary eye and quarterback mind have livened up the Saturday nights with a mix of pass protections and celebrity sightings; hitches and history.
"He's got one of those creative brains," says offensive coordinator Brian Callahan. "Artistic is a good way to put it. He comes up with some really good rhymes and raps. I mean, impressively good. It's fun. The night before a game, it's relaxing, but it's competitive. You have to know your stuff."
Or, as Knighten says, "I'm a non-football football guy."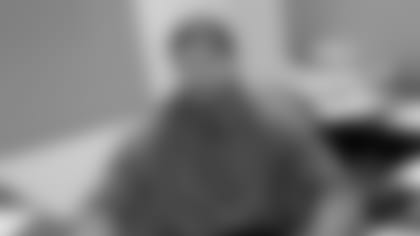 He clicks back to the week the Bengals prepared for the Dolphins. They always make sure they have a know-your-opponent category. Knighten called this one "Flipper," and one of the answers was, "Smooth as the ocean, I play at the beach. I'm quick, I'm fast, but I have good feet. Who do you think I am? Show me your star and I'll challenge the man."
Who is cornerback Xavien Howard?
Bengals Quarterback Jeopardy seems to have arrived at Paycor in 2018 from Green Bay with new quarterbacks coach Alex Van Pelt, fresh from his successful stint with Rodgers, and it has taken off a few years later with the rapid rise of Burrow and head coach Zac Taylor's Bengals.
Rodgers is so good at it that last year he adroitly hosted the real Jeopardy a few times. Burrow hasn't been a host, but he's won enough buzzer-beating decisions to make it famous as the NFL's only active quarterback courting two different seasons of 70-percent passing.
Van Pelt, now the offensive coordinator of the Browns, says he got the idea from Rodgers and they used it during the offseason to make the drudgery of learning the playbook more fun and competitive. But Van Pelt prefers to give the honor of creating Bengals Quarterback Jeopardy to his successor as quarterbacks coach, Dan Pitcher. Then an offensive assistant, Pitcher, Van Pelt says, took one of his comments and ran a bootleg with it to make it his own.
Pitcher isn't so sure about all that. He seems to remember Van Pelt putting the backup quarterback in charge of it and when Ryan Finley bequeathed those duties they came to Pitcher and then last year Brad Kragthorpe, now the assistant wide receivers coach.
"Alex did a lot of really neat things," Pitcher says. "That kept it light but it also accomplished some good stuff."
If Bengals Quarterback Jeopardy is a way to kick back and prepare for the next day's mental aerobics, it's also a reminder that in the third decade of the NFL's 21st century, the NFL's new Xs and Os are coming fast and furious.
Like Pitcher admired Van Pelt, Knighten is drawn to Pitcher's teaching methods. Pitcher supplies the answers relating to pass protections and base run and pass plays while Knighten does the rest and then moderates. On a home Saturday, he'll come back from practice, visit with his wife and three-year-old, maybe take a nap or watch a college game, and then spend about an hour and a half getting the game ready for the 7:15 p.m. meeting.
The game, a mix of categories primarily based on football but spiced with historical topics and current events, is a review of the plan to be used the next day. It's played among seven current and former quarterbacks on staff, ranging from the 25-year-old Burrow to Taylor himself, suddenly 39 and admitting lately he's been getting lost in the relentless march of pop when the celebrity questions surface.
Like Xs and Os, it goes fast.
Taylor was born in May of 1983, the spring Bengals all-time passing leader Ken Anderson came off his second straight playoff appearance. Knighten was born 11 Mays later, a spring Anderson was already coaching the second franchise quarterback to replace him.
Even the bewhiskered 35-year-old Pitcher can get caught short on some of Knighten's move and music references.
"You figure," says Callahan, 38, who got one question only because he knew it from his toddlers' shows, "there's only a couple of years of difference, but that's some movies and TV you've never seen."
Even on an up-and-coming NFL coaching staff filled with bright futures and ex-quarterbacks, Knighten is on a fast track.
Just eight years removed from being the Sun Belt Conference's first-team quarterback from Arkansas State, Knighten is already in his seventh season of coaching after college tenures at Maryland, Florida State and Massachusetts. The son of two middle school administrators who grew up in Little Rock, Ark., Knighten says he started playing football to help his social life.
"In the movies, it's the athletes that get the girls,' Knighten says.
His tastes have expanded with the help of his sister, an aspiring independent films director. It's now more documentaries ("Kobe Bryant's Muse," is a favorite) and he just watched one about the people who settled the American frontier.
"I like music and movies like most people do," Knighten says. "I find it so fascinating the way people can tell stories and get people to feel stuff just by writing about their emotions and experience into film or music."
For the Panthers' defenders to watch, Knighten came up with the category "Wakanda Forever," with the new "Black Panther," movie due any day. He was surprised the blank looks he got when he juxtaposed a picture of Mr. Burns from "The Simpsons," with a Spiderman image. Edge rusher Brian Burns is known for celebrating a sack with an homage to Spiderman, but as one of the guys told Knighten, "Some of our parents didn't let us watch "The Simpsons."
"The problem," Knighten says, "is everybody knows he's from "The Simpsons," but they don't know his name."
For the linebackers, Knighten had a little more success with three images. For Frankie Luvu, he had a picture of Frankie Munoz from "Malcolm in the Middle," and that got some response. But when he went Disney with a "Cory in the House," pic for Cory Littleton and then a photo of the DJ and singer Damian Marley for Damien Wilson, that seemed to stretch the generational bounds.
Knighten likes to connect the Final Jeopardy question with the team and city they're playing so for Carolina he came up with "The number of battles fought in North Carolina during the American Revolution,' and the guess had to be within ten of the 61. Taylor won it, but usually that's Burrow's wheelhouse.
"He's really good at a question like how many Starbucks are there in the United States," Callahan says. "He'll step back and think, 'Let's see, how many in Cincinnati?' and go from there. Just really analytical. "
One time Knighten says he and Burrow talked briefly about aliens and it got him to thinking.
"That's one of the reasons why he's such a relatable guy," Knighten says. "We all think about things outside of football."
But football is what brings this quagmire of quarterbacks together no matter the age. You've got a Heisman Trophy winner in Burrow, a Big 12 guy in Taylor, major college backups in Callahan and Kragthorpe, a Division III standout in Cortland State's Pitcher and a Sun Belt star in Knighten.
(You can be a center like Ted Karras and get invited or you can be a wide receiver like Ja'Marr Chase and wander in, but make no mistake. This is a quarterback's game.)
Knighten remembers a simple euphoria from the Carolina game. The category may have been "Finish The Call," or "Dialed In or Not Dialed In," which requires recall of a specific technique or look recognition in the game plan.
The answer had come up the night before and there was Burrow going to a protection they had been practicing since the spring but had yet to see in a game. Knighten could hear Pitcher exulting as the play unfolded, "Is he going to see it? He sees it. He saw it."
That's the win. Pitcher says after the moment, nobody really remembers who won Bengals Quarterback Jeopardy: "Everybody throws all their points in at the end."
Here's a pop culture answer Knighten can throw out there:
Bengals assistant who was at the center of the same stage as Elvis.
(Knighten's MVP moment came at Ladd-Peebles Stadium in Mobile, Ala., where Elvis once played as a backup act.)
Knighten, who figures that had to be in the '50s, politely shrugged.