Do you think this team, considerably upgraded from last year, can win 7-9 games? With A.J., I think they win 6-8 last year. Defense significantly upgraded, WR upgraded. I think sneaking by a lot of teams radar if they listen to national talk. Eric Kinser, Tipp City, OH
ERIC: You're right. I don't think there's any question they've upgraded nearly every position and that includes the offensive line with simply the return of healthy left tackle Jonah Williams. Getting a healthy A.J. Green is like swinging a big trade deadline deal and giving up nothing for a perennial Pro Bowler for the stretch run. Only you've got him for the entire season and hopefully beyond.
How that computes to wins and losses, who knows? There have been 14 seasons in this century where a team began the year after drafting a quarterback No. 1 overall. Some played him. Some didn't. The only team to have a winning record after making that pick was the 2012 Colts and they went all the way with Andrew Luck for an 11-5 season. The only team to go .500, the 2003 Bengals, didn't play Carson Palmer a snap.
Joe Burrow is playing and he has more weapons than Andy Dalton's 9-7 Bengals in 2011. He doesn't have the NFL's No. 7 defense like Dalton did, but the Bengals certainly have a better defense than Browns quarterback Baker Mayfield did in 2018 when Cleveland went 7-8-1 with a defense ranked 30th in yards allowed.
Mayfield's weapons? Rookie running back Nick Chubb lined up with a 1,000-yard receiver in Jarvis Landry along with receivers Antonio Callaway and Breshad Perriman. Chubb is great, but he was a rookie. Joe Mixon is a two-time 1,000-yard runner. No question Burrow has better and more seasoned skill players than the rookie Mayfield did winning seven games.
But, who knows? It's fun to put a record out there, but we all know it's not worth the paper. On paper, they can make a run at a number that puts them in the mix.
Would the Bengals be interested in Larry Wolford? He would be a good addition to the offensive line. He's a three-time Pro Bowler and he's still young. Donnie Kidwell, Berea, KY
DONNIE: Most every team has to be interested in former Saints guard Larry Warford and I'm sure the Bengals have talked about him. He'll be only 29 next month and he's coming off three straight Pro Bowl seasons. His contract ($7.65 million for this season in the final year of his deal) couldn't survive the signings of Jameis Winston and Tayson Hill and the first-round selection of Michigan guard Cesar Ruiz.
The Bengals couldn't pay that number, either, or any other relatively big number as they mull extensions to Green and Mixon. They'd have to cut a guy they like or not play one of the kids they like or both. They'd also have to figure out how to research the knee injury Warford suffered late last season. That's especially tough to do in a world when you can't meet or give a player a physical.
So it's not an automatic. But he's young, he's a University of Kentucky guy and no doubt he's on the radar. No harm keeping an eye on it.
Sad to see Andy go, but we all had a pretty good idea it was coming. Concerning to read Coach Taylor's comments on the QB situation. Unless I missed something, Finley showed nothing and Dolegala is still raw. No veteran addition? Kevin Schwab, Taylor Mill, KY
KEVIN: We asked the question, and the answer is that the coaches like the quarterbacks on the roster. They are obviously excited about Joe Burrow, but they are also pleased with second-year players Ryan Finley and Jake Dolegala. The coaches felt that Finley did a good job last year learning the system while operating everything during the game. It wasn't "too big for him,"as Paul Brown used to say, and Finley's college career is second to no one. Well, except, of course, Burrow. With Dolegala, everyone sees the physical talent and how do you test that if he never plays?
And it looks like they don't want to take camp snaps away from two guys they want to develop. Hard to poleaxe a prospect like Finley after just three starts. No question, the coaches have given us a long-view answer. But, look. In his second year a fifth-rounder named AJ McCarron was able to come off the bench and win two games down the stretch and should have won a Wild Card Game, so it has worked with a young guy back there and that looks to be the model.
Also, it's a reality of the free agency investments. Much of the salary cap went to D.J. Reader, Mackensie Alexander, Trae Waynes, Josh Bynes, Xavier Su'a-Filo, Leshaun Sims and Vonn Bell. Not much left for a veteran quarterback. So both the roster and the cap align on this one.
What is the chances that Jake Dolegala is the backup QB and do you think we will be active at trade deadline moving on from Dunlap, and Bernard if our rookies shows to be good fits, would we pull the trigger to get some draft picks? Bob King, Louisville, KY
BOB: Like Kevin said, Zac Taylor seems pretty adamant about his roster of quarterbacks so I imagine both are here and it would seem to me Finley is the No. 2 for now. Forget the numbers, the coaches felt good about how Finley ran the offense.
I don't think I've ever talked about the trade deadline before the roster cut-down deadline. All hypothetical and I've got enough trouble trying to figure out the real stuff. But I'd say if they didn't do any trades when they were winless last October, I certainly wouldn't think they'd deal on this season's deadline. Plus, they didn't draft anybody in the spots belonging to Dunlap and Bernard.
Long time follower but I have never submitted a question. I am a die hard over the years from Delhi, Ohio. My concerns are with TE. Is there enough talent? Sample is a blocker and IMO over drafted. CJ is decent but Could have upgraded! Lonnie Sears, Cincinnati, OH
LONNIE: Thank you for weighing in from out west and I hope this is the first of many missives. You can upgrade everywhere every year, but you have to pick your spots. After a season they struggled on the perimeter on each side of the ball, I think they did just fine. They can win with the tight ends they've got and you couldn't say that at a lot of the spots they did upgrade.
I don't think you can make that judgement on Drew Sample after just 108 snaps. That's just 10 percent of the plays. Not fair. If anything, it makes you wonder why the coaches barely played a second-round pick. I mean, they should have taken a wide receiver with that pick if they were going to lead the league in three-receiver sets.
But when they lost Sample for the last seven games, it sounded like head coach Zac Taylor was ready to play him plenty and I think we'll see much more of him this season. Nothing wrong with a blocker there in the age of Burrow, but they drafted him that high because they believe he'll develop as an effective target over the middle. Now they have to develop it. C.J. Uzomah is better than decent. Again, solid is the word.
And, you want a sleeper in this training camp? Check out Mitchell Wilcox, South Florida's undrafted tight end.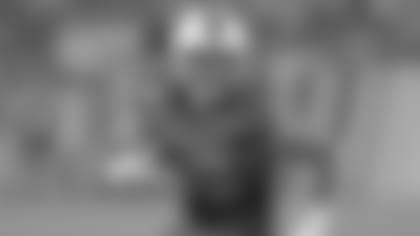 Love your work Mr. Hobson, Love The Cincinnati Bengals! Joe Burrow is going to have formidable weapons in Mixon, Bernard, AJ Green, Boyd, Uzoma, Ross, Higgins... but who's starting right guard and tackle if it was your call? WHO DEY! 2020 A.J. Winter, Norwich, NY
A.J.: Greetings to the Purple Tornado of the Southern Tier Athletic Conference and many thanks. They signed seven-year vet Xavier Su'-a Filo to play right guard for a lot of reasons. His size and his power, they feel, is an upgrade and here's a guy who was the first pick in the second round of the 2014 draft, so he's clearly talented.
At right tackle, may the best man win if there is indeed a training camp joust between incumbent Bobby Hart and back-up Fred Johnson. But let me offer a defense of Hart, first. The coaches like this guy. They believe he's a steady player that competes every snap and is a competent pass protector. They obviously felt like they had bigger holes to fill.
How do you see Coach Taylor utilizing Green, Boyd, Ross & Higgins? Do you think we can expect to see a lot of 4 wide w/ Mixon in the backfield which opens up Ross down field and screens to Mixon? I see options Brandon Fender, Tega Cay, SC
BRANDON: Given that they led the universe in use of three-receiver sets last season, think "combination." We will see plenty of AJ Green and Tyler Boyd. And we will also see plenty of rookie Tee Higgins and veteran John Ross. Those four will fill the three spots in various combinations, and it's going to be fun to watch. Burrow had success with five wides at LSU and you'll see that some with Mixon or Giovani Bernard as the back split wide. And, yeah, you'll got some four wides. But you'll see more three-receivers than anything and I think they'll be careful with that multiple stuff.
They must protect Burrow and a guy can get pummeled fast in the NFL behind four- and five-receiver sets. You can still do the screens to Mixon and the gadgets to Ross out of those three-receivers.
But don't forget about double tight ends, either. Taylor is going to do whatever he can to protect this guy and I think we'll see more double tight ends than last year. Not a bunch more, but my hunch is more. Would love to see Burrow throwing off hard play- action. That's the best pass protection. Not drafting five offensive linemen No. 1. But running the ball and play action.
Which new addition (FA or Drafted) do you expect to have an immediate impact? Why? Jevon Kennedy, Dayton, OH
JEVON: I'll give you one on each side of the ball. Rookie wide receiver Tee Higgins on offense and on defense veteran nose tackle D.J. Reader, a huge free-agent pickup.
Put Higgins in there with two 1,000-yard receivers in Green and Boyd and watch out. Look what a couple of second-round receivers did last year for playoff teams: Deebo Samuel averaged 14 yards per 57 catches for the 49ers and DK Metcalf scored seven TDs for Seattle on 58 catches at 15.5 yards per. Put numbers even close to that and this offense goes through the roof.
Reader opens up things for everybody around him. Just by simply putting him in a stance. So quick, so versatile. He gets one-on-ones for a Pro Bowl tackle next to him and a Pro Bowl rusher on one edge and an 8.5 sacker on the other edge. Plus, Reader makes life easier for some young linebackers. Great pickup.
Mr. Hobson always good to read the articles you write. If I had to some up the entire Bengals draft each and every pick you could argue is a steal. Which player do you think was the biggest steal out of them all? Greg Luther, Cincinnati, OH
GREG: Thanks very much for taking the time to read and send one in. Depends who you ask. I bet the coaches would say the sixth rounder, Kansas tackle Hakeem Adeniji. It sounds like offensive line coach Jim Turner would have taken him even earlier than the fourth. The scouts would probably take their pick between linebackers, third-rounder Logan Wilson and seventh-rounder Markus Bailey. If this draft hadn't been so receiver-heavy Wilson probably goes in the second and Bailey had the versatility and production of a mid-rounder.
But for me it is Higgins. To get a wide receiver with his size, speed and big-game production, that's a wow. They clearly ended up with two first-rounders.
Greetings from an orange and black dot in a sea of red. Local Cincinnati media has said multiple times that the success of Joe Burrow's reign is directly tied to the team remaining in Ohio after the current lease. Your thoughts? Thanks! Sean Carney, Kansas City, MO
SEAN: I think that's a bit dramatic. This franchise has proven to be a Riverfront anchor as well as resilient. Go back to the 1981 opener when just 41,177 showed up at Riverfront Stadium and they ended the decade amid 43 straight sellouts. In the 2002 opener, 53,705 arrived at Paul Brown Stadium and the next season they began a streak of 57 straight sellouts. No question the popularity of Burrow has this team headed in that kind of direction. But it doesn't seem to me like there's a sense of desperation. They're going into their 53rd season on the river. Hard to see a long legacy like that coming down to a couple of years and one guy.
Do you think the Bengals will show Joe Burrow they are serious about winning by building an indoor facility? I get tired hearing the talking sports heads mention the Bengals have to practice outside during inclement weather. Rick Holly, Sidney, OH
RICK: All Burrow and everyone else has to do is look at the last 50 years. The Bengals are the only team in that stretch to draft four quarterbacks to start at least 97 games for the team that drafted them. That's pretty serious.
If that's not enough, all they have to do is look at the last nine years when they spent the previous collective bargaining agreement in the upper half of the NFL in wins, post-season appearances and spending.
And if that's not enough, just look at the first ten days of this CBA, when they set a record in free-agency spending.
They keep looking at the options for an indoor facility and there's more than money involved. There's land, logistics, access. But the fact they don't have one isn't because they lack seriousness.