To submit a question for the next Hobson's Choice, click here. To learn more about "This Day in Bengals History" by Geoff Hobson, go to Bengals.com/Book or visit the Bengals Pro Shop.
Geoff I am thrilled with the start of the season. There is a lot of positives to get excited about. Andy's having a great year , the receivers look good , Mixon and Gio are doing great and the defense looks like its starting to put it together.
We can't ignore the elephant in the room which is the O line. Since we only have the players we got would it make sense to put the best players on the field even if it isn't there best position. Moving Boling to right tackle and putting Westerman at left guard and putting Price when healthy at guard or center depending on if you like Hopkins or Redmond on the field more. This may not be a great solution but the running game is inconsistent and Andy's going to get killed in pass protection. One last thing since your close to the team is there something personnel between Westerman and the coaches as to why he doesn't get a opportunity. It certainly looks that way. Thanks Richard Herrington, Hallsville, TX
RICHARD: No question about it. A team with new offensive and defensive playbooks couldn't have drawn it up any better to get off to a 4-1 start. How about those last three second-round picks? Wide receiver Tyler Boyd, on pace for nearly 1,300 receiving yards, running back Joe Mixon, averaging 91 yards per game rushing that would give him nearly 1,300 yards the rest of the way, and rookie safety Jessie Bates, rated as one of the NFL's top five safeties depending which profootballfocus.com category you choose.
Any time you start toying with moving guards to tackle and moving rookie centers anywhere, time to stop yourself. I hear you. Quarterback Andy Dalton has been under enough duress the past two weeks to warrant concern. The Steelers can't knock him around like the Falcons and Dolphins did without a heavy price. But moving people wouldn't seem to be the answer for a fairly young unit looking to get some rhythm. I can see changing out a tackle for a tackle and guard for a guard, but that's about it.
The criticism of right guard Alex Redmond is interesting. In just five NFL starts he's been inconsistent, but he's also flashed enough talent to hang with him. He's given up some pressures but the bet here is he's got a lot of their blocks that put people on the ground. Redmond is a strong, tenacious guy that's got the mindset. Don't kid yourself. NFL coaches would play Bonnie and Clyde at the guards (and tackles and wide receiver and …) if they thought they'd help them win. Maybe it's personal in junior high, but not here. The interior players have all worked under the last two sets of coordinators and line coaches, so it's like it is just one set of eyes. That's not to dismiss Christian Westerman because they think he's a prospect. But they think Redmond at right and left guard Clint Boling gives them the best shot.
Hobbs, any chance we see Auden Tate get active with the injuries at tight end? Julian Wasserzug, Louisville, KY
JULIAN: No, don't see it in the cards. They're keeping Tate at wide receiver. A tight end has to have some semblance of blocking skills. Tate can't get on the field on special teams, but he's on the team because of his ability to catch and they'll develop everything else. If they need a tight end, they'll go get one and they did when they brought back Matt Lengel.
First time long time. Thanks for taking questions from fans. It seems to me that Dalton is throwing with much better accuracy this year on the move. Do the stats support this ? Was this a point of emphasis during the office season ? Extra training on his own and/or coaching from the Bengals staff ? Thanks John French, Cincinnati, OH
JOHN: Thanks for writing in and hope you do again soon. The numbers say it at 65.8 percent for a guy who came into the season with a career mark of 62.3 off a 59.9 season that was his worst percentage since his rookie year. My opinion, here are two reasons: Lazor's new playbook emphasizes getting the ball out of his hand quickly and the re-invention of the pocket.
According to profootballfocus.com, Dalton is completing 72 percent of his passes and has six TDs when he's in the pocket less than 2.5 seconds. He's getting it out of there like a hand grenade. I also think during the offseason Lazor worked very hard with new offensive line coach Frank Pollack to re-shape the pocket. Once Hue Jackson left, the offensive line failed to give Dalton not only time, but space, in the pocket. The guy could never see down field because the guards and center were in his lap. It looks like to me Lazor and Pollack have made the pocket stouter with quicker, firmer sets so Dalton can view the field. They haven't been as effective doing it the last two weeks but, heck, they've got a guy playing center for the first time in his life playing his butt off. Still, the concept seems to have taken hold.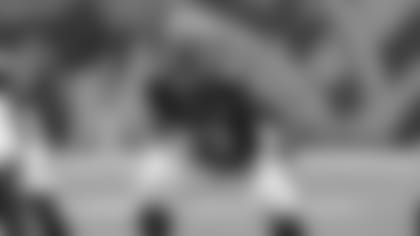 Hi Geoff, I've been a long time fan since I started watching football in the early 80s. Thanks for all the great articles on Bengals.com over the years! Man it's come a long way since it's start up in the late 90's. I would like to congratulate Sam Hubbard and Michael Johnson on the pick six's last Sunday against the Dolphins. So here is my question...do you think the Bengals front office should pursue Flowers from the Giants? It seems me that they could use him on that o line. Thanks Again and Go Bengals Who-Dey! Eric Daso, Marion, OH
ERIC: Thank you for reading and being there at the creation. You have to tip your hat to director of communications Emily Parker. She's building a juggernaut at Bengals.com. My sense is the Bengals aren't going to pursue former Giants tackle Ereck Flowers and I agree. They've already got a first-round tackle from the 2015 draft that has struggled to make the transition, so why not keep their own in Cedric Ogbuehi? How much better can Flowers be than Ogbuehi and 2015 second-rounder Jake Fisher? And those two guys know the offense. You saw what happened when the Dolphins had to put in left tackle Laremy Tunsil's backup. Look out below. Yes, they've got two backups in Ogbuehi and Fisher that should be playing. But I would think they're not going to find better talent than that out there at that position at this point in the season.
Hey Geoff, Long life Bengals fan in Chicago and thank you for the work you do to keep us close to the locker room. While this Bengals team has persevered in moments in where they seemed worse for wear, they have stunned me to witness the fortitude they have demonstrated in every victory thus far. They usually were on the other end of that stick and found ways to give the game away. That hasn't been the case with these precocious Bengals. Though, my concern as a Bengals fan comes with how many more of these can they pull off? ... as the saying goes, you can only go to the well so many times. As the season gets deep that well may have gone dry.
So my actual question to you is two parts.
1) What will the Bengals do and what can they do to fix the inconsistent play of the offensive line? It's becoming a painstaking problem. 2) Why is the pass rush look so fierce in action, but then they seem to have issues plugging holes between the tackles on runs...is this a defensive line issue or linebacker meltdown and how will this be addressed? Thank you once again, for your contribution to The Who Dey Nation! Benji Davila, Chicago, IL
BENJI: Thank you for your own contribution to the hearts and minds of Bengaldom.
As for the O-line, scheme it. Keep getting the ball out quickly. Keep running it. Best pass protection is that 4.5 yards per Joe Mixon is lugging around. And they've got to believe Cordy Glenn is going to play more like he did the first two weeks rather than the last three weeks at left tackle. Other than that, it sure sounded like head coach Marvin Lewis isn't making any personnel changes up front. Can't blame him. Want to break in a new line against the Steelers' front seven featuring rush linebacker T.J. Watt, Dalton-killer Stephon Tuitt at one end and the brilliantly athletic Cam Heyward at the other end? Probably not. Scheme it. That seems to be the answer rather than a personnel tweak.
As for the run game, it's a heck of a question. I think it might be a couple of things. Middle linebacker Preston Brown has been nagged with an ankle injury since the opener and missed time and their best run player, WILL backer Vontaze Burfict, just came back after missing the first four games. I think it's also taken the D-Line time to sync up with the backers in first-year coordinator Teryl Austin's scheme. He likes to blitz more than they're used to and I think there's probably been an adjustment period. That's an area I would imagine gets better as the season goes.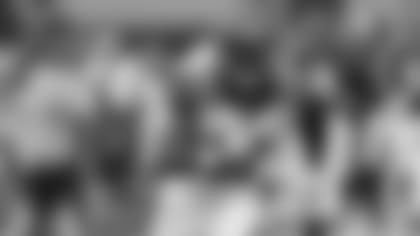 Since we've seen Trey Hopkins take on the starter role with his play has being solid, while watching Alex Redmond struggle, what are the odds Trey steps in at RG when Billy Price returns? Thanks Kelcey Steele, Cincinnati, OH
KELCEY: I think the odds are they keep Redmond at right guard when Price comes back to play center. Remember, they put Redmond in there after a preseason they watched Hopkins and him compete. And that was after a season Hopkins played 13 games at right guard. It's my sense they don't view Redmond's season as a struggle but as the ups and downs of a talented player learning and developing in his first season of any true playing time. In the end, they believe he has the greater upside.
Hey how are you? articles are the best.... 1. Should we panic now because Eifert is gone? is the season over? 2. What is your opinion on the defense? like we are playing off coverage and too much zone...
3. Do you think its time to replace Redmond ? Thanks for responding...Greg C.
GREG: Thank you for dropping a line with the kind words. No question they're reduced without tight end Tyler Eifert simply because opposing defenses can play them more straight up without him. Before, they were in nickel to account for Eifert's down-field threat, and that made it easier to run and work the middle. Just look. In the 5.5 quarters since he's been hurt, the offense has scored just 20 points on two touchdowns and two field goals.
But, I've been turning to 2014 as evidence they can win without him. They won 10 games with a 1,000-yard rusher (Jeremy Hill), a 1,000-yard receiver (A.J. Green) and a defense that finished 22nd. This team is certainly better than that team with running back Joe Mixon on pace for 1,000 and Green is again. But this trip Mixon has Giovani Bernard and Green has Tyler Boyd. To me, though, here's the key. Dalton only got sacked 23 times that season. Big stat.
I'm a little nervous about how the defense hasn't been able to stop the run consistently, but love the way they make life miserable for QBs and how they cover in the back end. Zone? Man? I like they've given up just two balls of at least 40 yards and just 15 of at least 20, not far from the league-best of 11. They look to be all in on Redmond.
Hey G long time viewer of your work. Best site in the NFL. My question is simple. What is going on with the not so Special Teams the last few weeks? Big returns, blocked punts and field goals, which is not characteristic of a D Simmons squad. Pls explain. Thanks. Mike Flege, Sharonville, OH
MIKE: Thanks for the high grades. I waited to talk to special teams coordinator Darrin Simmons after Wednesday's practice before I answered you and he seems most displeased with how some of his veterans have failed on some of these key plays and how it has led to some miscommunication. So you can't just blame it on youthful transgressions. I'm with you. I mentioned I thought it was the worst month he's had here in what has been a steel-belted 16-year stint and he thought there had been similar stretches, but I disagree.
One interesting item is he said he thought his guys were playing not to lose. When something goes bad, he gets the sense they're just waiting for something bad to happen. Simmons is a hell of a coach and I would expect them to play a lot looser Sunday against the Steelers. They better. Simmons compared their kicking game to the pressure-oriented Dolphins that gave them so much trouble Sunday.