Geoff, much has been made of an O-Line's need to gel as a unit, needing to know and trust their assignments vs. stunts & blitzes. With these guys at different spots every day does that hinder their cohesiveness so close to week 1? John Belanger, Fairfield, OH
JOHN: It hasn't looked that way so far. Despite the changing lineups, they've allowed two sacks in two games and that was in the last 50 seconds of the first half in Kansas City. That's one of the reasons rookie quarterback Ryan Finley has put up league-leading numbers. Think back to preseasons past and the second halves of those games. Look out below. Haven't seen that this year. It's hard to make a deep dive (as they say) into that first group after their three drives were so disjointed by penalties. But one thing they weren't is confused and floundering.
I have a two part question: 1. In your guestimated opinion, what are the odds that Andrew Brown gets a starting job on the defensive line? 2. Where does WR Stanley Morgan stand within the depth chart as of now Josh Johnson, Middletown, OH
JOSH: Long at best. I don't know how you quantify odds, but is 100-1 a long shot enough? 1-100, however they do it. And that's no knock on Brown, it's just that before the pre-season games he was working exclusively at end and they've got their starters there. In this last game he was working with that first nickel group, but in real life with Geno Atkins, Ryan Glasgow, Lawson, Dunlap, Hubbard, that's just not going to happen. But the guy is having a very good preseason and is showing that could be a solid role player, roll through kind of guy. Nothing wrong with that on a talented line.
Morgan is probably on the outside looking in, but he's had a fine camp and he'll have plenty of chances in the next two games (especially in the pre-season finale) to put his fate in his own hands. That's when it happens. It's called The Cedric Peerman. In 2010 Peerman may have been headed home to Virginia, but he popped off the bubble when he broke a 93-yard TD run in Indy in the finale, made the club and got in seven games that season before establishing himself as a top special teams players during seven seasons and 92 games in Cincinnati that included a Pro Bowl.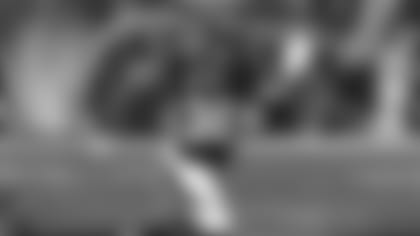 Look forward to reading your column every week. Bengal fan from the beginning. Each new head coach would like to have their guy as quaterback. What kind of numbers would Dalton have to put up this year to be Coach Taylors guy. Douglas Bailey, Reading, PA
DOUGLAS: Thank you very much for your support and for reading in the old home of the Reading Red Sox, where several stalwarts of the '67 Impossible Dreamers, such as Reggie Smith and Rico Petrocelli, played Double A ball.
I'm going to work backwards here because I think Andy Dalton is like 90 percent of the quarterbacks in the NFL and needs a cast around him to be successful. The day he hurt his thumb in his 77th game in 2015, his winning percentage hovered around .650. Since that season, A.J. Green and Tyler Eifert have combined to miss 48 games, the offensive line has been revamped and the defense has given up 43 percent of its third downs.
So I'm looking for the numbers he needs around him to have numbers to keep. Let's go back to 2015, when he was having an MVP-caliber season with a 106.3 passer rating leading the Bengals to a 10-2 start before getting felled. The top two running backs split 377 carries (not the 293 of last year or the 283 the year before that) and he had a 1,200-yard receiver in A.J. Green, an 800-yard receiver in Marvin Jones and a 600-yard receiver in tight end Tyler Eifert. The way this offense is dishing the ball (and depending when Green is healthy), those numbers should be attainable by Green and Boyd with a little help from friends that seem plentiful.
According to profootballfocus.com, Dalton's play-action numbers are very good, better than those without it, and I would imagine maybe getting those rushing attempts by Joe Mixon and Giovani Bernard to as close as 400 would be advisable. In 2015, Dalton's 119.4 passer rating on play-action was third best among regular quarterbacks even though his 94 attempts were ranked 21st in the league, according to PFF. Get some of those numbers up and Dalton is in triple digits.
And last season the Super Bowl champion Patriots were right smack in the middle of the NFL with a third-down percentage of 39. In '15 when the Bengals went 12-4, they were at 39.4. Competent. Competitive. Winning. It is numbers like that Dalton needs around him and when he gets them he's proven he's delivered.
When the Bengals new coach was announced, I thought he might reconsider our base defense. I've been asking myself why it is obvious we should be a 4-3. It seems to me we could be a formidable 3-4 team with Lawson at LB. Am I making sense? Bob Field, Litchfield Park, AZ
BOB: I'd have to respectfully disagree. A 3-4 team is flushed with linebackers, but this team is looking for them. Plus, Carlos Dunlap and Sam Hubbard, their starting ends, are prototypical 4-3 ends. They would be miscast in a 3-4.
Hi Geoff, With a breath of fresh air and a coach and staff that's willing to let the young guys play, what are the chances of Ryan Finley playing if the season gets out of hand like say at the midway point (2-6 record for example)? Ty, Rochester, NY
TY: It's an interesting question, but I don't see it. When this club has struggled, they've had bigger problems than Dalton. You'd have to tell me what it looks like, but I can't imagine a first-year offensive-minded coach implementing his system deep-sixing a veteran QB like that. Maybe for the last month of a lost season, but it would have to be pretty 1978-79 or 1998-99 lost and I don't see that. If it gets like that, we're talking about a QB not Dalton or Finley and that's not on the agenda.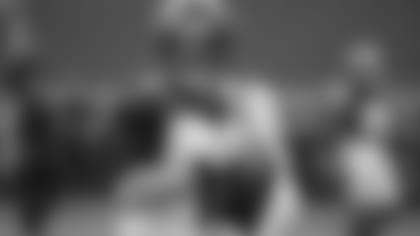 You're going to get a lot of Dalton questions, but why does one guy look like a rookie who is timid and hesitant, starring down WRs, and one guy looks like a pro? That's the $25-30 million dollar question. I like that we have competition at camp this year, my question though is, why are we not seeing competition at ALL positions? LB and safety? This was the worst D in football last year. Dustin Merritt, Manhattan, KS
DUSTIN: I'll take all the Dalton questions right here. What a difference five days and four holding penalties make. I mean, it was a week ago the man sliced up the Chiefs' supposedly new and improved defense on seven of nine for 80 yards and a TD without Green, Eifert, Mixon, Bernard and John Ross. Timid? Hesitant? On Thursday he was perpetually second-and-20, but he also made a hell of a throw over the middle to Josh Malone and on third-and-four scrambled for a first down that was negated by a holding call. Timid? Hesitant?
Look, I'm as impressed as you are with Finley. We all looked it up and he's at the top of the NFL pre-season passing stats. He's been terrific. He's also working against second- and third-teamers playing vanilla defenses. And that's nothing against the kid. He's done a great job taking over the back-up derby, but the starting job is a whole different story. In Dalton, Taylor has guy whose brains at the line of scrimmage are celebrated around the league and he's relying on those brains to implement a new scheme behind a rebuilding offensive line that doesn't have its top playmaker. One of the reasons Taylor has been brought in is to revive Dalton's Bengals career, not end it. Yeah, it's a $25-30 million question. But next year, not this year. And there's no need to rush Finley. He can use the year to get stronger, get more reps and learn the system.
No question they need some linebackers to step up. But this wasn't the worst defense in football because of talent level. It was more the inability to adjust to a new scheme.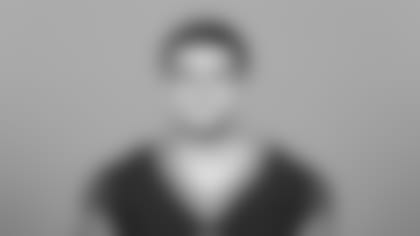 Enjoy everything you do keeping us fans informed. My question is about the kicking competition if there is one. After failing onkeeping Jake Elliott do you foresee the bengals keeping Vizcaino? Corey Yates, Bismarck, ND
COREY: Thank you for the kind note. Maybe they are thinking about keeping Tristan Vizcaino. I'm not sure there's any comparison with Vizcaino and Elliott, except that they both have a strong leg. Elliott was the first kicker drafted. Vizcaino didn't get drafted or hook on with a team his first year out of Washington. And while Vizcaino's leg has been impressive in practice, he's also been all over the place. After watching Justin Tucker for years you know what a weapon he could be. But can Vizcaino kick a 38-yarder with three seconds left in the din of a 20-20 game in Seattle? You know Bullock can. Vizcaino has been closer to 50 percent than 85.
I hear you, I hear you. That's the same argument they made in 2017 and it cost them a fine, young kicker. But I don't think Vizcaino is on the same level Elliott was on in 2017. That said, the guy has talent and anyone who kicks a 57-yarder in an NFL game has to be given a long, serious look. But also with the knowledge he missed a 46-yarder a few moments before. It's interesting, no question. All I'm saying is they're going to have to see a lot more and he certainly has done enough with that kick to warrant the looks.
I am not a delusional Bengals fan. With our weaknesses, and work that needs to be done to fix our culture. How many years do you expect the Bengals to become a playoff capable team? *expecting cores staying and our terrible FA moves yearly Dan Hurley, South Orange, NJ
DAN: It took Marvin Lewis three seasons to get them to the playoffs and, thanks, in part, to Lewis himself, this team is on a faster track. A much faster track when A.J. Green gets back. The quarterback has been to the playoff five times, the 1,000-yard receiver has another 1,000-yard receiver opposite him and there is a Pro Bowl tight end in between them. This offense is much more dangerous than the 2003 Corey Dillons. They didn't have Giovani Bernard. Lewis had a better offensive line in '03, but that defense didn't have Geno Atkins, Carlos Dunlap or William Jackson III, either. The Bengals have a dozen players left from the 2015 AFC North champs. The '03 club had no one that had played on a division champion in that locker room.
And, thanks, again, in part, to Lewis, he, along with Duke Tobin's more established personnel department, had things in place. Yes, things needed to change and be updated, but the framework of a successful program with talent was intact while Lewis had to pretty much build it. They're much closer to the postseason than they were in '03. And that year the Bengals were a game away. This team is better than that one and should be in the hunt right away with everybody healthy.