This is the most active The Bengals have been in the free agent market & have bolstered our defense. Given the fact that I hope the obvious choice with our #1 pick should be Joe Burrow, what other positions should we address in the draft. Darrel Hutton, Florence, KY
DARREL: Linebacker, linebacker, linebacker. Did we say linebacker?
Certainly signing eight free agents has opened up the board at No. 33 and you have to believe they'll take the best player and not reach for a backer, unless a top one is there deserving the pick. I do think their approach in free agency was impacted by how the scouts saw those two worlds. I think they saw good defensive linemen and defensive backs in free agency, but a thin linebacker crop. By contrast, the scouts see a good and deep linebacker draft, so the personnel guys tried to match up strength with strength, and I suspect that a linebacker or two will come off the board at some point during the draft.
Beyond linebacker, they've got a shot to upgrade other positions, with the most likely suspects being wideout, another deep class, and offensive line.
Hi Geoff, Always enjoying your "Choices" from my resident here in Denmark EU. Question: 8 CBs on roster and still every 7 round mock have us take one or two calling it "a need"? Do you see us pick one more? Thanks! Morton F. Hansen, Bornholm, Denmark
MORTON: Thank you for checking in and hope everyone is well in your world. Yeah, I'm with you there. It certainly isn't a need there like there was, is it? And that's looking beyond the major pickups of a starting cornerback in Trae Waynes and a starting slot corner in Mackensie Alexander.
They also feel like they upgraded their depth at the last two or three spots behind Waynes, Alexander, William Jackson III and Darius Phillips with three other additions that have a played a lot of pro ball. They've signed two former NFL vets in LeShaun Sims (56 games in four seasons) and Tony Brown (20 games in two seasons) along with the reigning CFL interception leader Winston Rose (40 games and 14 interceptions in three seasons in Canada), so the cupboard is full.
But, the old saying is an old saying for a reason. Can't have enough corners. When the Bengals defense took them to six playoffs in eight years starting in '09 with Johnathan Joseph and Leon Hall, they had first-round corners backing up first-round corners. They won't take a first-round corner this year and it's not a draft overflowing with starting corners. But they won't pass up one that's clearly the best player available, either. Yet the free agent activity allows them to go elsewhere if the grades are comparable.
Is it true the Dolphins are wanting to move up to the Bengals spot in the draft? What would it take for the Dolphins to move up to number one? What would the Dolphins have to give up for the Bengals number one overall pick? Lee McRoberts, Batavia, OH
LEE: How about this year's draft, next year's draft and the '72 Dolphins? Fullback Larry Csonka, make that Syracuse's Larry Csonka (and Ohio's Larry Csonka), always one of our favorites.
The way the Bengals attacked free agency tells me they have no desire to trade that top pick because it looks like their salary cap is geared for a rookie quarterback.
Which one? With the Bengals' recent first-round injury history, can't see them touching Tua and, yeah, Justin Herbert is the kind of big and tall strong-armed quarterback they love. But take a look at various media big boards. On profootballfocus.com and ESPN.com's Scouts, Inc., Burrow is ranked one and two, respectively, while Herbert is 29 and 27. There just seems to be too much of a gap to make that trade.
The people that cover the Dolphins believe the team very dearly wants Burrow and if they haven't already made an offer to the Bengals, Miami will quite soon. The estimable Paul Dehner, Jr., senior writer for The Athletic who covers the Bengals, was all over this subject last month and basically concluded the Dolphins just couldn't do a trade without damaging their re-building effort.
According to the Jimmy Johnson trade value chart (courtesy of Drafttek.com), the Dolphins could get up to No. 1 from 5 with the 18th pick in the first round and their first second-round pick, giving the Bengals four of the top 39 picks. There's some thought Miami won't give the Bengals their third first-round pick at No. 26, but one of their two first-rounders in 2021.
One model has all three first-rounders and a third-rounder to go along with that 2021 first-rounder in an astounding package of four first-rounders. (That's with the Dolphins trading up to three, but you get the idea.) On the chart, that computes to the Bengals getting about 4,500 points to Miami's 3,000.
Enough? Is there a value chart for what guy a like Burrow means to the Bengals on-and-off the field? A popular, charismatic Ohio guy who is the purest passer to come down the pike since...
No. Some things may be priceless.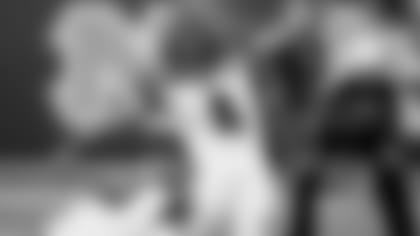 Why aren't the Bengals picking up the Patriots kicker? Paul Staniszewski, Cincinnati, OH
PAUL: Why would they? Randy Bullock is coming off an excellent year in which he set the team record with a 57-yard field goal during a season he missed just four tries. By hitting 69 of his 80 field-goal attempts as a Bengal, Bullock's 86.3 percentage is right there with Shayne Graham's Bengals-record accuracy record of 86.8. And he has qualified with 75 attempts.
As great as Gostkowski has been (he was just named to the All-Decade team Monday with Justin Tucker), he's 36 and his best days are likely behind him. That's why the Patriots moved on. The Bengals are coming off a huge offseason where they spent their salary cap room on defense and any leftover dollars will be used to extend their own guys like Joe Mixon.
Hi, Geoff. Long time/first time. Fan of Bengals and Hobson's Choice. You do a great job, thank you! Would keeping Andy Dalton as a starter to mentor Joe Burrow improve Joe's chance for a long great career in Cincinnati? Kevin Flowers, Maineville, OH
KEVIN: Thank you for reading and for the kind words.
Love Andy. He's written a lot of winning scripts. But he's proof a guy can come right out of college, not sit behind a veteran and not only win right away but hold the job for a decade.
In 2011 the Bengals offensive line, running game and defense gave Dalton the help he needed to lead them to the Wild Card Game at 9-7. Burrow certainly has comparable mettle and brains. What Dalton did for Texas Christian when he brought the Horned Frogs into the big time Burrow did the same kind of thing in Baton Rouge when LSU re-invented itself as a master of the new wave passing game and he took home the Heisman.
And the talent is certainly there. You're talking about the No. 1 and the 35th pick.
Hi Geoff! I celebrated 40 years of being a Bengals fan this past weekend by watching the Freezer Bowl on YouTube - glorious victory! Assuming the Bengals select Joe Burrow, when can the coaching staff start bringing him up to speed? Dave Greiner, Indianapolis, IN
DAVE: Congratulations again! Ken Anderson remains the only NFL quarterback to win games on two different planets after taming 59-below. Bengaldom and Hoth. For your perusal, here is that game again.
I would imagine that Zac Taylor makes the call to welcome Burrow to Who Dey Nation on the night of April 23 via Zoom or Skype or whatever else. Then he'll switch the call to offensive coordinator Brian Callahan and quarterbacks coach Dan Pitcher and they'll start installing the first practice of training camp.
Hello Geoff, I like what we have done with the moves we have made on DEFENSE!! But I don't think we have done enough for our offense to improve. Do you see us trying to get a big name WR in free agency or the draft ? Thanks David Conner Sr. Cynthiana, KY
DAVID: No reason to go into free agency during a draft season that boasts one of the deepest receiver crops ever. They'll take a look, but it's not a festering need on Draft Day with A.J. Green, Tyler Boyd and John Ross. They needed a bigger, stronger interior player on the line and got him in respected veteran Xavier Su'a-Filo at right guard.
I think they've made moves offensively to make them better, they just haven't been as splashy as the ones on defense. They'll have four different Opening Day starters on offense that didn't play in the opener last year: Green, Su'a-Filo, left tackle Jonah Williams and, we'll guess, Burrow. Two of them, Burrow and Williams, are making their first NFL start. The five new starting defenders have all started in the league.
How do you see the Bengals addressing the Offensive Line this off-season? Stew Bertke, Cincinnati, OH
STEW: They've been addressing this O-line overhaul since Zac Taylor became head coach 15 months ago and stood on the table for Jim Turner to coach the group. Since then they drafted a left tackle No. 1 (Jonah Williams), traded up to get a left guard (Michael Jordan) settled on a long-term center (Trey Hopkins), claimed a rookie potential starting tackle (Fred Johnson), and signed a respected veteran right guard in free agency (Xavier Su'a-Filo). The coaches like right tackle Bobby Hart, whom the club re-signed last year as well, so the staff feels that it's time to let the line settle in and meld together.
Maybe the most important thing is they ripped up the running game scheme in the middle of last season and for the first time since 2016-17 they'll have the same line coach for a second straight season.
That's a look at how they've addressed the position, but they were doing it before this offseason.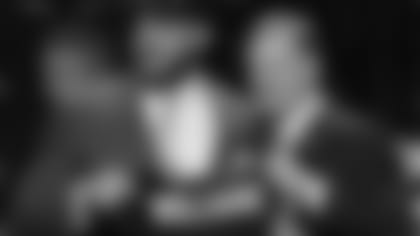 With all the offseason editions, where do you see the draft board going? Do you see any draft day trades for players or picks or both? Bring on Burrow!!!! Thanks Paul Eastwood, Weston, WV
PAUL: Like I say, they need to draft at least one linebacker, but the Bengals' yeoman work in free agency has opened up the No. 33 pick. It could even be offense. If there are trades, I would imagine it would involve trading back to get more picks rather than trading up and giving them up. But the X factor here is Dalton. They may be able to trade him to get back up into a round.
Do you think that there is enough protection for Joe Burrow (or any new QB for that matter) especially on the left side of the line? Andy Dalton was being hammered from that side pretty consistently for the past couple of seasons. Paddy Flint, Northallerton, Yorkshire, England
PADDY: Great to hear from the other side of the pond and wishing you health. With first-round pick Jonah Williams now back and at left tackle, that's pretty good insurance. But any rookie quarterback's best protection is not in front of him but behind him and on the sideline. As in Mixon, Joe RB. And Z. Taylor, playcaller.
Are the Bengals more likely too go offense line or wide receiver with the 33rd pick in the draft the only player in my mind that they should get if available other than O-line is one out of the two top targets of Burrow last year. Shareef As-samad, Hamilton, OH
SHAREEF: I think that pick is coming down to pure grades and not the position. And that could be an offensive lineman or a wide receiver or a cornerback even though they are not screaming needs for Opening Day at those spots, thanks to free agency.
I am excited about all the new free agent signings on defense. But it doesn't look like the personnel line up with the traditional 4-3 or even a 3-4. What is Lou thinking of running in the new look NFL? Mike Keeney, Cincinnati, OH
MIKE: Last year defensive coordinator Lou Anarumo morphed the Bengals' 4-3 look into a hybrid 3-4 because his defensive ends have the ability to drop into coverage and they're in transition at linebacker.
Everyone is banking on a rookie quarterback. But they also have to be counting on a rookie linebacker and they'll tailor a lot of what they do around that new-look position. Yet with two physical inside backers in Germaine Pratt and Josh Bynes, look for the 3-4/4-3 hybrid to continue evolving. 
Hey Hobson, since we are doing old ball games from years pass due to the virus as entertainment. I had a couple of games suggestion, first the 1985 Cowboys vs Bengals at Riverfront and the 2004 Game 2 in Baltimore/Bengals comeback game. Attrice Kelly, Cincinnati, OH
ATTRICE: Superb choices. That day against Dallas has gone down in Bengals lore as "The Crummy Game." Asked during the week if he knew the name of the Bengals nose tackle, Cowboys center John Rafferty could only come up with "Crummy." Rafferty apparently didn't realize the third-year Krumrie was on the cusp of the Pro Bowl and got destroyed by the blossoming franchise icon.
And Rafferty had company. The Bengals were so pumped up for Cowboys head coach Tom Landry's first trip to Cincinnati with America's Team that they pummeled the 10-win Cowboys by 50-24.
And, yeah, that was a great 24-point fourth quarter in Baltimore in '04. The Ravens couldn't put a finger on wide receivers Chad Johnson and T.J. Houshmandzadeh and, I swear, quarterback Carson Palmer caught Hall of Fame safety Ed Reed looking on a called third strike he whipped past him on one of his TD throws. Reed took a double take behind him as if pleading balls and strikes.
The line of the day belonged to Bengals center Richie Braham. He said he went looking to shake hands with the Ravens defense after Graham's field goal to end it, but they were all gone.
Your requests have been noted and sent to Michael LaPlaca, Bengals.com's Icon of the Internet. And, keep an eye on Twitter for votes to get your favorite games on the site.