Bengals.com Senior Writer Geoff Hobson, a pillar of Cincinnati sports coverage with over three decades of experience in the area, has been named the 2021 Ohio Co-Sportswriter of the Year by the National Sports Media Association. He was recognized Monday night at the 62nd National Sports Media Association Awards Banquet in Winston-Salem, N.C. He was joined at the awards banquet by his fiancé, Anita Rollins.
Hobson is believed to be the first writer affiliated with a team's website to be honored as a state's Sportswriter of the Year in NSMA's 62-year history.
"This award is as much my family's as it is mine," said Hobson. "I also want to make sure that I thank Mike Brown for giving me the opportunity to work for the Bengals. This is as much his as it is mine."
Hobson first came to Ohio in 1990, joining the Cincinnati Post staff before transitioning to the Cincinnati Enquirer, where he covered the Bengals and the NFL for eight years. Bengals President Mike Brown hired Hobson in April 2000 as the first beat reporter to start writing for an NFL team's website.
"Any time you get recognized, it is an honor," said Hobson. "If I've had an impact on the guys who have gone from a beat to writing for a team and helped make it more normal, it's nice to be able to do that after starting when we didn't know where it was going. I feel that even if you are working for a team, you can still write well and report well."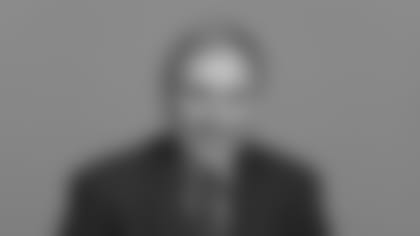 Originally a native of Framingham, Mass., Hobson attended Syracuse University, where he wrote for acclaimed student newspaper The Daily Orange. After receiving his bachelor's degree in 1981, he spent time with multiple news outlets in the Northeast, including the Binghamton Press in Binghamton, N.Y., and the Portland Press Herald in Portland, Maine.
According to NSMA Executive Director and former Syracuse classmate Dave Goren, Hobson's award serves as a testament to the quality and consistency of his work from outside of the traditional media landscape.
"I think it says a lot about Geoff," said Goren. "I'm a little biased, but I knew he was good when we were in college. I think it's the reality of where we are in media today. My feeling is that if you're a good journalist, it doesn't always matter (where the coverage comes from). And Geoff is as good as it gets."
The National Sports Media Association, Inc. is a non-profit organization which seeks to develop educational opportunities for those interested in pursuing a career in sports media, through networking, interning, mentoring, and scholarship programs. The NSMA honors, preserves and celebrates the diverse legacy of sports media in the United States.
Hobson shares this year's honor in Ohio with Zack Meisel, who covers the Cleveland Guardians for The Athletic.
For more information on the NSMA Awards Banquet, visit nationalsportsmedia.org.