Television: The game will air on CBS-TV. In the Bengals' home region, it will be carried by WKRC-TV (Ch. 12) in Cincinnati, WHIO-TV (Ch. 7) in Dayton and on WKYT-TV (Ch. 27) in Lexington. Broadcasters are Kevin Harlan (play-by-play), Rich Gannon (analyst) and Steve Tasker (sideline reporter).
Radio: The game will air on the Bengals Radio Network, led by Cincinnati flagship stations WLW-AM (700), WCKY-AM (ESPN 1530; all sports) and WEBN-FM (102.7). Broadcasters are Dan Hoard (play-by-play) and Dave Lapham (analyst).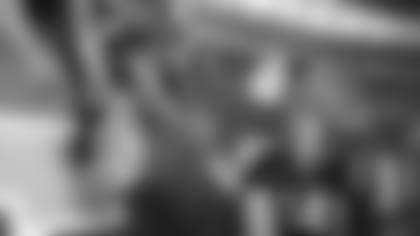 Tickets may be purchased by calling the Bengals Ticket Hotline at (513) 621-8383, online at **Bengals.com** or by visiting the Paul Brown Stadium ticket office. The Bengals Ticket Hotline and ticket office hours are from 9 a.m.-5 p.m. Mondays through Fridays. Tickets may be purchased 24/7 through Bengals.com. Fans can call the Bengals Ticket Hotline or chat with a ticket representative online if they have any questions.
For those who purchase individual game tickets on Bengals.com or the Official Bengals app will not be subject to additional processing fees when they choose mobile tickets as the delivery option.
Setting the scene: The Cincinnati Bengals this week host the Miami Dolphins at 1 p.m. Sunday at Paul Brown Stadium. Both teams enter the contest with 3-1 records and current division leads on the line. The Bengals own a share of first place in the AFC North Division with the 3-1 Baltimore Ravens. Cincinnati, however, currently holds an edge over Baltimore by virtue of a win over the Ravens in Game 2. Miami is alone in first place of the AFC East, but stands just one game ahead of the 2-2 New England Patriots, who beat the Dolphins 38-7 last week.
The Bengals improved to their 3-1 mark with a thrilling 37-36 road win against the Atlanta Falcons last Sunday. QB Andy Dalton led a dramatic 16-play, 75-yard drive in the game's final four minutes that ended with a 13-yard touchdown pass to WR A.J. Green with seven seconds left. The drive included one third-down conversion and two fourth-down conversions, and it overcame a 10-yard offensive illegal-use-of-hands penalty.
Indeed, Dalton, an eighth-year veteran, was noticeably calm and collected on the game-winning drive. He completed seven of 12 passes for 65 yards on that final march, and twice scrambled to avoid potential sacks for another 13 yards rushing.
According to Elias Sports Bureau, it was Dalton's 22nd career game-winning drive, a total which ties him with Boomer Esiason for most in franchise history. That number is tied for ninth among active QBs. A game-winning drive for a QB is defined as a drive that results in an offensive score (PATs included) in the fourth quarter or overtime that is responsible for putting the team ahead to stay.
For the game, Dalton completed 29 of 41 passes for 337 yards, three touchdowns and one interception for a 109.5 passer rating against the Falcons. He has recorded 100-plus passer ratings in three of the team's first four games this season (he also had marks of 109.7 in Game 1 at Indianapolis and 107.7 in Game 2 vs. Baltimore), and those three 100-plus games already are half of his 2017 total of six.
Entering this weekend's game against Miami, Dalton leads a Bengals offense that ranks a notable No. 4 in scoring at 31.5 points per game, despite ranking near the middle of the league in yards. Cincinnati ranks at No. 16 overall in total net yards per contest (376.5), including No. 12 in passing (283.0) and No. 22 in rushing (93.5).
Dalton's top targets have been starting WRs Green, who has 20 catches for 297 yards and five TDs, and Tyler Boyd, who has 26 catches for 349 yards and two TDs. And although the Bengals will be without starting TE Tyler Eifert, who is out after suffering an ankle injury against the Falcons, the team is expected to receive a boost in its rushing game soon with the anticipated return of Joe Mixon, its starting HB. Mixon has missed the last two contests while recovering from arthroscopic knee surgery. His status for the Dolphins game will not be known until later in the week, but when Mixon returns, he is expected to help balance the offense and add to its overall effectiveness.
On defense, the Bengals' coaching staff is focusing on the unit's overall performance, particularly on third downs. The team ranks 29th in the NFL in net yards allowed per game (419.3) and 32nd in third-down efficiency (opponents have converted 57.4 percent of third downs [35 of 61]).
While the offense may benefit with the possible return of Mixon, the Bengals' defense likewise also may receive a boost with the return of a key player. LB Vontaze Burfict, who missed Games 1-4 while serving a suspension, returned to the team on Monday. A seventh-year veteran, Burfict has been a defensive cornerstone for the Bengals since joining the team as a college free agent out of Arizona State in 2012. On Monday he was granted by the NFL a one-week roster exemption, during which the team may activate him at any time.
The series: Miami has been the second-toughest opponent the Bengals have encountered in their 51-year history, based on series winning percentage. The Dolphins hold a 16-6 edge, including 1-0 in postseason, for a .727 success rate. The Dolphins' overall winning percentage against the Bengals trails only the San Francisco 49ers (11-4, .733).
The Bengals won the last meeting in 2016 at Cincinnati 22-7, but Miami has won three of the past four meetings overall and leads 9-4 in games played in Cincinnati. The Dolphins won the last meeting in Miami, on a safety in overtime in 2013, 22-20.
The one playoff game in series history was an AFC Divisional contest, won 34-16 by the Dolphins at the Orange Bowl in 1973.
Bengals' red-zone streak a league best: The Bengals have come away with points on their last 34 trips to the red zone, the longest current streak in the NFL ahead of New England (29), Seattle (21) and Kansas City (21). Cincinnati has scored TDs on 25 of those 34 trips. The Bengals' streak dates back to Game 9 of last season, when the Tennessee Titans forced a Bengals fumble at the nine-yard line. Incidentally, the turnover didn't prove consequential for Cincinnati, as Bengals CB Darqueze Dennard intercepted a Titans pass on the very next play and returned it to the three-yard line, setting up a Joe Mixon TD on the following play.
Bengals-Dolphins connections: Bengals offensive coordinator Bill Lazor was on the Dolphins' coaching staff from 2014-15 ... Dolphins defensive coordinator Matt Burke was on the Bengals' coaching staff from 2014-15 ... Three Bengals attended St. Thomas Aquinas High School in Fort Lauderdale, Fla. — DT Geno Atkins, HB Giovani Bernard and OT Bobby Hart. Atkins is from Pembroke Pines, Fla., Bernard is from Boca Raton, Fla., and Hart is from Fort Lauderdale, Fla. Atkins' father, Gene, played for the Dolphins from 1994-96. ... Bengals HB Mark Walton is from Miami (Booker T. Washington High School) and played at the University of Miami ... Dolphins LBs Raekwon McMillan and Jerome Baker played at Ohio State University ... Dolphins WR DeVante Parker is from Louisville, Ky., and played at the University of Louisville ... Dolphins RB Senorise Perry played at the University of Louisville ... Bengals QB Jeff Driskel is from Oviedo, Fla., and played at the University of Florida from 2011-14 ... Bengals DE Carlos Dunlap played at the University of Florida ...Bengals secondary/cornerbacks coach Daronte Jones was on the Dolphins' coaching staff from 2016-17 ... Bengals defensive coordinator Teryl Austin coached at the University of Florida in 2010 ... Bengals HB Quinton Flowers (practice squad) is from Miami (Jackson High School) ... Bengals H-B Jordan Franks (practice squad) played at the University of Central Florida ... Dolphins LB Quentin Poling (practice squad) is from Gomer, Ohio, and played at Ohio University.