Hardy Nickerson wearing the 56 of his father during camp.
Hardy Otto Nickerson played 104 games of his 225 games for the Buccaneers and during his seven years in Tampa Bay he went to five Pro Bowls and had a son he named Hardy William Nickerson that still remembers teammates like Warren Sapp and John Lynch visiting the house.
So naturally Hardy William grew up to make his NFL debut against the Buccaneers when his Bengals open the preseason Friday night (7:30-Cincinnati's Channel 12) at Paul Brown Stadium.
"There's going to be a Hardy Nickerson wearing 56, but he's on a different team," Hardy Otto said one late night this week from his own training camp at the University of Illinois, where he's the defensive coordinator. "Thing are a little different."
Dad has got that right. This one has all the feel of a Thanksgiving dinner instead of a football opener. It seems like everyone is related by either blood or ball.
 Jay Hayes, the former Bengals defensive line coach for the 13 seasons from Tony Williams to Will Clarke, is now doing the same job for the Bucs and he'll be re-united with his younger brother Jonathan Hayes, the Bengals tight ends coach for the last 15 seasons. Jay plans to wear under his Bucs' polo the shirt his mother Joy gave all her kids all those years ago that says, "Mom loves you best.
Joy is driving over Pittsburgh with her life-long friend, Vanetta Lewis, the mother of head coach Marvin Lewis, a childhood friend of the Hayes' brothers.
And Lewis is matched against Tampa Bay head coach Dirk Koetter, his college roommate at Idaho State. It was Koetter and Mike Smith, the Bucs defensive coordinator and Lewis' defensive line coach in Baltimore, who blew up Lewis' phone earlier this week trying to find out about the cyst in his knee that threatened to replace the Korean Peninsula as trending.
"The first two phone calls I received when I was getting sprung out of the hospital were from Dirk and Smitty," Lewis says. "I had to cut Dirk off and have Smitty fill him in."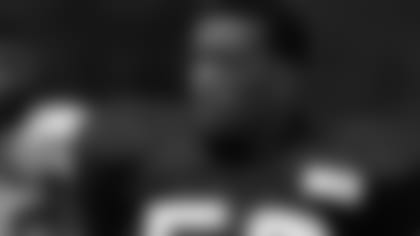 Hardy Nickerson, the rookie middle linebacker, prides himself on command of the huddle.
Nickerson The Younger may be the son of one of the linebackers Lewis coached in his first NFL season with the 1992 Steelers, but Nickerson has a roster big brother in Vincent Rey, one jersey number up from his 56 to No. 57. They're both students of the game that rarely misfire on a call.
"I heard some people in our linebacker room say that," says Rey of the guys that are calling Nickerson a young Vinny. "I see some of me in him. I play hard and I know what to do and that's him."
Not only that, both are undrafted, Rey out of Duke and Nickerson out of Illinois, where he came from across the country at Cal to play one last season for his father.
"I keep forgetting he's undrafted because he comes right in right away making plays," Rey says. "A lot of times I just forget if a guy is drafted. Because we've had undrafted guys stick around become necessary pieces for our team."
No one does undrafted free agents quite like the Bengals.  Last year they crowned Wisconsin rookie wide receiver Alex Erickson the AFC kick return champ. WILL backer Vontaze Burfict has been to the Pro Bowl and led the league tackles. They regard Ryan Hewitt as one of the best fullbacks in the NFL and gave him a second contract. Rey has been a perennial captain on special teams while starting 37 games as a plug-and-play backup at any backer spot.
And now there are guys like guard Trey Hopkins who seems to be a virtual lock as the offensive line's most versatile player as running back Tra Carson makes a roster run.
Now there are guys like Nickerson and Penn State's Brandon Bell that have to be called longshots to make it in a jam-packed backer room. But they know they won't be dissed in the process. They just have to look at Burfict and Rey.
"Absolutely," says Hardy the father when asked if the Bengals' penchant for using free agents played into his son's decision.
The Bengals do a great tag-team effort in the crucial 30 minutes after the draft to fend off other teams for undrafted guys they've targeted who are suddenly free. While director of player personnel Duke Tobin and his staff guide the coaches through the position lists, executive vice president Katie Blackburn is poised with the money and moves it around without exceeding the undrafted signing cap.  The coaches, who have usually talked to the guys throughout that third and last day of the draft, are doing the key negotiating.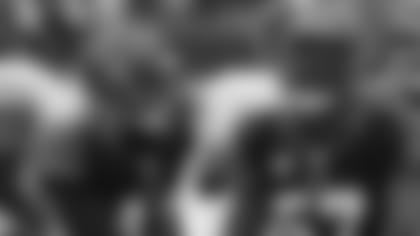 Vincent Rey (57) another undrafted guy who got here with brains and grit, reminds some of his fellow backers of Nickerson.
Bengals linebackers coach Jim Haslett, an NFL veteran of five decades from everything as NFL Defensive Rookie of the Year to Coach of the Year, spoke the Nickersons' language.
"Coach Haslett was very proactive talking to him," Dad says. "Hardy trusts what Coach had to say about having an opportunity, so he decided to take it. (The Bengals' free agency history) played a part in it as well. A huge part."
Since both are in camp, there have been only late night texts and phone calls.  The son says they talk, "Family, ball, what's on TV." Both are "Power," fans and they used this week to catch each other up on the latest episode.
Hardy Otto hasn't seen any tape of him in camp. He did see a tweet of his sack a few days ago.
"You just have to grind through it," the son says of his father's advice in an NFL camp. "Long days but you have to stick to the process. That's how he raised me. To try and do everything the right way. And don't take short cuts."
The father: "Focus. Stay sharp mentally. And make sure today is a better day than yesterday."
Hardy William prides himself on taking command of the huddle and Haslett at times is finding himself shaking his head on how his mannerisms mirror his father's.
"The biggest adjustment is the playbook," the son says. "There's way more calls, way more blitzes. Just knowing the speed of the offense. It's not faster; it's just that it's crisper. They know what they're doing.  You have to spot it that much quicker."
There is a Bucs-Bengals game with a No. 56 and both Hardy Nickersons are rooting for the home team. The father remembers a game in Cincinnati years before Hardy William was born. 1989. The Bengals rolled up more than 500 yards and quarterback Boomer Esiason threw for more than 300 in a 41-10 mastery of Nickerson's Steelers.
"Second game of the year. Boomer and those guys. The no huddle offense and all of that," Nickerson says.  "They had some great teams. Those were fun times."
For a guy who lived through 16 NFL pre-season openers, he knows what he wants to see.
"Hardy's a good football player," the father says. "Just see him run and make some plays. See him show everybody what he can do."
The Illini has practice Friday afternoon. The father will try to catch a glimpse in between meetings.
"We'll record it or find it somehow," the father says. "We'll make it work."
Which is exactly what the No. 56 in stripes is trying to do.
Cincinnati Bengals host Training Camp at Paul Brown Stadium Practice Fields 8/9/2017