What the Bengals did during Monday's workout is the NFL version of watching paint dry. But they're just the strokes needed to complete a Rembrandt, a Van Gogh or maybe even an Andrew Wyeth at the gun on a Baltimore canvas.
With the Bengals hosting the Packers in a joint practice Wednesday on the Kettering Health Practice Fields in the run-up to Friday's preseason opener at Paycor Stadium (7 p.m.-Cincinnati's Local 12), they backed off their regulars in a shortened 90-minute workout as special teams coordinator Darrin Simmons worked a practice centered on the kicking game.
"He loves situations," said kicker Evan McPherson, who says he never tires of Simmons' incessant demand for detail. "It will come up one day and we'll be masters at it."
Simmons, who has gone from Brad St. Louis to Brad Robbins in his 20 years in town as one of the best in his field, did it all Monday as the sweat darkened his Bengals gear. The gunners on punt, the up men on kicks, everybody against the clock.
There's the drill. The last five kicks of practice. All designed for the last snap of the game.
"It's not just for the kicking team or the offense, it's also how do you combat that on defense, too," Simmons said. "Be situationally aware and have the whole team understand how we're going to attack each situation. It can be the difference in the game. And it can happen at any point. Like at the end of the first half."
Simmons has a catalog of plays he can call on, like the 2016 opener in New York against the Jets. It was wide receiver Tyler Boyd's NFL debut, but he was savvy enough to call timeout after making a sliding 14-yard catch over the middle with a second left in the half. They got the field goal and won, 23-22.
So on Monday, Simmons went through five end-of-game scenarios.
On the first one, quarterback Trevor Siemian took a knee, centered the ball, and McPherson drilled the 32-yarder.
The second one was a third-and-five with no timeouts and 24 seconds left. Siemian lobbed a pass for a first down, then got the offense lined up to kill the clock. McPherson came on to hit the 34-yarder.
Simmons has already lived the third one. "Torro, Torro." That's the name for running the field goal team on and getting everyone else off in time to beat the clock as they did to send their 2015 comeback victory over Seattle into overtime.
Third and 18, 24 seconds left, no timeouts, completed pass but short, and here came the kicking team running on and the offense running off and when the maze was done, McPherson kicked a 40-yarder.
The fourth scenario was, of all things, a challenge on a sideline catch that got a first down. (Simmons thinks of everything.) The challenge upheld the catch, so when the offense got back on the ball, the clock was going at the snap and Siemian clocked the snap. McPherson was good from 40.
The fifth scenario was just a bit different. Simmons, as the official, stopped the clock with six seconds left after another challenged catch. This time it was upheld, but short, bringing up fourth down. With the clock starting to tick on Simmons/the official's ready, McPherson hit from 36.
But the preseason isn't as easy as it looks for Simmons and assistant Colt Anderson.
"It's a nightmare," Simmons admitted. "The worst day of the week is the game. I have to make sure 11 guys are out there, I'm trying to see a bunch of different combinations, some guys are up on offense, some guys on offense are down, some guys on defense are up and down. I try to stay away from a running back running the ball on first and second and third down in the fourth quarter and then he has to cover in the slot on the punt team. It's tough to manage all those things. It's a nightmare, frankly."
GREAT SCOTT: We all know how the last joint practice ended. Remember? Bengals-Rams right out here in Super Bowl LVI.V. The second day ended abruptly when Rams Hall of Fame tackle Aaron Donald ended up holding two Bengals helmets and swinging one of them at anything in his path.
Bengals safety Nick Scott, who was here as a Ram, says that won't happen Wednesday. First of all, it's only one day. Plus, the Bengals didn't play the Packers in the last Super Bowl.
"It's life over limb at that point," Scott said. "(The Super Bowl) has a huge part in it. So much emotion in this game, so it's natural for it to spill over a little bit. I don't expect anything like that.
"I think one practice is enough. Especially a program like this. We've got guys who have been here for a while and we've got pros who know how to practice. I think going up against another team has its value, but I think you get just as good work practicing against each other. Especially being a DB going against this wide receivers corps."
Scott says in their film archives the Rams erased all vestiges of that practice that took place post-swing.
"I don't start fights, but I just try to help my teammates," Scott said. "Offensive line and defensive line can always expect the (extra) curricular stuff. Hopefully it's peaceful and guys stay safe. But I'm a Bengal now, so I'm riding with them whatever happens."
CO-PLAYERS OF THE DAY: K Evan McPherson, P Brad Robbins
How can you not pick McPherson? He was 5-for-5 on game winners.
"But only between 30 and (40) yards," McPherson said.
OK, we also give you the rookie Robbins, who flawlessly directed traffic during the drill.
"He's really the quarterback of our field-goal team," Simmons said. "He handled those plays well. He showed his experience. He has a very, very solid understanding of what's going on. He has to help control the field goal team, help control the field-goal kicker. He has to know when the ball has to be snapped. There's a lot he has to manage.
And, by the way, he's been the only punter in camp as Drue Chrisman continues to convalesce from a medical incident. Simmons gives him good grades there, too.
"He's been real good, started out real good," Simmons said, "Had a lull and it's about managing his load more than anything because without Drue he's doubling up. He's been solid the last couple of days."
PLAY OF THE DAY: WR Andrei Iosivas
There is rookie cornerback D.J. "Poison," Ivey, and there is Iosivas of the Ivy. Princeton's rookie Iosivas just keeps getting better and better every day. And if No. 80 looks like he's always in the same frame with No. 20, Michigan cornerback D.J. Turner, the second-round pick, it's because he is.
"He's a good player, I'm a good player and good players make plays, so it's a good battle," Iosivas said.
On Monday, Iosivas got him on a deep ball from quarterback Jake Browning as the offense worked on coming out deep in their own end. The 6-3 Iosivas went stride for stride down the left sideline with the 5-11 Turner, also having a big camp and playing more like 6-1. Iosivas leaped with Turner and yanked it away on another contested catch.
"I had one similar earlier in camp," Iosivas said of a matchup with Turner. "I kind of had him on my back hip a little bit, but the ball led me to come back to him. I knew I had to kind of keep contact with him so I could get some room at the last moment instead of relying on the ball coming to me. The first time he almost picked it off because I allowed the ball to come to me. This time I more attacked it."
Iosivas and Turner are two guys Simmons would love to see excel at gunner covering punts on Friday. They've been working with and against each other, but Simmons isn't putting any stock in that.
"We can mimic as much as we want and all this stuff and try to give a look," Simmons said. "But gunners, they show up game day when it's live bullets. That's how you find out. Not out here."
QUOTE OF THE DAY: SS Nick Scott on coming into the league projected as top-flight special teams contributor:
"When I was in college, my college coach told me because of how I played on special teams, to watch Michael Thomas and Matthew Slater. Our Michael Thomas. My goal in the league was to come in and be just like Michael Thomas and make a living off special teams. It's funny how it all comes full circle and now I'm a teammate."
SLANTS AND SCREENS: Just a few days after he got carted off with a shoulder injury, rookie wide receiver Charlie Jones returned to practice Monday. He didn't do team drills, but ran routes on air and caught punts. Jones said he doesn't think he hurt the shoulder when he dove on it to make a 25-yard catch, but did it the play after when his hand somehow got jammed.
Jones, trying to win the punt return job from incumbent Trent Taylor, hasn't had any noticeable drops and neither has Taylor. But Jones said that's not why he's hurrying back. He also doesn't want to lose time at receiver. It wouldn't be a shock if they kept him out Wednesday and Friday, but Simmons said it's up to the doctor to see if he'd be any more vulnerable …
Right guard Alex Cappa, who left practice Sunday with an undetermined strain, didn't go Monday. Cody Ford took his spot with the ones, which shows Ford's value. He's been working at backup right tackle this camp, but he's coming off three seasons he's played pretty much guard …
No. 1 cornerback Chidobe Awuzie, coming off ACL rehab, worked in some one-on-ones …
Rookie safety Jordan Battle hasn't practiced all that much in camp, but he had a pick-six when he undercut a route in one-on-ones …
Simmons expects a lot from McPherson and sees the 2021 rookie sensation still on an upward climb after what Simmons saw as an 'OK ...solid ...season."
"I view him as one of the top young guys and he has to see himself that way," Simmons said. "It also means he has to do all the things to become the top guy and I still think that's part of the learning process for him." ...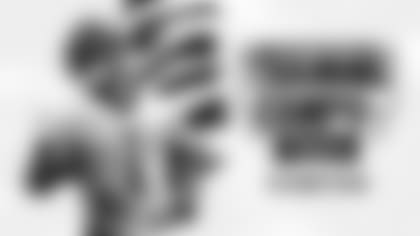 Training Camp 2023 Center
The official source of news and information about Bengals Training Camp 2023.