Usually the buzz at a Paul Brown Stadium finale involves guessing who had just made their last home appearance as a Bengal. But after Sunday's 30-16 victory over the Raiders had been constructed by guys just settling in on the river rather than taking off, the talk wasn't so much about a last stand but a first glance and a look back that honored a franchise great.
"All our newest core pieces stepped up today," said left end Carlos Dunlap after the old ones helped send Oakland head coach Jon Gruden's West Coast offense east in the fourth quarter.
"Without looking into the future because we're trying to finish strong," Dunlap said, "that's what we've got."
So if Sunday was indeed head coach Marvin Lewis' home finale after 16 seasons (and the only insiders that know are Lewis and Bengals president Mike Brown), his 75th PBS win in 127 outings (.598) shows there is plenty in the cupboard even though the avalanche of injuries continues.
At 6-8, they were eliminated Sunday night from the postseason when the Pats' Tom Brady threw an incompletion into the Heinz Field end zone. Before that, Bengals second-year running back Joe Mixon's career day of 129 yards on 27 carries rescued an offense that was on fumes when leading receiver Tyler Boyd (knee) exited in the last minute of the first half. Mixon's bulwark work brought him within five yards of 1,000. Boyd, hitting 1,028 yards just before he went down, hit the magic mark in his third season, three years before T.J. Houshmandzadeh and a year before Carl Pickens. With two sacks, rookie end Sam Hubbard reached six for the season, 3.5 shy of Dunlap's rookie club-record.
Another third-year receiver, Alex Erickson, stole the game for good with about five minutes left when his 77-yard kick return pulled the plug on Oakland's comeback that had just cut the deficit to 23-16 and moved him deeper into the NFL's top five.
Erickson, savoring his longest return since a 72-yarder on Dec. 18, 2016, signed a contract extension the day before the opener. A few days before that, so did Dunlap and Geno Atkins and after Atkins had a sack hat trick in the fourth quarter for his third double-digit sack season, he has three years left on his deal to try to reach 100 career sacks in Cincinnati now that he has 71.
"To me that's how you build a team," Erickson said. "Even if you don't have guys that aren't hurt, its guys stepping in whenever needed, no matter the situation."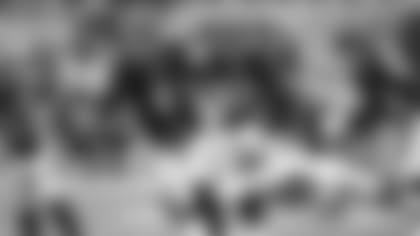 But the man symbolic of it all was Boyd. He paid homage to the past when he channeled Chad Johnson's River Dance following the first touchdown of the day, but set a course for the future a few snaps earlier when his 22-yard catch over the middle he's owned this season gave A.J. Green a 1,000-yard running mate when spring rolls around.
"I wanted to show him respect of a great player he was as part of the Bengals organization like he was," said Boyd, who regaled the media with his brief rehearsals. "I watched some of how the Ocho did it and I showed some people a couple of times. Hit it pretty quick. I was thinking that's not too hard. I should be able to do it."
It was also another dance step for Mixon bolting into a leadership role with each yard. Clearly enjoying what his teammates are putting on him without A.J. Green and Andy Dalton, Mixon has put them on his back and his infectious personality has energized them. He showed the offensive line early in the second quarter if everybody gets his man, he can pop it and he did for the longest run of his career, a 47-yarder through the middle that he turned into something special when he froze safety Karl Joseph in the middle and broke it up the sideline.
"I enjoy it a lot because everyone looks to me, whether it's a verbal meeting or going out there and playing. It's one thing to talk about it, but at the same time, you have to go out there and do it. I was happy we came out here and fought hard for all four quarters," said Mixon, who knew he'd be asked to kill the clock on a day the Bengals threw for their fewest yards in a win in 12 years.
"At the end of day, depending on the situation, I know there is going to be a time when I have to put the team on my back. We are going to dial up the run, and it's up to me and the linemen to execute. When we get in a situation like this I have to do whatever I can; know the situation, the down and distance, get the first downs and protect the football at all costs."
The buzz wasn't who won't we see again, but what will they let Hubbard do next? Hubbard, Cincinnati-bred and Ohio State produced, nearly caught a touchdown pass as a fullback, cleared the way for Mixon's one-yard touchdown on the next snap that made it 14-0 and set the tone for the defensive line's all-day harassment of Raiders quarterback Derek Carr on the second series when he hit him square in the back for his first NFL forced fumble.
Hubbard befuddled Raiders left tackle Kolton Miller for both sacks, the Bengals' third-rounder hounding the 15th pick in the draft. Then for good measure he beat third-rounder Brandon Parker to grab Carr's arm for a third-down incompletion.
But Hubbard's biggest play may have come on special teams, where as the wedge man on kick return he got a key block on Erickson's long dash. He ran with cornerback Nick Nelson in space to shield him to the inside while linebacker Vincent Rey took cornerback Bene Benwikere outside and Erickson shot through the seam.
At that point, Erickson, who could be near the AFC lead if not for penalties, was a college freshman again.
"I was just celebrating and praying there was no laundry. When you're battling that hard, that stuff (penalties) is going to happen," Erickson said. "We knew they were trying to squeeze us. We knew they were trying to cut us off on the back side, we just went back to the field on them. Sam had a big block. So did all those back-side guys. They did a great job sealing it."
Brayden Combs, the assistant to special teams coordinator Darrin Simmons, has long said Erickson's top trait is toughness. And there it was Sunday on a kickoff late in the first half that turned into three more points when kicker Daniel Carlson was called for a facemask and when Erickson's helmet got ripped off, so did the flap under his upper lip.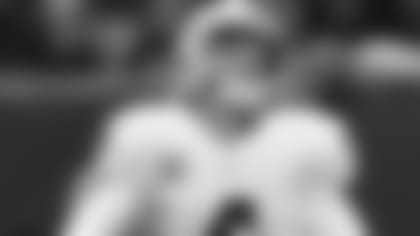 "Yeah, I was bleeding but it's OK," said Erickson, opening wide to reveal a flesh wound but preferring to rave about Hubbard.
"A guy like Sam is going to be a great defensive end in this league for a long time," Erickson said. "But watching him do the other stuff, he shows you what a good football player he is, what a good athlete. Those guys are valuable. He's a wedge on kickoff and that's not an easy block and then you see how valuable he is for the defense."
Mixon is making a habit of scoring behind Hubbard.
"Sammie's a beast. I've got nothing but positive things to say about Sam," Mixon said. "He's going to be a monster in this league."
Dunlap likes the look of the future up front. Sure, he said after it was over. He wouldn't mind if Hubbard gets his rookie record. Which is different than what he was saying last year when Carl Lawson finished one shy of him. He's probably thinking how nice it will be to get the injured Lawson back next year with Hubbard having a season under his belt.
"It would be bittersweet," Dunlap said. "(But) at the end of the day, they'd pay more attention to him … He comes to work every day with a smile on his face no matter what kind of a load they put on him."
Hubbard seemed to be as excited about his almost TD catch as he did his two sacks. He was open, but old friend Frostee Rucker at right end deflected quarterback Jeff Driskel's pass.
"I don't have to know much," Hubbard said of the goal-line fullback's role in the offensive playbook. "I just go up in there and hit the first guy I see … It feels great (to block for a touchdown). It's like you score one."
He'll be around long enough, he probably will.
Images from week 15 at Paul Brown Stadium as the Bengals host the Oakland Raiders.