Kerry Wynn, a free agent rookie out of Richmond who grew up on head coach Tom Coughlin's Giants, has brought a slice of that old school ballast to the Bengals defensive line room that went missing when Michael Johnson didn't return.
"I'm really happy he joined the room. He can do a lot of different things," says Sam Hubbard, the sophomore right end showing this camp he's a worthy successor to Johnson. "He's great at stopping the run. He can play some tackle on the pass rush. End. He can stand up a little bit. He's kind of a do-it-all guy. Special teams. Hard-working dude. I like being around Kerry."
After five years in New York, Wynn, 28, likes being around these guys. The defensive line has been a storyline in camp under the direction of new position coach Nick Eason with some stand-up play in pads.
Hubbard has been immense. Edge rusher Carl Lawson looks like he got a bionic ACL in his reconstruction. Nose tackle Andrew Billings is maybe having his best of four camps and tackle Ryan Glasgow has recovered nicely from his own ACL surgery. Recent draft picks Jordan Willis and Andrew Brown look more comfortable and disruptive focusing on playing only end. Geno Atkins and Carlos Dunlap are spiritedly 10-year vets anxious to make more Pro Bowls.
"One of the best rooms I've ever been in," Wynn says.
Wynn helps make it that way. At 6-5, 260 pounds, he's got a career 4.5 sacks and 131 tackles sliding up and down the line (a third-down rusher who can occasionally set the edge in the run while finding time to give a three technique a blow) as well as averaging 150 snaps per year in the kicking game. He's the kind of guy that can do this for you if you need him off the bench because he did it last year for the Giants in a 27-22 win over the Texans: a team-high five solo tackles, a forced fumble, and a tipped pass of Deshaun Watson on Houston's final drive.
Eason, a former NFL D-lineman who played so recently that he had two tackles for Arizona in the game the Bengals won to make it to the playoffs for the first time in the Green-Dalton Era, says Wynn is just the fit for his kind of room. The mantra of new defensive coordinator Lou Anarumo's playbook is keeping it simple and so far Eason has had everybody in the right gaps most of camp.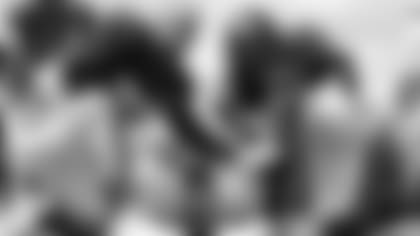 "They've bought into the system," Eason says. "I'm very encouraged by what all these guys are doing. (Wynn) makes the room better because he can do so many things. He has good instincts, good football IQ, knows how to take care of his bod. He's a good leader for the guys in the room."
The term value is in vogue these days and Bengals special teams coordinator Darrin Simmons, always in pursuit of those lean and linebackerish defensive ends to fend off the plethora of 3-4 backers that populate the AFC North, sees plenty of value in Wynn. He's been as ranked as high as No. 4 in the league (2017) by profootballfocus.com as a special teams player and last season he logged career highs in scrimmage snaps (393) and specials teams plays (221).
"He knows how to make himself valuable as a versatile guy up front and in four phases in the kicking game," Simmons says. "He knows how to stick and, more importantly, how to stay. His willingness to compete, there's a physical toughness, I think, that's infectious. That's what you look for as a special teams coach. A willingness to lay it on the line for his teammates."
Wynn came by his rep as a pro the hard way. He remembers his first NFL practice like it was today. Coughlin, who built a Hall of Fame resume on sheer meticulousness, somehow noticed that Wynn was wearing a blue T-shirt when everyone else was wearing their grays.
"Are you different than everybody else?" Coughlin basically asked him as he dispatched him to get a gray.
 So even before he hit the field, Wynn was scrambling because that was going to make him late in the notorious Coughlin time zone. Luckily another rookie, safety Nate Berhe, was wearing two gray Ts and he let Wynn borrow one right there.
"It was super tight, but I didn't have much time to take care of it," Wynn says. "I don't know how his mind works … I learned a lot from him, his approach to the game as an athlete and also how to go about your life as a man. It's important."
Suddenly, that was six training camps ago. Now Wynn is one of the guys helping make sure everybody is in the same shirt, never mind on the same page.
"I've been around for a while now. It's gone by, but I guess I'm starting to be a vet now. Bring some work ethic. Everybody has that in the room. Everybody works hard. Everybody runs to the ball. There's so much talent in that room. It's going to be a fun room."