Rodney Anderson didn't just see the hole rushing the football growing up, he believed he had spidey-sense.
As an 11-year old playing youth football, he mentally turned into Spider-Man, one of his favorite superheroes, because he related to Stan Lee's Peter Parker as a young person using his abilities to do great things.
Anderson's parents Rod and Jobie could see Rodney use his imagination to transform into a superhero on the field, and every time it made them smile.
"When he was very young he would read a comic book or watch a film, you could see it, he was that superhero," Rod said with a big laugh. "Whomever is on the other side, they are going to get it. Silver Surfer, Spider-Man or Dr. Strange is ready to come out."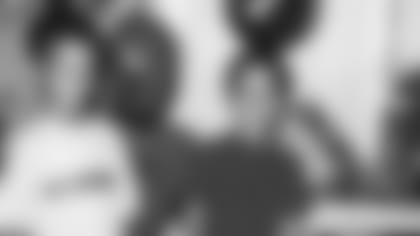 When most imagine a comic book enthusiast, the figure that comes to mind probably isn't a 6-foot 224 pound running back. Except that's exactly who Rodney Anderson is.
Anderson loves collecting comics and watching the rise of superhero movies as much as he enjoys breaking tackles and hearing the roar of the crowd on the football field. Like the game of football, Anderson's love of comics came at an early age.
"I got started from my dad," Rodney Anderson said. "One of the first movies he showed us was Star Wars and watching the original six. From Star Wars it was The Matrix, then following superheroes from Marvel and DC Comics. The first hard copy comic book I ever had was Thor."
A recent generation of NFL players have embraced the characters and storytelling that captured fans' imaginations over the years in comics, anime and video games. Bengals defensive lineman Carl Lawson has said that Dragon Ball Z was actually part of his inspiration to play football in the first place.
"I think with the success of the movies it changed people's perceptions," said Rodney Anderson. "Before people wouldn't read the comics unless you had true interest in it. For me, I feel like the movies do the comic books justice, as long as they are done right."
It is a love affair of comics and football that help Anderson stay grounded on-and-off the field.
What most people do not know is Anderson's collection actually started over 60 years ago with his grandfather Frank.
Frank Anderson would finish chores, run errands and work a paper route to scrape enough money and buy comic books. Frank's collection included some of the early editions from publishing titans Marvel and DC. Back then, comic books cost anywhere between 10 to 15 cents apiece. What made the comic books so appealing is not only its entertainment, but showcasing characters and storylines people can relate to.
It wasn't until high school in Tulsa, Oklahoma when Frank's two sons, Rod and Mark (who played 10 years in the NFL), found their father's collection and began building their own.
Eventually, the comic book collection stalled for a few years once life and sports took over. Rod met Jobie, when they were standout athletes at West Texas A&M in college where she was a volleyball player and he played basketball as a point guard. They had two sons, Rodney and Ryder, and focused on raising a family in south Texas. Rod said he stopped buying the comics when Rodney was in first grade, only picking up a limited edition here and there while his kids focused on school, their faith and football.
Then a shift happened in the movie industry.
In 1999, a rise of superhero and science fiction films began with Star Wars: Episode I– The Phantom Menacein 1999 andSpider-Manin 2002. Others soon found box office success in the early 2000's with films likeX-Men,Superman,Iron ManandThe Dark Knight.
The cinematography, special effects and storytelling evolved to captivate a new audience and spark the interest of many like Anderson back in the comic book industry.
Today's highest-grossing films are primarily superhero movies like Batman, Iron Man and The Avengers, based on a combination of factors such as escapism, cutting-edge special effects, and an older, wealthier population of comic book fans.
Comic books have become Anderson's outlet away from football, something that is preached not only from his uncle who played many years in the NFL, but his father as well.
"The thing is when you have all of that going on and when you get to a certain age, you have to find other things to talk about," Rod Anderson said. "Football is what they are inundated with and when they come home, they need a break from all that. We talk politics, what's coming up on the big screen, what we are doing on service levels and what is going on in life. And imagination is important and whether you are reading fiction, non-fiction because it's important in one's development. That's what comic books bring."
There is a nice comfort level for Anderson as he begins his first season in Cincinnati. He went to the same high school, Katy High near Houston, as quarterback Andy Dalton. He also played at Oklahoma with running back Joe Mixon and linebacker Jordan Evans.
Anderson will be an intriguing player to watch during Bengals training camp. He continues to recover from a torn ACL he suffered last September and expects to be healthy when training camp opens July 27.
While Anderson is enjoying life in the NFL, he hopes to one day live his dream and attend New York Comic Con or Comic Con International in San Diego. And at least one more time, transform into one of his favorite superheroes.
"I would probably dress up as a Jedi like Mace Windu or Darth Maul (from Star Wars), those guys are tight," Anderson said.