Bruce Gradkowski, the backup quarterback new to the Bengals but six years and four teams in the league, knew something was different when he showed up at Tuesday's NFL Hometown Huddle and left tackle Andrew Whitworth was already hefting some kind of equipment.
"What in the world are you doing here?" asked Gradkowski, unaccustomed to seeing starters and stars at such events.
Soon he would see the richest Bengals defender in history, cornerback Leon Hall, kneel to paint a park bench.
Or the starting center, Kyle Cook, rip off his camouflage "Antler Insanity" ballcap so he could get underneath the new jungle gym to help secure it.
Or tackle Domata Peko and middle linebacker Rey Maualuga, who play in the heart of the NFL's No. 1 defense, carry blocks of playground apparatus down a hill.
"Getting my lifting in," Maualuga said breezily.
By the time the day was done, the Bengals Hometown Huddle and the Marvin Lewis Community Fund, participating in Tuesday's NFL-wide event, had pulled off another impressive annual combo block. This time they teamed together with about 400 volunteers to transform scraggly Veterans Park on Betts Avenue in North College Hill from an eyesore into a gleaming gathering spot.
A new playground of slides, swings and jungle gyms. A family picnic area with grills, tables, garbage cans and a canopy area. A community garden and a storage shed.
"It's too late for my kids," Cheri Tenhundfeld said as she leaned over a fence to watch, recalling the days she had to take her children a few blocks over to Simpson Street. "But this is going to help. There wasn't much here. A little swingset and jungle gym. They used to have basketball hoops, but they took them down to try and prevent some crime that was going on at night. But the information they sent out said this was going to be for families."
Elise Cary, who says she has lived in the neighborhood "forever and a day," long enough to see friends of her grown daughter settling back in, called her husband and told him to get home from work early. There were Bengals in the neighborhood, but she needed someone to identify them.
Join the club, Elise. The new kids on your block are also being introduced to the NFL, infusing Cincinnati with a brand new locker room chemistry that has revived Bengaldom with a fresh 3-2 start filled with last-second heroics from a revamped cast of youngsters and veterans like Gradkowski.
With Veterans Park getting a facelift in much the same fashion, Gradkowski felt the momentum out here 48 hours after another fourth-quarter win in Jacksonville.
"I've been to community events, but to have this many guys come out, it's a total team effort. It's awesome. It's going to bring us closer together as a team," Gradkowski said. "I mean, this is an off day. Nobody has to be here."
Eric Ball, the Bengals director of player relations, figured about 35 players ended up putting on the apron and hardhat to lift, paint, bolt, dig and mulch. As usual, most of the offensive and defensive lines showed to anchor the effort.
"We do what we always do," Peko said. "We know we're showing up to work."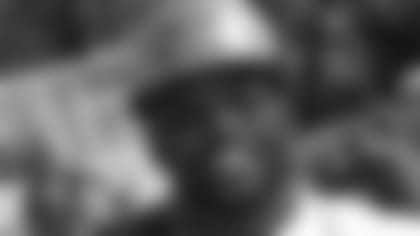 Everyone from backup guard Mike McGlynn wheeling around in the Bobcat to starting wide receiver Jerome Simpson painting the stripes of an American flag on a bench while running back Brian Leonard and practice squad tight end Chase Coffman painted a Mr. America shield on a trash-can lid.
Gradkowski had never participated in a Hometown Huddle during his five previous seasons and he's not sure why he did now. Suffice to say it is a huge event on Lewis' calendar and Ball made sure the players knew about it a month in advance, asking them to sign up by Sept. 20.
"The guys are more willing to do it," Gradkowski said. "Marvin does a great job relaying how important it is to get out into the community and give something back on the off day."
Linebacker Thomas Howard, another veteran with 76 games in Oakland now new in Cincinnati, knew why he was here.
"This organization, Marvin Lewis, it's important to them. I'm really proud to be here on and off the field," Howard said. "It means something to me because I feel the same way."
Howard, better known as Mr53.com in cyberspace, has a foundation devoted to education and achievement for youngsters. He calls himself "a product of the neighborhood," the son of a middle school teacher growing up in Seattle's Central District spending his after-school hours in the nearby Boys and Girls Club. While playing ping pong and basketball, he remembers the volunteers also making sure he got his homework done.
Howard is the face of how the Bengals have been successful early on. Faced with getting a new outside linebacker because of Keith Rivers' wrist surgery on the eve of training camp, they had their eye on Howard not only in free agency but as far back as the 2006 draft, where he was the Raiders second-round pick and where he became known as a solid starter and tremendous team player. His contributions here became obvious in his one-on-one matchups with Bills ace running back Fred Jackson during the win over undefeated Buffalo.
He, too, couldn't remember an event quite like this one. But it didn't surprise him.
"I sensed it immediately," he said of the club's community involvement. "It's a special group of guys. It means something to them. Look at the wives that came out. I know it's different here."
One of the wives, Tishana Jones, watched husband Adam sketch out the letters B-E-N-G-A-L-S and W-H-O-D-E-Y before paining them in orange and black blocks on one of the benches.
"He's a jack of all trades; he's always helping me," she said. "He's an electronics man. We just moved and he hung all the lights that I needed done. He's a good artist. Watch."
"I'm good with a pencil. I used to draw a lot," Jones said. "Now I just draw mostly for our (one-year-old) daughter. Pocahontas. Mickey Mouse."
An hour later he could add a Bengals bench to the list while Simpson finished off his own bench with the flag motif. Simpson is a regular on Ball's go-to list of players to attend community events. He never says no, it seems. But on Tuesday he went to Ball and said he wanted to paint.
"I took a drawing class in middle school, but it wasn't a focus," Simpson said as he sat on the ground in front of the bench so he could work on a different kind of corner. "But I like to paint."
He must. He made sure he flecked 50 little white stars in there. They were the only stars out on this day. Peko likes this defense because there are no media standouts. "Just 11 guys working together." You could say the same about the kids on offense.
"That's the thing about this 2011 team," Whitworth said. "No one cares about going to the Pro Bowl. Everyone cares about going to the playoffs. That's the attitude of our team. No one gives a crap about who you are. We just want to win."
But Jones sees stars. For one thing, he's coming back off the physically unable to perform list (PUP) next week.
"There are superstars here," he said. "They're paying some guys a lot of money."
"But," Tishana said, "they don't act like superstars."
Just ask cornerback Kelly Jennings, himself an unassuming first-round pick that arrived via trade from Seattle just before the season. Jennings is another guy the Bengals have watched for a long time before acquiring him not only for his ability but for his reputation as a dedicated professional in the Howard mold.
That was clear when Jennings showed up Tuesday even though he couldn't play Sunday because of his nagging hamstring issue.
"It's a great turnout of guys and a great project as well," Jennings said. "When I pulled up and saw the turnout of guys we had I was like, 'I'm cool.' Especially with the day off. I think it shows you the type of team we have.
"In Seattle, whenever we had something, we had a nice turnout for it, but just an event with a lot of the people in  the community, I don't remember having anything like that and with this many guys."
Jennings broke for lunch and spotted a table under the tent. Gradkowski. Howard. Geno Atkins. Michael Johnson. A QB. A backer. A couple of defensive linemen.
And a Cincinnati cheese coney on Howard's plate.
"Glad to be here," he said.