Darrin Simmons, who has been coordinating the Bengals special teams since Colt Anderson played on them for Butte High School, had the old Montana Grizzly in his sights on his computer screen.
The video clicked out of 2016, when Anderson, the Bengals' new assistant special teams coach, played just two games running down kicks for the Bills before he broke his arm. Simmons summoned the day against the Rams, the game Anderson got injured, he revealed, while making four tackles, a total that would make a season for many special-teamers.
Simmons, gifted with meticulousness, couldn't helping coaching up his coach.
"Press back to him. Go right to him," Simmons said as he watched Anderson's No. 33 close in on the Rams' punt return. "Left return, right? That's why he's sitting in there for leverage. Go to him. He never stopped his feet."
Simmons noted that Anderson was dueling on teams with Rams running back Chase Reynolds, Anderson's college teammate at Montana.
"Grizzly on Grizzly," Simmons observed.
"Yeah," Anderson said. "We were laughing our butts off the whole game."
Laughing because of the intense, intramural competition. And so we had just witnessed one of the reasons why Simmons and head coach Zac Taylor gave Anderson his first coaching job when they replaced new Lions special teams coordinator Brayden Coombs.
Anderson brings 86 games and eight seasons from the front line of NFL special teams under four coordinators known well to Simmons, regarded at the top of his profession in his league-high 18th season running the Bengals' kicking game and coming off a season it was ranked No. 1 by the web site footballoutsiders.com.
"He has the experiences of playing in the league and that means something," Simmons said. "We hired him because of his personality and what he brings. It means something to him. It's important to him.
"I don't know that he came out of nowhere as a player, but he worked his way into becoming a prominent player in our league with hard work and effort. And I expect no different from him as a coach. He's done the things that it takes for him to be successful."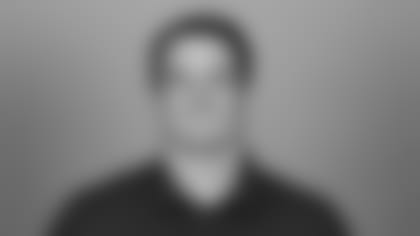 Anderson, 34, hasn't played in the league since 2017, but he realized he wanted to coach up here last year after volunteering to coach defense and special teams at his alma mater Butte High.
"It gave me that fire to just go for it," Anderson said. "I loved it. It was in my hometown and my wife's from there, too, and we finished second in the state. It was a great opportunity to just be around and talk football situations and that's basically what it is on special teams."
Even though it's going to be his first time in front of an NFL room, he also knows he's got a built-in advantage.
"Just experience playing. Being in their seats and over the course of (eight) years I had four great coordinators that taught me the game," Anderson said. "I can help them with little things in technique and approach and help them be successful. As a veteran in the NFL you tend to be that anyway, you tend to be that veteran in the room where the young guys come and ask you, 'What do you think here? What do you see here?' That's what I'm going to do."
The 5-foot-10, 194-pound Anderson ("an undersized safety," he calls it), styled himself after the 5-10, 187-pound Tim Hauck, a Butte native and his safeties coach at Montana after playing 13 NFL seasons as primarily a back-up safety playing special teams. Anderson channeled Hauck when he came into the league undrafted and found a way to not only hang on, but excel. After Anderson got cut he hooked on with the 2010 Eagles for four seasons, where he was coached by special teams veterans Bobby April and Dave Fipp.
Then it was to the Colts and coach Tom McMahon and he finished with Danny Crossman in Buffalo. It was April, who coached NFL teams for 26 years with nine teams, that gave him the confidence and opportunities.
"Tom McMahon was a tough, hard-nosed guy," Anderson said. "He got his guys to play smart and beyond their level. It really reminds me of what Darrin is all about. He gets guys to play hard and at the same time execute their assignments. Danny Crossman uses a lot of the same terminology with what we do here in Cincinnati. I was really fortunate to have him as a coach for two years. It really helped me to transition to this system."
And during his career, a game with Simmons' Bengals was always circled. He remembers 2014, when the Colts played the Bengals in the preseason, regular season and postseason.
"You had to be on you're A game," Anderson said. "You knew those guys were going to be prepared, they were going to play hard and execute. He's got a great reputation across the NFL."
In that regular season the Colts blanked the decimated Bengals, 27-0, in a game featuring Kevin Huber's franchise-tying 11 punts. It was Huber's seminal moment in his Pro Bowl season, allowing the Colts only two returns for 13 yards with an average of 50.7 yards, a 47.7-yard net and three inside the 20.
Anderson and Andy Studebaker rushed every punt Simmons recalled.
Anderson remembers he probably had one of his matchups with running back Cedric Peerman, Simmons' ace.
"What an unbelievable player. One of the hardest guys I ever had to block," Anderson said. "Explosive. Quick. He really challenged you. Darrin has had phenomenal special teams players here. The Bengals have had that reputation for quite a long time. I think you have to give the credit to him and personnel. They get great guys here and Darrin obviously gets them ready to play hard."
Now Anderson is on the same side of Simmons' clicker.
"His effort, his intensity and desire," Simmons said. "That's what jumps out on tape and that resonates with me.
"I'm sure he'll do the same thing as a coach."