The Bengals 2020 season has already been as jaw-dropping as Paul Brown's new striped helmets, as norm-defying as Chad Ocho Cinco's name change, as Wicky Whacky as a Sam Wyche play call.
But the '20 Lockdown has nothing on Bengaldom's '11 Lockout season that began nine years ago this week. Long before Zoom and Dr. Anthony Fauci and back when mask mandates referred to a Paul Brown invention, the NFL had another offseason wiped out.
It was because of labor issues in a dispute that dropped an iron curtain on the league in February and prohibited any communication between players and coaches, as well as transactions of any kind except the draft until the league thawed on July 25. Just in time for training camp to set the stage for what may have been head coach Marvin Lewis' best coaching job in 16 seasons. Jim Harbaugh of the 49ers was named coach of the year, but Lewis got robbed.
"In the first four days of the league opening, the Rams signed a bunch of people and I was really cut even before I got there," says former wide receiver Andrew Hawkins, who came down from the CFL as one of the last signings before the Lockout and then surfaced as a Bengal after the cut in St. Louis. "I practiced one day and was gone. I think by then, I had only talked to just two coaches. It was crazy."
It is only getting stranger this year. On Tuesday the rookies report, but only to the players' parking lot where they'll get a test for Covid-19. They can't come back until they are tested again Friday, so they'll have virtual meetings Wednesday and Thursday. Maybe they can get on the field Saturday if they've got two negative tests.
Then the veterans do it all over again, starting on July 28. With reports there are no pre-season games, they may not get on the field for days if they simply focus on strength and conditioning. When they do get two negative tests, they'll get a locker in one of the four locker rooms the Bengals are using to spread out the players. In addition to the main locker room, they'll work out in the band locker room, the men's officials locker room and the women's officials locker room.
If you think that's a crazy intro for rookie franchise quarterback Joe Burrow and the new era he brings, try what greeted Lewis' Lockout Lads in 2011.
A franchise quarterback off a 4-12 season with a trade-me-or-retire me demand. His replacement? A second-round pick, the fifth quarterback taken. Andy Dalton's offensive coordinator was an NFL rookie coordinator from the UFL and the Arena League. A few weeks after Jay Gruden was hired, an NFL assistant at the scouting combine asked with a sneer how the Arena League coach was doing in Cincinnati.
Tough, was the answer. Gruden couldn't unveil his playbook to the entire offensive until the first day of training camp at Georgetown College, the day after Chad Ocho Cinco, the Bengals' all-time leading receiver, got dealt to the Patriots.
That's when they also lost one of their defensive cornerstones in cornerback Johnathan Joseph during that microwave free agency to ignite defensive coordinator Mike Zimmer even before camp began. Two-time 1,000-yard rusher Cedric Benson didn't sign until a few practices in and a couple of weeks later Lewis and Andrew Whitworth headed off a rebellion of defensive players that wanted to fly to California to talk Carson Palmer out of retirement.
Still, the Bengals managed what has to be one of their most improbable playoff seasons ever. It's hard to top the three-year-old Baby Bengals winning the first AFC Central title in 1970 or the 1987 four-win-cut-their-own-throats Bengals bouncing back to secure home-field advantage in the 1988 playoffs.
But for the Lockout Lads of '11 to go 9-7 and gain a Wild Card berth on the final day of the season when Palmer couldn't outduel the Chargers in Oakland as the Bengals were losing to the Ravens, well, leave it to that team's best player to sum it up best.
"Man, we were just winging it. Winging it half the time," says wide receiver A.J Green of his rookie year. "Fortunately, we had Andy. A smart guy coming it. He picked up the offense so quickly. He helped all the young guys. Jay was like, if there's any doubt, just throw it up to A.J. and I tried to make every play.
"We had a great defense. We were just trying not to turn the ball over because our defense put us in great position in every game. We knew if we were going to score 20 points, we'd win the game because our defense was so good."
They also had a stable offensive line with veteran, top-of the-line tackles in Whitworth, a premier player on the left, and Andre Smith, solid on the right. And, while probably the only name player on defense (this was before sophomores Geno Atkins and Carlos Dunlap went to Pro Bowls) was cornerback Leon Hall, it was a solid, well-disciplined group that had been together for multiple years under the demanding, highly-regarded Zimmer. The continuity and coaching translated to the first of three straight top 10 rankings.
They were so good that Gruden would walk into Zimmer's office or the office of his Carlo & Johnny's buddy, linebackers coach Paul Guenther, and ask, "How many points this week?" A lot of times they'd just say, 'Fifteen and a half. Just get 17." Indeed, they won nine games and only scored 30 twice.
"That helps a lot when you know that," Gruden says. "Third-and-12, third-and-15, instead of going down field, you dump off a screen to a back or something and live to fight another day."
They also had enormous leadership on both sides of the ball. Whitworth was immense. So were linemates Bobbie Williams ("Andy Dalton is my quarterback," Big Bob declared on one of the first days after camp broke) and Kyle Cook. Domata Peko, the sixth-year nose tackle, made sure the voluntary player-only practices were catered and his extra bedrooms were filled at his perpetual open house.
"To have guys like Whitworth, Domata Peko and especially in the O-line room, Bobbie Williams, Kyle Cook, veteran guys that put young guys under their wing," says former left guard Clint Boling, then a rookie. "And it's hard for the older guys. They don't know what practices are like with so many question marks. But with so many older guys that have played and to get them to lead by example on the field, that helped, especially veteran offensive linemen."
They needed the vets because something was always happening in '11. The crazy season was symbolized by one of the craziest plays in franchise history. On Christmas Eve wide receiver Jerome Simpson broad jumped a would-be tackler with a standing flip for a touchdown that held up in a seven-point win over Arizona for that ninth victory.
More crazy? How about this? Former Bengals backup quarterback Jordan Palmer, a guy who threw 18 career NFL passes, is a major influence in both of these offseasons. He has been Burrow's quarterbacks guru, but nine years before in Cincinnati he was brother Carson's backup and was instrumental in the players-only workouts at Jordan's alma mater at Mission Viejo High School in California's Orange County and at the University of Cincinnati.
"He was a massive factor. He did a tremendous job putting in our offense, installing plays. Having a brand new coordinator, what a challenge that is. I'll never forget what he did," Whitworth says. "It was also a great opportunity for Andy Dalton to have another player who sees it like a coach and understands it and to have someone to lean on."
Jordan Palmer, a guy with a creative, quick mind who was already dabbling in internet ventures (who can ever forget runpee.com?) seized the moment and reached out to players that had played for Gruden and he pieced together an installation.
"Like a six-man protection, what it was called the year before and I would say what it would be called now and Whitworth would tell the line what they had to do," Jordan Palmer says. "I felt like that was my team. I installed the offense."
You couldn't get that irony on Broadway. The Kid Brother of the disgruntled quarterback stepping into the breach. But when Gruden went out and signed one of his old quarterbacks from Tampa Bay who knew the system, Bruce Gradkowski, and his brother still in self-imposed exile, the writing knocked him off the wall. Jordan never took a rep in a pre-season game and he was cut at the end of August. A tough blow for a guy who felt dialed in and thought he could be the bridge to Dalton.
"That's the nature of the beast," Jordan Palmer says.
But, truth be told, the Bengals never felt they needed a bridge guy with Dalton. Even though he was absolutely atrocious in the first two pre-season games. Against the Jets in the second outing, Dalton was just eight of 19 for 86 yards, two picks and his longest completion to a wide receiver was 11 yards.
What gate was that plane for John Wayne Airport?
After that game Whitworth began to hear rumblings from the defense about going to get Carson.
"We knew what Carson offered," says former safety Chris Crocker, Zimmer's eyes and ears on the field. "At that point in my career, I didn't want to go back. I had my first smell of success with the Bengals. I wasn't a bad player, I was a just on bad teams. It was nothing against Andy. I just didn't want to start over with another quarterback. I had been through too many to count."
Crocker didn't pound it every day. He talked enough to both Palmer on the horn and Lewis in his office not to do that.
Crocker: "Carson wasn't budging. I knew that. He wasn't coming back. And we weren't mad … And if (Mike Brown) wasn't going to get what he thought Carson was worth, he wasn't trading him. I think you're probably talking about two stubborn guys.
"Marvin made great points. He told me, 'This is what we have. This is what we are. Let's keep moving forward. Let's just focus on what we have here.' He was right. I thought he was crazy at that point, but he was right … Marvin did a great job that year keeping our eyes ahead of us and just taking it one week at a time."
Lewis and Whitworth were apparently thinking the same thing because Whitworth made it clear to his guys on the other side of the ball there was no turning back. Whitworth says he had no ill will toward Palmer. In fact, he says watching Palmer during his first five seasons in the league inspired him to attack the leadership role so exhaustively in 2011. Whitworth not only put up the rookies Dalton and Boling at his Cincinnati town home during the voluntaries, but he invited most of the offense to his foundation's dinner in Louisiana to help break the ice.
"Having known Carson and talking to him through the process, I knew how solidified he was in his decision," says Whitworth, moving into his 15th season in the league with the Rams. "To me, it wasn't worth ruining Andy's confidence. Listen, I respect the crap out of Carson. But I also knew if he felt he needed to do what's best for him and our football team needed to do what's best for it.
"(Dalton) wasn't Carson Palmer. Heck. Very few are. Carson Palmer is a tremendous rare talent. But I felt like if we just stuck with Andy and let him be good at what he is, a timing and rhythm quarterback, we'd be OK."
Dalton did a lot better than that. He became the first rookie quarterback in the history of the league to throw 20 touchdown passes while leading a team to the playoffs. (Of course the 20th TD was courtesy of the Simpson flip.) Then-running backs coach Jim Anderson, who stretched back to that '88 team, had plenty of good things to say about the old Arena coach.
"I thought Jay did a really good job identifying Andy in the draft," Anderson says. "Even though we got him in the second round, Andy was the guy that Jay wanted. It seemed like he was the guy he wanted all the way. He thought he was the guy that we were going to have access to that could make the quickest transition to the league in our offense doing the things that we needed him to do."
Gruden: "I was hoping we might trade up in the first round and get (Dalton). There were some teams we thought could take him late in the first. Seattle. Mr. Brown was patient, patient, patient and we waited. It came down to Andy, (Colin) Kaepernick, Ryan Mallett. I wasn't ready to change everything for Kaepernick. I wasn't into the zone read at the time. I was into the more conventional stuff. Andy had played a lot of football. He had played under center, in the shot gun. He did some zone reads, he could move in the pocket. I liked his demeanor. He was tough, played smart and he was durable."
And, as Hawkins says, it turned out he was better than people thought.
"Andy was better than people thought he was then and he's better now than people think he is," Hawkins says.
Hawkins, the undrafted underdog who had to get here through Toledo and Montreal and that one-nighter in St. Louis, probably typified this team more than his good friend, Green, the no-brainer fourth pick in the draft.
"That team is one of the reasons I believe in team re-sets," Hawkins says. "Fans get mad, but at some point it just gets old for the players. The stories aren't interesting anymore. They know what you're going to say. I don't care how great of a coach you are, you lose the room a little bit.
"There was no Carson Palmer. No Ocho. A lot of players moved on. That gave Marvin a wide berth. We were still wide-eyed. A.J. Green was trying to prove himself. Andy Dalton was a second-rounder. All these kids and new players were just looking to belong. We were hanging on every word Marvin said. We were just kids. No one expected anything from us. We didn't know what to expect from ourselves."
They used the oldest recipe in the NFL. They won a couple of close games early and didn't know they shouldn't have. They stunned the Browns in Cleveland in the opener ("And they said we'd go 0-16," Whitworth roared in the post-game room) when Gradkowski came off the bench to find Green for his only catch of the day, a 41-yard touchdown on a moon ball off a quick snap that caught the Browns napping.
"We won some close ones and that gave us the momentum," says Boling, the third answer to the trivia question of which offensive rookies started the '11 opener. "That gave us confidence. We had a good running game at that point with Ced back there."
Benson was big in that early run on his way to a third straight 1,000-yard season. His 39-yard bolt for a touchdown in the two-minute drill finished off the Browns and when they evened their record at 2-2 with Dalton and Green's first win at PBS, Benson banged to 104 yards to help Dalton get his first game winning drive on Mike Nugent's last-snap field goal that felled 3-0 Buffalo.
Gruden: "The one glaring thing we noticed in training camp is that the defense was really good. Which made us better. Coach Zimmer did a great job challenging us as far as blitzes and making sure Andy was ready as far as handling things at the line of scrimmage. Get the ball out of his hands quickly. We knew that would be the same. Protect Andy on those short, intermediate passes. Try to run the ball with Ced. Keep the clock rolling, let our defense play defense, get us some turnovers and try to win some close, lower scoring games. That's how we got to 9-7."
Whitworth points to the Buffalo game as a potential decisive moment. But as Crocker says, it just never seemed cut and dried, like the whole season was one big gray area. Crocker remembers the feeling when he realized they were going to the playoffs. It wasn't until the last couple of minutes of the season during the PBS loss to the Ravens and the score came in from Oakland, putting them into the Wild Card.
"I was standing next to Nate (Clements) on the sidelines and we just kind of looked at each other," Crocker says. "We just scratched and clawed the whole way. We never had time to say what win would put us in or what loss would knock us out. It was just a week to week thing."
So ask the Lockout Lads if Seamless Joe's kids can match them nine years later with a playoff berth and they know not to write them off.
"It's possible," Crocker says. "The difference is we were coming back with pretty much the same defense. They still have a lot of moving pieces. They're in transition all the way across the board. It's a little bit different. But anything is possible. Anything can happen."
The Bengals could have as many as seven different players on defense from last season on the year's first third down. Huge turnover without work on the field. But, there are more bigger, better and high-priced names on this defense, starting with Atkins and Dunlap all the way to a back end of Trae Waynes and Vonn Bell.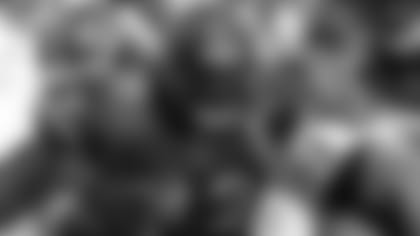 Hawkins: "The only thing this team has to its disadvantage that we didn't have is expectations. We didn't have a first-pick quarterback and we didn't have a receiver that's one of the greatest to ever play the game yet. Burrow is going to have A.J. We could sneak up on teams. This team will not be able to sneak up on teams. As far as talent, this Bengals team is in a lot better situation than what we were in 2011."
But, that '11 team proved it took more than talent, too. Like leadership and intangibles.
Like Jordan Palmer says, in '11 the players could be together but not with the coaches. This year, the players couldn't get together, but they could talk to the coaches.
"The reality is it's just a challenge," Palmer says. "Who meets it? I'd put Andy Dalton at the top of that list. He found success."
Whitworth says the Rams got together a few times in the offseason before California rolled things back a bit, but it doesn't sounds like it was as extensive as his Bengals camps because it seemed to be mainly individual drills.
This year there are going to be a lot of different physical challenges," Whitworth says. "A lot of guys haven't had the opportunity to train or prepare themselves with gyms shut down. Lord knows what they've actually done. It's going to come down to whether the organization, the strength coach, has to have a plan. Not necessarily the football part, but taking care of guys. Getting their bodies right and ready to play. You really have to focus on that strength and conditioning stuff."
"I know they've had these virtual meetings," Boling says. "But until Joe Burrow gets in the huddle to call a play, you don't know what you've got. And the linemen. Believe me, those young guys, they've seen nobody like Geno Atkins."
Maybe it's going to be a flashback to '11. Gruden chuckles. Oh yeah, he's scouted Burrow. Maybe not like he did Dalton. But he saw enough.
"He's great and he's coming out of LSU that ran a lot of pro concepts," Gruden says. I tell you, the happiest guy in the world had to be A.J. because Burrow throws an unbelievable deep ball … Burrow has a great top. The nose (of the ball) comes down. A.J. will love that."