This is the kind of gritty, chippy day it was at Bengals training camp Monday. Guard Alex Redmond returned to practice after being shelved with a shoulder injury and came back ready. During a bag drill he left assistant offensive line coach Ben Martin with a cut on his lip.
That wasn't the only hitting done in full pads less than 48 hours after Saturday's pre-season opener in Kansas City. After giving up 400 yards in a 38-17 loss, the defense knew it had to fight back and they got a big hit from safety Brandon Wilson on rookie running back Jordan Ellis that knocked him down in the middle of the field, end Carl Lawson stood up running back Giovani Bernard on a screen pass that took a loss and end Sam Hubbard split a double-team to stop running back Trayveon Williams on third-and-2 inside the 5.
The offense also got in its licks. While No. 1 running back Joe Mixon, still taking just a couple of carries per practice, blew open a big run over the left side, rookie tight end Drew Sample was lying on top of Wilson after his pancake block on the other side.
"If guys are competitive and they're being physically, it's going to be a little bit chippy," said head coach Zac Taylor, who called for his defense to be physical after Saturday night's game. "That doesn't bother me. You want to protect your teammates, so you don't ever want it to escalate to something that could possibly injure somebody. But I'm OK if guys are getting after guys a little bit."
It was fitting that the offensive line would be showcased on such a day. Offensive line coach Jim Turner has been true to his word about finding the best five with his left guard rotation and even after an opener in which the No. 1 line was immaculate and everyone else allowed just two sacks and three hits on the quarterback, he took it to another level in Camp Shuffle. 
Turner let rookie Michael Jordan run with the ones at left guard earlier than he wanted to involve the team's youngest player and for good measure he put Mr. Utility Trey Hopkins next to him at center while starter Billy Price worked with the twos. Turner wasn't calling it a demotion and hinted there would be more movement before the Sept. 8 opener in Seattle. Turner also wouldn't say Hopkins would be the center and Jordan the right guard to start Thursday's game (7:30 p.m.-Cincinnati's Channel 12) in Washington before taking a look at Monday's film.
"There's no incumbents here," said Turner, who didn't even wait for the inauguration. "You have to earn the job. We want to give (Hopkins) a shot because he's earned that right. He played well in that first game. And Billy's played well, too. It has nothing to do with anything that way. Everybody is in a battle right now and that's the way it's going to go until we play Seattle."
Just another day at the office for Hopkins, who simply plays where they point. He had already spent much of his Saturday night centering the second offense next to Jordan, the right guard, so he got more of the same Monday. A lot of communication going on.
"I think he's playing great," Hopkins said of Jordan "He's playing with confidence. I don't want to say it's night and day from (spring practice), but he was kind of feeling around learning the offense. But this camp he's been playing very well. Very impressed with him. He's talking out there. He's very confident. He knows a lot of football. The Ohio State guys are normally pretty smart."
Jordan won't turn 22 until after the season and Hopkins figures he was in his senior year at Texas when he was 21. Just a year difference, but …
"He's a young guy, but he knows what he's doing," Hopkins said.
The Bengals knew this move was going to come. After all, they traded up for him in the fourth round, only the second time in history they traded up for a linemen. He's smart, put together like a warehouse (6-6, 315 pounds) and can move. He was clearly the left guard of the future and now they have to figure out if the future is Sept 8 in Seattle or something safer, like Dec. 1 at PBS against the Jets.
"It has nothing to do with who is actually going to be the starter. You have to give them all a chance to play with the 1s," Turner said after practice. "This is Mike's time to get a shot with the 1s. It really comes down to that. It's a little quicker than we thought it was going to be because he played so well in the first game. Because he played so well in the first game we want to see what he can do with the first team. When you play with those better players on the first team, you should have more of a chance to shine yourself. We want to give him that opportunity."
This is no indictment of John Jerry, Saturday night's starting left guard who later moved out to right tackle. Turner went out of his way to say that he disputed Jerry's two holding calls and that he covets his ability to move inside and out.
But clearly Jordan's presence in the Chiefs game carried the film work.
"He's got unbelievable punch, unbelievable reach. He's got great talent," Turner said. "He has good foot speed, he's a good athlete, he's smart. The game comes naturally to him, he's not wondering what's coming. He can see things coming. He's real smart about what's coming at him so when he steps with his feet he's good at it. He's been well coached. He knows the game. He's running off the ball."
You could say Jordan, born in Cincinnati and schooled in Columbus, was raised for this moment. He certainly appears at ease with it as he did the rookie thing and carried off a vet's equipment from the field.
"Just want I said I would bring to the team, my toughness and physicality and just give it my all for this team," he said of his effort in Kansas City and Monday's move. "Of course, it means something to me but more so this team. Whoever the starting guard will be, the team deserves the best guard. And right now, we're having a competition and I'm enjoying every second of it."
After two weeks of banging into perennial Pro Bowl tackle Geno Atkins and trying to decipher Atkins' inscrutable brew of strength, quickness and leverage, Jordan said his NFL debut was fun because of, "Not hitting Geno very play."
"Playing against Geno and then going up against the Chiefs defensive line is different. They are a different type of defense and different type of players. I'm not knocking anything against the Kansas City Chiefs defense either, they have a great D-Line."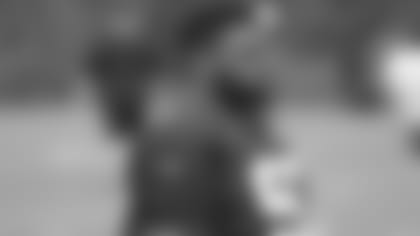 But Geno is Geno and it turns out Jordan has been watching him for a long time. Asked if Atkins made one move in camp that told him he was special, Jordan went back to the draft. Not his draft. Atkins' own draft in 2010.
"I knew I was going to have to treat Geno differently when he first got drafted by the Cincinnati Bengals," Jordan said. "I was watching him on TV and I'm like 'Damn, all right.'"
Geno is still Geno if you talk to Turner. Turner had to prepare for him when the Bengals came to Miami in 2013 and Turner is seeing the same stuff.
"He's good, good," Turner said. "He's almost unblockable. He's so quick and he's underneath everything. That's like a Von Miller on the edge. I was at (Texas) A&M when Von Miller came up. He can get so low to the ground. These guys are so tall and long they can't get down there with him. That's kind of what is with Geno, too. He's quick, powerful and he's low to the ground and he gets those linemen in awkward position and he runs them over."
So if Jordan is surviving that carnage every day, that has to get them thinking. And Turner has been doing a lot of thinking. Not just different combos, but the makeup of these guys. He really liked the passion out of that first group on Saturday and he says that's half the battle. It's that passion that has drawn him to his two oldest players, Jerry, 33, and Andre Smith, 32. Their lack of missed assignments because of experience also helps them, but Turner needs to see something else. Passion, he says, is half the battle. Jerry, he repeats, is solid at both guard and tackle. Smith, he re-iterates, can play both tackles.
"Andre, people forget, but Andre is a first-round pick talent Andre can move like that. It's impressive to watch him move," Turner said. "Andre's got a new life, some renewed gas in the tank because he's got a second life coming here. The way he is moving right now at tackle we are very happy with that. The way he is playing we are very happy with that. They got to have position flex. We are not asking Andre to have position flex, we are asking him to be a tackle. But John (Jerry), John is big enough to play both positions. He's got experience at both positions. He started tackle at NFL games in his career. It was great to see him move out there for a series the other night and do a good job. It's going to help him make this team."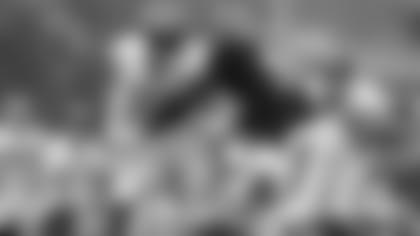 You take it for granted, but Dalton went out and had a practice like Saturday night's first drive of the season, a 14-play touchdown drive. Nothing spectacular Saturday or Monday. But effective.
"Don't have to be," said offensive coordinator Brian Callahan of spectacular. "You have to execute. Which he's been doing since camp started."
He didn't even have to throw it on a play-it-out series that began on the defense's 42. He got them lined up on a touchdown drive, albeit disputed, because of where a short Trayveon Williams' fourth-down run wasn't spotted to the dismay of the defense. That came after Dalton lit up a 7-on-7 drill in the red zone. He fired three straight touchdown passes, back-to-back to wide receiver Tyler Boyd and another climb-the-ladder job by wide receiver Auden Tate when Dalton floated it right where the 6-5 Tate needed to reach and grab it over good coverage by cornerback Dre Kirkpatrick.
Boyd ran two different and nifty routes on opposite sides and Dalton led him perfectly each time. On the first one Boyd split cornerbacks Davontae Harris and Darius Phillips on the right side headed to the flag and then Dalton came right back and found Boyd again on the left side beating cornerbacks B.W. Webb and Tony McRae to the sidelines.
The defense needed to make some kind of stand after giving up 4.8 yards per rush to the Chiefs. Hubbard gave it to them on that third-and-two inside the five when he split Sample and right tackle Bobby Hart to stuff Trayveon Williams.
"We were looking to get physical and make plays down there and we did a lot of that today," Hubbard said. "It was good to see."
Turner on Redmond cutting Martin's lip: "Any re-arrangement to Ben's face is a help. That's Redmond's way of saying he wants to play."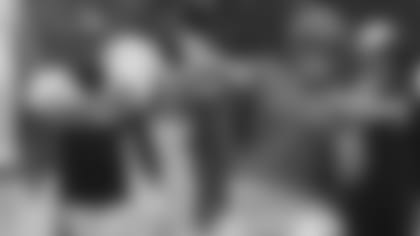 _Another nice day from rookie quarterback Ryan Finley. In team drills he hit rookie wide receiver Damion Willis in stride on a go route past cornerback Darius Phillips. In a play-it-out series he ended practice hitting Willis over the middle for a touchdown on about a five-yard pass. Taylor said look for Finley in with the twos on Thursday.
_Maybe they will keep three QBs even if Finley beats out Jeff Driskel for the No. 2 job. At least Taylor hinted they want to see what they've got football-wise from a Grade A, blue-chip athlete.
"I think tomorrow, we're going to take a look at Driskel on special teams as well. He's a weapon," Taylor said. "He's got good size. He's got great speed, the athleticism. So don't be surprised tomorrow if you see him kind of wrinkled in there a little bit in some other phases.
"I mean, it's still a competition, an ongoing competition. We just want to make sure we utilize everyone's skill set to the best of their abilities. We knew at some point in this preseason we needed Ryan to go with the 2's. You've got to form the evaluation with him going with the (second-string) o-line and the (second-string) receivers. He played well in that first game. Now is a great opportunity to work him. Unrelated to that, Jeff, his athleticism shows up more and more, so why not figure out ways to utilize that. We'll see how it goes."
_After getting carted off Saturday night, safety Clayton Fejedelem (ankle) had a smile Monday. He needed no boot and the prognosis is an ankle sprain that keeps him out of probably only Thursday's game.
_Don't look for tight ends Cethan Carter and Jordan Franks to play Thursday. Both have concussions. Defensive tackle Christian Ringo (thumb) also may not play.