Maybe this was the Bengals' upcoming season in a microcosm. After the defense shut them down on Wednesday, the offense turned to the running game to right itself when nine of the first 13 snaps in Friday's full-pad practice were runs and three of the four passes came off play-action.
The offense wasted no time paying back the defense. The first team snap of the day was play-action and quarterback Andy Dalton floated a 51-yard touchdown down the middle to wide receiver Josh Malone. Each running back had some break-out moments, including undrafted rookie Jordan Ellis out of Virginia squirting up the middle for some quick-hitter yards. Joe Mixon, the No. 1 back, also made big dents in the outside zone before taking it back up the middle.
They turned to the run game on a day center Billy Price returned to practice after missing the first five with an unknown ailment. Even though there was a new body, they didn't have nearly the number of false starts they had on Wednesday. Head coach Zac Taylor had that on his mind before practice on Friday.
"Those are the things we cannot have and we need to get ironed out," Taylor said. "That's something that as an NFL offense we cannot have today, tomorrow and leading up to the Chiefs game (next Saturday).
"We're going to get in a groove. Each quarterback has a slightly different nuanced cadence, so a guy was going with Andy and now he's going with Jeff (Driskel), or vice versa, and all of a sudden it's a tick off one way or another. So we have to find a consistency across the board. Quarterback cadence, linemen hanging in there, and being able to mentally know where they're headed, and also to listen to the cadence at the same time and getting off on the right snap count—those the little things we'll see improvement on today."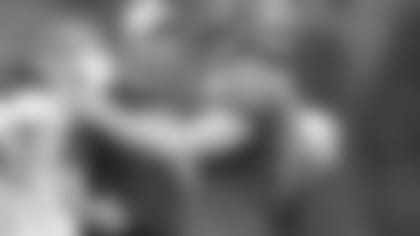 Driskel, the back-up quarterback who started his first five NFL games at the end of last season, has had a terrific camp. On Friday he led a long drive for a touchdown as he kept his camp completion percentage pretty near 80 percent. He found undrafted rookie wide receivers Damion Willis and Stanley Morgan on completions before throwing what looked to be a 20-yard post for a touchdown to tight end Cethan Carter.
Not only that, on Friday Driskel became the first quarterback this camp to throw it in the net from 40 yards away. Not once, but twice. He finished team drills with that TD and seven of nine passing while hitting four of five in seven-on-seven.
On Friday, both Dalton and Driskel made hay on the play-action bootleg, otherwise known as "a naked," because the quarterback has no blocking in front of him. He's got a run-pass option and it gave Driskel, the former big-time major league baseball prospect, the chance to show he just may be the fastest guy on the team. As he took off picking up about 12 yards during a play on the TD drive before anybody got near him, the sidelines murmured with "That boy is fast."
"I remember him when he was a monster at Florida," said Auburn pass rusher Carl Lawson. "He's a really good athlete. Last year I remember (Pro Bowl Denver pass rusher) Von Miller bouncing him (outside), but he juked out Von Miller."
Driskel: "It was just your basic middle school naked. The defense turned its back and I took off."
Driskel figures to be in the fight of his life to hang on to the back-up job, given that the Bengals traded up into the fourth round to take North Carolina State quarterback Ryan Finley. But Finley hasn't gotten near the number of reps Driskel has received and the rookie hasn't been able to get into a groove yet with the sporadic snaps.
"I don't think about pressure. There's definitely competition," Driskel said. "That's what training camp is for. There's definitely not pressure. We're cheering for each other."
Driskel says there's no question, those five starts when Dalton went down with torn thumb ligaments had a positive impact on him even though he went 1-4.
"I'm a better football player than I was last year," Driskel said. "Any time you get in a real game, that means something. You're going to learn things and gain confidence. I just feel I'm more in control. I know what I'm doing and I know the guys a lot better."
Driskel's 20-yard touchdown pass to tight end Cethan Carter on a post was a big moment for Carter, a third-year Bengal. It was his first touchdown since his college days at Nebraska and capped off his comeback from last year's season-ending torn pectoral muscle in the pre-season finale. It was quietly one of the toughest injuries they suffered, but it's going to be muffled when three other tight ends also suffered season-ending injuries, not to mention Dalton and A.J. Green.
But Carter's loss was a double hit. The offense had hoped to use his good run-blocking skills and the special teams group lost access to a guy that played the second-most snaps in the kicking game as a rookie in 2017 while racking up the third-most tackles. On the TD, Carter saw safety Clayton Fejedelem inching up into the box.
"I took a look at the coverage," Carter said. "When I saw Clayton get in there, I thought there was going to be a little void in there."
Driskel: "(Carter) did a good job widening the DB. It was a timing route, so I trusted him that he was going to be in there."
WR John Ross on what seem to be his perpetual hamstring issues and former Bengals wide receiver and work-out partner T.J. Houshmandzadeh: "(Houshmandzadeh) told me while I was (in Los Angeles last month) that I shouldn't be overworking it. I think that's my problem. I don't nearly do as much as you see people do on Instagram, but I do a lot and go very hard. Even Coach Taylor told to take it easy when I went back this summer. I feel like I toned it down, but I guess I didn't enough. I think now I've got a better idea of how much I can do."
ROSS WAITS FOR NOD: Ross says he feels good enough to practice and that he would have worked day one if they let him. But it shows you how careful they want to go with the hammy and don't want to risk a re-tweak that sets him back, a process that's happened all too often as he heads into his third season. Last year he even got hurt on his longest play as a pro when he pulled his groin grabbing the 39-yard TD in Atlanta and missed a month and limped through another.
But he's adamant that he has figured it out and he's convinced he's going to stay healthy after missing half of his first 32 games.
"I think I was doing myself a disservice not putting money into my body. Not that I was spending it somewhere else — it's just I never knew the importance of taking care of my body because I never had a chance to," Ross said. "Coming out of college, I never really had no one guide me to do that. Now, being around A.J. and Andy and them, they're telling me how much they put into their body. It didn't really click until this year because he said he spent so much money on his body, that's how he makes so much money. Now that I learned that, it's going to be a complete turnaround for me. I know for a fact this is going to be my best year."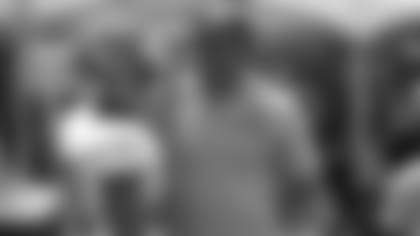 HAYES RETURN: Players began practice paying their respects to Jon Hayes, the Bengals tight ends coach for the past 16 seasons, here in his role as head coach of the St, Louis franchise in the new XFL. He's looking for potential players when the league opens Feb. 8 to match his staff that includes his brother, former Bengals defensive line coach Jay Hayes now his D-coordinator. Also coaching for him is former Bengals safety Chris Crocker, coaching on the Bengals defense Friday in his last day as a camp intern.
"Crock knew the game so well as a player and you've got to remember before he became a coach he was an official, so he's got a great perspective," Hayes said. He's also got the ultimate sounding board in former Bengals head coach Marvin Lewis, his boss for so long.
"Marv's doing great. He's always there when I need him," Hayes said. "He told me to find people I trust with no hidden agendas and to keep moving ahead."
SLANTS AND SCREENS: Friday seemed almost emblematic of wide receiver Josh Malone's three-year career. He began practice smoothly hauling in that 51-yarder from Dalton, another highlight in a camp where he's been relatively strong. But he's been hounded by inconsistency and late in practice it bit him again. With Dalton trying to drive the offense, Malone dropped an easy wide-open little dump pass over the middle that would have converted a third down and gone for a few yards because he had plenty of room around him. But overall he has had a good camp ….
Carter wasn't the only tight end not Tyler Eifert to make some big catches. On back-to-back third-and-ones, Dalton hooked up with C.J. Uzomah to convert. But the defense also made some nice third-and-one stops, including safety Shawn Williams getting into Joe Mixon's backfield untouched …