It used to be that Paul Brown Stadium's Family Dey back in the day was the setting for the first Mock Game of the season or, at the very least, the first controlled scrimmage of the year, given that the pre-season opener in Kansas City is a week away.
But that's not the way the NFL is set up now and so what new head coach Zac Taylor did Saturday was conduct a Modern Family Dey. In an evolution that began under Marvin Lewis, he treated the crowd of 7,100 sun bathers to a regular training camp practice. So they got to see a little bit of everything in the team's third straight practice in pads in a four-day stretch:
Some play in the red zone, some no huddle, and a one-minute drill that ended practice with Randy Bullock's 49-yard field goal.
A mix of the Bengals' base offenses, three receivers and a tight end; and two receivers and two tight ends. No matter what it was wide receiver Tyler Boyd lined up all over the place and had very nice day with a couple of red-zone touchdowns.
A split decision for the offense and defense on a couple of backed-up series that started near the goal line.
"The first pre-season game is a chance to iron out some of those kinks as well. We feel good about the work. Instead of just doing a mock game or a scrimmage, we feel like we're getting good work the way we've got it structured right now," Taylor said. "I just think we get better situational work when we focus in on the script of what the situation is going to be for the day. Wednesday, when no one is around, we'll do an extensive walkthrough of a bunch of situational work."
One thing the crowd didn't see Saturday was the early movement and false starts that dotted the first couple of camp workouts. Taylor has to feel like he's getting through to them.
"It's been a big point of emphasis. You've got to stay on sides," Taylor said. "You saw the linemen coming off with the ball. You saw the defense getting off on snap count. I think the communication all around has been much improves. You don't want to make excuses for Day 1 but that's something that does happen on any level of football. We've seen the improvement we expected."
It's all about situations for Taylor, hired to get the Green-Dalton offense back to the playoffs and the upper tier of the NFL's offensive rankings. He's having them go hard two days in a row and then take a day off. After Sunday's off day, they'll go into the pads again before taking Wednesday to walk it through. Then on Thursday they'll be out of pads before Friday's trip to K.C. and Saturday's game (8 p.m.-Cincinnati's Channel 12). Monday in pads appears to have been an add for getting rained out of a padded practice earlier in the week.
"However you want to look at it, we just feel like we need two more padded practices," Taylor said. "I feel like we need two more good days before our first game. It's good for the pass protection, the blitz pickups, the backs, the linebackers, the guys being physical. I think all that stuff is good for guys to continue to work on."
Boyd looks ready right now. With A.J. Green nowhere to be seen, Boyd is ling up everywhere, but then so is everybody on offense.
"Tyler does a great job. He's a separator," Taylor said. "He's got strong hands. He's guy you can trust. He did a great job today in Red Zone. He's a guy Andy (Dalton) trusts."
Dalton didn't throw any bombs Saturday. He didn't leave a seven-on-seven drill burning with ropes. All he's doing is exactly what Taylor wants him to do as his chief engineer of the offense. The last drive is a great example of the kind of quiet, steady camp Dalton is giving his new head coach. With a pass rush bearing down on him behind zone, Dalton took two check-down passes to rookie running back Trayveon Williams before he let go of a quick in-cut to Boyd to set up Bullock's field goal with four seconds left. Efficient and economical and coach praiseworthy. Taylor said Dalton has "stacked two good days in a row, so I'm happy with the progress that he's making."
"You can't undervalue the check-downs in the two-minute drill, assuming you have enough time," Taylor said. "But often times, they're playing coverage and they sink deep and you get a ball and it gets north and south quick and then there's 12, 15 yards all of a sudden and you're back in field-goal range. Andy is a smart football player. He understands that. Sometimes, he knows pre-snap, based on the coverages, a high probability on getting the ball to the back. They're on the same page and it equals a good play."
A slight victory over Boyd. Bates got there largely on back-to-back plays in the red zone. On the first he dropped into the middle of a Cover Three and found himself running the back line of the end zone with none other than Boyd before knocking Dalton's pass away.
Bates and new defensive coordinator Lou Anarumo have been talking a lot and one of the reasons is Bates is a smart guy and knows Anarumo has coached two Pro Bowl safeties, Reshad Jones in Miami and Landon Collins with the New York football Giants. So he likes to talk to him.
"I dropped back and read Andy," Bates said. "Coach Lou has been preaching to me about reading. I was running that back line the whole time. I'm finally getting a real good feel for it and I was able to get my hand on it."
On the next play, which was at about the 5, Bates cuddled up close to the box and at the last instant when wide receiver Alex Erickson settled into his stance, Bates took off past the line of scrimmage and barged into the backfield for a loss.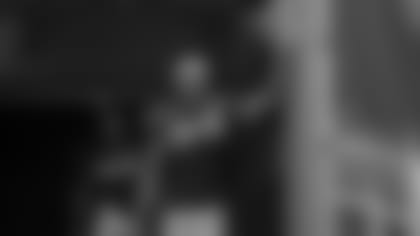 "So (Erickson) couldn't move and get me out of my (outside) gap and I was able to get in there," Bates said. "You have to get down (close to the line scrimmage) on a play like that. That's the type of play we need through the season. It's good to see in practice."
Anarumo was thoroughly unimpressed and that's the way Bates likes it.
"He's a safety. He has to (play the run). So, yes, he did his job," Anarumo said.
"I talk to Lou a lot," Bates said. "He's got a high ceiling for me and I have a high ceiling for myself and I appreciate him just trying to push me. He's coached a lot of good safeties. He knows my ability, my potential. He wants me to be best me I can be and I'm excited for that."
Anarumo steps easy. Bates has been everything they thought he'd be when they took him in the second round of the 2018 draft, but Anarumo cautions.
"So far, so good. He's got a ways to go, but he's working hard," Anarumo said. "He's got a natural instinct for the football, but he's a young player, now. He's a second-year guy and he's learning every day."
Bates doesn't mind that he throws around compliments like moon rocks. He gets it.
"As long as he has the best interest for me and this team, I'm all for it," Bates said.
But Anarumo likes him. You can tell.
"His ball skills have been terrific," Anarumo said. "He's got to make sure he continues to command. He and Shawn working together. Communication. We'd like to see that get better. But he can play the football."
Rookie middle linebacker Germaine Pratt has shown a knack for showing up around the ball and he did it again Saturday while playing for the second defense in seven-on-seven. Working at the goal line, cornerback Tony McRae dove in front of a diving Boyd and tipped the ball in the air. Pratt saw it, tracked it down and after hauling it in he just plain hauled 97 yards the other way while careening around an offensive-defensive line drill. He wasn't stopping for anything until he got into the other end zone and wide receiver Josh Malone chased him for every yard.
But Pratt won the foot race.
"I just knew he was behind me so I just wanted him to show my return skills," Pratt said.
He had no intention of stopping because the head man's voice was in his head.
"We've got to score on defense to win games. That was emphasized by Coach Taylor so it was huge," Pratt said.
Pratt admitted he had a little help from the drill and, yes, maybe he did use it a little bit for a shield.
"I saw some black jerseys and white jerseys so I just ran away," Pratt said. "Tony made a huge play. We were in a zone coverage and he got a hand on the ball and tips equal picks. We want emphasize getting turnovers on defense. Huge play by Tony and I just seized the moment."
Pratt has been getting some quality time. They've put him in the first nickel package a few times at middle backer, but that job seems to be all Preston Brown's.
Bates on being driven to succeed by Anarumo:
"You have to have thick skin talking to Lou. He can be on you even when you're doing things well. Even when you make a good play, he may criticize you ... I'm all for it ..."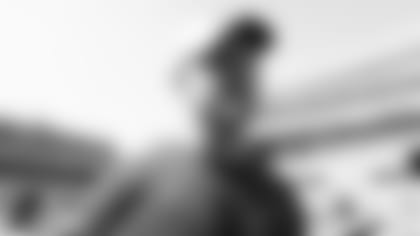 _Trey Hopkins became the third left guard to run with the ones in this camp, joining John Jerry and Christian Westerman.
_The Bengals opened practice with offense and defense splitting four series that started deep in the offense's territory with the goals for the offense to get two first downs and the defense just to force a punt.
"I thought offense did a nice job," Taylor said.
The offense got one first down when Dalton beat the blitz to find Boyd running to the sideline and back-up quarterback Jeff Driskel looked to get another first down when he ran the zone read.
_Driskel is so athletic, Taylor finds that he has to re-think some things when he's in the game.
"He's an explosive runner. He's probably the best athlete I've been around at that position," Taylor said. "So, sometimes in my quarterback brain I'm thinking, 'Throw it away, throw it away.' And all of a sudden, he takes off and it's a 20-yard gain. I just have to get used to that."
_It was probably rookie Ryan Finley's best day yet throwing the ball spring or summer. He had two red-zone TD passes, one to tight end Mason Schreck down the middle of the seam just before he ran out of the end zone and one to rookie wide receiver Stanley Morgan on an inside slant near the goal line that Morgan ran in from about two yards out.
_When's the last time you saw Darrin Simmons' kickers go 3-for-8 in the field goal drill? Saturday may have been the first time ever. Rookie Tristan Vizcaino continued to struggle and was 1-for-4, although he did hit a 50-yarder. The veteran Bullock was 2-for-4, missing 45- and 54-yarders. But he did hit from 53 and, of course, nailed the 49-yarder to send everyone home happy.
One of the reasons Simmons is acclaimed as one of the top special teams coordinators in the league is that the former University of Kansas punter is the only former kicker doing it. He was as surprised as anyone. They warmed up on the adjoining grass fields because the stadium field was so crowded with 91 players, but Simmons wasn't making excuses.
"It was rough. We didn't make a whole lot of them, it didn't seem like," Simmons said. "We progressively moved back. We went from short field goals to intermediate field goals in the middle of the week and this was the first day of the week we hit long ones. It certainly is an area we need to improve on."