INDIANAPOLIS - One of the many things Bengals head coach Zac Taylor likes about Joe Burrow is that invisible intangible giving rise to toughness and leadership.
"What kind of pop up game does this guy got?" asked Taylor, holding the No. 1 pick Tuesday at the NFL scouting combine. "They take a hit and they lie on the ground. How quickly they get up. A lot of guys pride themselves in that and that is something you can see in him."
Burrow did exactly that during his own media availability Tuesday when he popped back up after a month of speculation had him plotting an escape from Cincinnati and smoothly handled all the incoming hits.
He got back up in the pocket and stared down the will-you-play-for-the-Bengals question from The Athletic's Paul Dehner, Jr. with, "I'll play whoever for whoever drafts me. I'm just not going to be presumptuous about what they want to do. It's the draft. You guys have been covering it for a long time. You never know what's going to happen."
"Yeah, of course I want to be the first pick," Burrow said. "That's every kid's dream. I've worked really, really hard for the opportunity and I'm blessed to be in this position. So I'm just really excited to be in this position."
Which didn't surprise Bengals director of player personnel Duke Tobin. He says all options are on the table and they're looking at players other than Burrow with the top pick. But Tobin didn't say anything to slow down the conventional wisdom that has the Ohio kid coming back home.
"What our research tells us about Joe Burrow is he's his own man. He's not going to be talked in to saying things for other people's benefit," Tobin said. "If that's what he said that's fantastic. I'm looking forward to getting to know him and getting to meet him through the process."
Burrow meets with Taylor, Tobin, Bengals President Mike Brown and the rest of the club's combine team Wednesday afternoon for the first time. But on Tuesday he said all the right things as he's poised to possibly become their next franchise quarterback.
After a career that saw Burrow secure Ohio's Mr. Football for a win starved Athens High School program he carried to the state championship game and included a stint as Ohio State's hard-luck back-up quarterback before he won the Heisman Trophy in LSU's national championship season, Burrow's fresh letter-jacket face is clearly used to being on the front of a franchise.
"I have a little more experience with it than a lot of people because I was a two premier programs and saw guys like J.T. Barrett do it and I did it myself at LSU," Burrow said. "I've had a lot of different experiences that I think have helped shape my mentality when it comes to that. I think I'm very prepared to be that guy when it's asked of me."
If that was an answer for the front office and the coaches, then he also had one for the fans. His two top targets at Athens were the current tight end twins at Ohio University, Adam and Ryan Luehrman.
Burrow nodded and smiled when asked if they had been pumping up their favorite NFL team to him. He put the rest of the media in the loop.
"My best friends in high school, they are big Bengals fans," Burrow said. "If it works out for the Bengals, they will be very excited. Let's just say that."
And here was another one for the fans when he drilled a softball question about wanting A.J. Green on the roster.
"I think with any rookie quarterback, the more help you can get, the better and A.J.'s been one of the best players at his position for a very long time," Burrow said. "And, you know if I am lucky enough to get drafted No. 1 overall, I would like to have him on the roster."
Burrow said he doesn't have concerns about the Bengals, he's just looking forward "to talking ball," with Taylor and his coaching staff. They're already on the same page when it comes to what seems to be Burrow's primary asset in the pro game.
Burrow: "I think my pocket presence is the thing that will translate most. But obviously going into the league you can improve in every area. I'm not focused on one little thing here and there. I'm focused on just improving my game overall. The speed of the game, the concepts, the reads, the defenses are all more complex now. I'm trying to better myself as well."
Tobin: "The thing that Joe does really well just going over his strengths, he can play within the system and execute the system and he can play outside the system if he has to. In today's game that's pretty important. He's shown the ability on third down when he has to play outside of the system when he has to and get those big first downs. The mark of any good quarterback is how they do on third down and he's very good there. There's a lot to like about Joe on tape from what we've seen."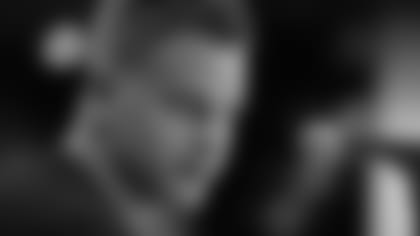 Tobin can relate. Like Burrow he was a college transfer quarterback in the early '90s and he knows how hard that is. Before Burrow took the podium, one of his LSU tight ends, Thaddeus Moss, recalled how he broke the ice.
"I'm rocking with Joe Burrow. No one has ever put up the number he put up this year and on top of that, doing it in the SEC West. I think if you put the film on, that speaks for itself," Moss said. "Great leader. Great teammate. Anything you need from him, he's very supportive. Vocal leader. Leads by example.
"As soon as he got to LSU, we were in a players-only meeting. He got up and spoke to everybody and told them, 'Look, I don't care if I'm the starting quarterback or if I'm the back-up quarterback. Y'all going to get everything out of me. I'm going to put my best foot forward to help this football team win games.' Ever since he got up in front of that players-only meeting, everybody was OK with Joe Burrow. We're rocking with Joe Burrow."
He won't rock out until April 3 at his pro day at LSU, 20 days before the draft. The Bengals probably won't get him for a private workout until after that. Then he'll also be coming into Paul Brown Stadium for a visit. But Taylor says all these things can be worked out after this week.
"We don't worry too much about it, because we know we'll get a chance. We've watched all that tape," Taylor said. "That's the number one evaluation tool that we want to follow, and then number two you'll get a chance to see everybody work out at some point, whether it's the Pro Day or the workouts you have for them. So we don't worry too much about that stuff. They played an NFL schedule this year at LSU. They played 15 games into mid-January so those guys are probably going through a little different process than everyone else."
And Burrow looks like he's in a little different position than everybody else.
"The only thing I've said is that I just didn't want to be presumptuous about the pick," Burrow said. "That's why I've been non-committal because I don't know what's going to happen. They might not pick me. They might fall in love with someone else. You guys kind of took that narrative and ran with it. There has never been anything like that from my end."
They have yet to meet. But it sounds like the Bengals may have only eyes for Burrow.