Now a few pearls from the most versatile linebacker in the history of the Bengals during an offseason the last five rounds of the draft transformed the depth chart of the Cincy backers.
Reggie Williams is the Bengals' all-time best linebacker, of course. But Brian Simmons, with the tip of a Bills hat to Takeo Spikes, did it all during nine seasons he straddled the centuries and the Bengals' rise from AFC Central doormat to AFC North heavy in a career that began with a similar draft.
"That's right, 4-5," says Simmons, who celebrated his 45th birthday a few days ago. "I can still run a 4.5."
That makes him about the same age as the father of one of those linebackers the Bengals chose to turn it all around, fourth-rounder Akeem Davis-Gaither. Simmons, out of New Bern High School, played against Thomasville linebacker Keith Gaither in a North Carolina high school all-star game. After playing at the University of North Carolina, Simmons went to the first round. After playing at Elon University, Gaither became a Division I assistant coach and is in his second stint at Army.
The two 45ish Carolina backers re-convened not long after Akeem became the first pick of the last day of the draft. Gaither reached out to Simmons and asked him to talk to his son about an NFL linebackers game, Cincinnati and the Bengals. Since Simmons is one of the best leaders Marvin Lewis ever had for his 2003 Paul Brown Stadium reboot, Gaither couldn't have drawn up orders for anyone better.
"Knowing his dad, he's built the right way," Simmons says of that half-hour phone call with the son. "I told him the first thing is to get into the locker room and be observant to those you want to be around and those you don't want to be around. Attach to somebody who can show you how to do things the right way. How to study, lift, practice. Make sure when you see guys not on the same track, stay on the opposite side of the road."
Simmons has to shake his head because it was a half-life ago. But he has to agree this draft has a familiar whiff from the one that brought him to the Bengals in 1998.
Just before he turned 23, when he really could get it to 4.5 seconds for the 40-yard dash, Simmons bolted out of the University North Carolina with the 17th pick, the draft choice the Bengals got in the Dan Wilkinson trade. He joined Spikes, the Auburn backer picked an hour earlier at No. 13. Then in the third round, they drafted Northeast Louisiana defensive end Steve Foley, the man who led the nation in sacks with 18.5 before they made him an outside linebacker in defensive coordinator Dick LeBeau's 3-4.
Like this year's crew, they weren't welcomed by a plethora of experience around them. Both Spikes and Simmons started. They were bookended by James Francis, a nine-year veteran who had played more NFL games than the rest of the linebacker room combined, and Reinard Wilson, a second-year transplanted defensive end. They were backed up by Foley as well as a second-year sixth-rounder in Canute Curtis and a college free agent in Adrian Ross.
Sound familiar? Davis-Gaither and crew come into a room where free-agent pickup Josh Bynes' 101 NFL games are more than the room combined.
But Simmons says not to fear. He sees the '98 dynamic gurgling in '20 with good coaching, self-starters and quick, impressive athleticism. Plus, he sees an easier transition from the college game to the NFL than his fellow youngsters. And, the current defensive line towers over the '98 group that lost Wilkinson and wouldn't get Justin Smith for three more years. 
"Honestly, I didn't need someone to look to. Takeo didn't need it. Ross didn't need it. We came in with that good work ethic," Simmons says. "We just needed someone to teach us how to play pro football. We didn't really have that, but the fortunate thing is we were able to get those snaps and we were athletic enough and fast enough and good enough to survive and learn on the job and still play and not be a total disadvantage for the team."
The Bengals can only hope Davis-Gaither, third-rounder Logan Wilson and seventh-rounder Markus Bailey offer the same NFL production. Spikes was at the top of the league for 15 seasons with five different teams and if he played in a Super Bowl instead of never appearing in a play-off game, he'd be up for the Pro Football Hall of Fame. Simmons played all three spots in ten seasons. Foley quietly played seven years and had 25 sacks in 96 games.
And although Spikes played just five seasons in Cincinnati and Foley four, don't forget what the three of them did in 2001 behind a defensive line that struggled against the run and a secondary that couldn't cope with the pass. The Bengals defense still finished ninth even though the linebackers had mayhem all around on a defense coordinated by linebackers coach Mark Duffner, now the Bengals senior defensive assistant.
"Duff laid the groundwork for us. A great coach, showing us how to work on days off and taking notes," Simmons says. "And Marvin taught me how to sort through what to study."
Simmons, a former, area scout for the Jaguars, scouted the players of Bengals linebackers coach Al Golden when Golden was the head coach at Temple and Miami and calls him "a smart football man, a good Xs and Os coach."
Plus, ADG and the rookie backers have in front of them on the defensive line a Hall-of-Famer in Geno Atkins, a Pro Bowl rusher in Carlos Dunlap, the NFL's highest-paid nose tackle in D.J. Reader and an 8.5-sack man in Sam Hubbard. No Bengals defense in the '90s and the first years of Marvin Lewis' run had anything close to that up front.
 "It's just like a running back. The better the people in front of you gives you the best chance to be the best you," Simmons says. "He's got some good football players in front of him. He just has to get as comfortable as quick as possible. If you don't know what's going on, you're not going to play as fast as you're capable of playing."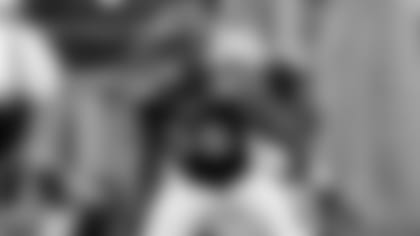 As an analyst for Tar Heels network, Simmons watched tape of Davis-Gaither this past season before UNC played Appalachian State and believes he not only possesses NFL speed and coverage skills but that he also is a quick fit into this kind of game.
"One thing they've got on their side is athleticism, youth and speed. Now the pro game and the college game matches up so much better than it did when I came out," Simmons says. "I think the transition is easier. Everyone in college is playing the spread. Go to the NFL and everyone is playing the spread.
"When we came in, you played nickel defense 30 percent of the time. Now you only play base 30 percent of the time. It's not the same punishing game. It's more of a spatial game. It's about change of direction and ability to run. It's a quicker transition."
This is why Duffner says if Simmons and Spikes came into the 2021 draft, they'd be top 10 picks because of their breath-taking versatility. This is how interchangeable they were, the way Simmons remembers it. Spikes played middle backer at Auburn while Simmons played WILL at North Carolina. The Bengals flipped them, except on third down, when Simmons went back to WILL and Spikes to the middle.
It served to be a glimpse into the future, where 22 years later the Bengals are training their three rookies to play both MIKE and WILL. The alignment isn't as pure a 3-4 as the one in '98, but the concepts are similar.
"In today's game, teams are looking for the MIKE and WILL to have the same traits," says Simmons, of the ability to hit, run and chase.
But Simmons knows the advice he got in '98 isn't any different that what he told Davis-Gaither.
"Is the game faster? Yeah," Simmons says. "Part of that is not necessarily physical speed. I told him that the game is played faster at the next level not because guys are faster, but because they think faster. It's a more decisive game."
Study the defense. Get comfortable in it, Simmons told ADG.
"Don't go in being content with just being there. Don't go in there content with being a backup," Simmons also told him. "If you have that mindset, your actions have to drive that way. If you're accepting of lesser things than you'll do lesser things."
More Simmons to ADG: "If you don't start, you better make a name for yourself on special teams. If you're not making any plays on special teams, don't ask why you're not starting on defense. I tell that to every linebacker."
At 45, Simmons told the kid what he heard as a kid
"If you want a better job than what you've got," Simmons says, "do a better job at the one you have."