A.J. Green, the sad little boy who lost his big brother, has caught a bouquet from the gods.
It turns out as he prepares for his first game as a Bengals captain Sunday in Indianapolis (1 p.m.-Cincinnati's Channel 12), their Gold Jacketed wide receiver is getting ready for his son to become a big brother while teammates like wide receiver John Ross are calling him their big brother.
"I can't wait to see him with two boys," says Miranda Green, expecting in February. "He lost his brother and he told me, 'I can't wait for Eazy to have a brother.'"
Easton "Eazy," Green was born Sept. 21, 2016 and his Daddy, the-guy-next-door-car-pool superstar, has slipped into fatherhood as effortlessly as he plays a game that takes him to Canton by the time Eazy and his brother are in high school. Or maybe college. But hold the phone on that stuff from a few weeks ago. That stuff about playing seven more seasons and then retiring at age 36?
Look, Green isn't a numbers guy. But, "I know the numbers," he says. And these are the numbers he wants. All-time top five in receiving touchdowns and all-time top ten in receiving yards. Not only that, he covets Chad Johnson's Bengals records because he's looked up to his charisma and talent since high school. If he has to play beyond 2024, his temple of a body has the answer.
"Thirty-six is just a number," Green says. "My body feels great. I feel like I haven't lost a step. I feel faster, stronger. As the years passed, I train the way I trained when I was 22. Nothing has changed. I want to play until, in my mind, I can't play at a high level."
At the moment, though, life's a zoo. After Eazy's first soccer practice got washed out Thursday, Green did what he always does and gave him his nightly bath. This time the kid's tiger got the chance to get in the tub with him, which is an honor because there about 30 other animals in the playroom vying for Eazy's attention.
"He's animal-obsessed," Miranda Green says. "His favorite animals are elephants, bears, hippos and tigers. Hippos may be taking the lead, but it changes day-to-day between those four."
Blame his father, whose favorite channel is "Animal Planet." The family falls asleep in front of it every night.
"He can name every one of them," A.J. Green says of his stuffed barn. "Sheep. He's got a snake. He's got a beaver, but he always calls it a mouse. Because that's what it looks like. A big mouse.
"He doesn't let me play with them that much because he gets mad. He sets them all up in the play room. He gets them to fight or he puts them on top of each other. He has different phases. Some days he wants to take the elephant to school, some days he wants to take the fox. It depends on the day … For his birthday the party is going to be like a zoo or a safari."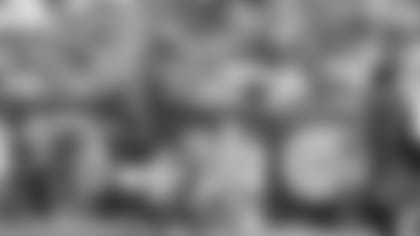 Wait until the kid finds out his Daddy owns a jungle where he's the leader of a streak of tigers. 
"It's kind of like the way he plays football," Miranda Green says of her husband. "As a dad, he's more relaxed. I'm the one who's stressed out. He just goes with the flow. He's great at it naturally. He's so chill. He's great."
But there's one thing that got Green animated this season. Well, that and getting a reserved parking spot in the players' lot because his seniority kicked in at eight seasons.
"He came home and said, 'I made captain,'" Miranda Green says. "I like the parking spot, too, because I drop him off for the games."
But he's not reserved about the 'C,' on his jersey and neither are his teammates. They voted for him and that's why he says it's an honor. Ross says he's more than a captain.
"He talks like a big brother would talk to you. He's our big brother," Ross says. "A lot of people would say he's not a superstar because he's not on social media, he's not flashy. He doesn't talk. But people don't know him because they're not in the building with him. He has his own swagger about him. He's just a guy who doesn't want to be in the spotlight. He leads by example."
The other day the receivers were yammering at each other ("We're always joking and laughing," Ross says) and Ross got on Green about forgetting something and Green laughed it off with a zinger of his own. Something about, "You mean, like you stopped on your route today?" Ross' eyes popped wide before he burst into laughter.
"Honestly, that's like having a real big brother," Ross says. "We talk about it. It's not going to happen again. When he's up and he makes a mistake, oh my God, we can't wait until he gets back so we just go at him. He laughs."
Green's laughing now, too. But he knows Ross got the point.
"But he knows. He knows," Green says.
Or, this is how Green leads:
Remember that first play of the Buffalo game two weeks ago when they scripted for Ross in practice? The stop-and-go that worked for a touchdown?
"Even in practice he's like, 'When we run this play I'm just running in the end zone with my hands up because I know you're going to score and it happened," Ross says. "He'll pull me aside and he'll say, 'Do this,' or 'That was good. Keep doing it that way.'"
Or, this is how Green leads:
About 96 hours after that play, it looked like Ross had chalked up another long TD in the pre-season finale against the Colts. It probably should have been pass interference since the DB had one of Ross' arms briefly pinned. But he still got separation with his massive speed and was open enough to maybe survive the P.I. But he juggled it and dropped it.
"It was a bang-bang play. The guy got in my arm a little quick," Ross says. "After practice he pulled me and said, 'Let's work on this drill after practice. Higher hands. Strong hands. Better focus. He's a pro at catching the ball. To think he did that knowing he doesn't have to."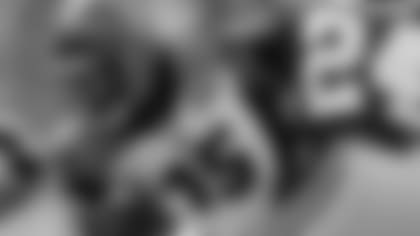 That's what big brothers do. Green had one for four years. Avionce was nine, five years older. Maybe that's why Avi was the one sitting in the front seat that day and A.J. was in the back when their aunt's car crashed.
Avi died right there and Green has never wondered why he wasn't in the front seat and Avi was. "God put me there," is what he said after one of his first practices in that long ago rookie training camp. "I just feel I'm so blessed that God put me here for a reason," is what he said.
Avi has always driven him. The little brother celebrated him a few years ago in their hometown of Summerville, S.C., when he donated a rec center to the town with his big brother's name on it. Now the little brother is trying to leave his name in as many places as he can in the NFL record book.
Isn't that the reason he was in the back seat? Greatness?
Now on the eve of his eighth season he's thinking about the question. He wants to be great. Hall-of-Fame great. That's the goal. Site of the next Super Bowl. Then Canton.
But what is great? Green is taking time to think.
"A guy that can do it on a consistent basis year in and year out," he says finally. "Not a one- or two-year wonder. A guy that puts up numbers over eight, nine years. A guy that puts up a lot of yards each season."
Green has never had the monster season of his division rival Antonio Brown (126 catches) or his 2011 draft mate Julio Jones (1,871), but he looks at one of his role models and mentors, 35-year-old Larry Fitzgerald. Only once in his 14 seasons has Fitzgerald bettered Green's best season of 1,426 and that was by just five yards. He knows the receiver numbers are exploding and it's tougher all the time to get into the Hall at that position.
"You have to look at quarterback situations and if a guy is still putting up numbers with different quarterbacks, how can you deny him?" Green asks. "I think being on one team helps (for the Hall of Fame). Look at Larry. A guy like Andre Johnson. He was mainly with Houston. He doesn't have a lot of touchdowns, but I think he's a Hall-of-Famer."
Green's right. He knows the numbers. Johnson had 70 touchdowns in 13 seasons. Green already has 57. But Johnson's 14,815 yards put him 11th all-time with the help of three 1,500-yard seasons.
"I've had some consistent years," Green says. "And this game is about being consistent."
The only season he had fewer than his rookie season of 1,057 yards, he blew out his hamstring on the way to that monster year. Still, even though he played just ten games, he was just 46 yards shy of joining Randy Moss as the only receiver to get 1,000 yards in his first six seasons.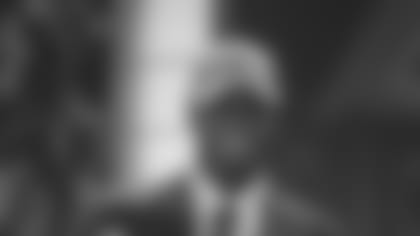 Green finished that season with nine games of at least 150 yards and a TD. Only Hall-of-Famers Moss, Jerry Rice and Lance Alworth have done that.
Andre Johnson, like Fitzgerald, had five 100-catch seasons, a number Green is still chasing. But there are reasons he accepts.
"I haven't been in an offense where I get 20 balls. We haven't been that type of offense since I've been here," says Green, who admits he looks at the number of yards rather than the number of catches. "Different offenses. Look at Larry. He really hasn't had any of those big years. It's all based on your system. In the last couple of years we've had a lot of different options and not just one … It's been fun. I'm just coming to work every day showing my teammates I'm the same guy."
Top ten in receiving yards? That's one of his numbers. Shouldn't be a problem if the next seven years are like the first seven.
That would put Green at 16,426, second behind Rice's untouchable 22,895. Fitzgerald is a lock to pass Terrell Owens this season into second place (15,934) because he's close at 15,545.
After that, the next group of players in Green's age group that broke into the league in 2010 is led by Antonio Brown's 9,910, Julio Jones' 9,054 and Demaryius Thomas' 8,653. Then comes Green at No. 87 on the all-time list with 8,213 and the next receiver after him that came into the league after 2009 falls all the way to 144 in T.Y. Hilton, a 2013 draft pick.
But top five receiving TDs, the other number he's eying, are going to be a little dicey. If Green matches his first seven seasons, he ends up with 114. Right now Hall-of-Famer Marvin Harrison is fifth with 128 and current Chargers tight end Antonio Gates is next with 114. And the relentless Fitzgerald is sitting on 110.
Then that crew that arrived in 2010 and beyond is led by Patriots tight end Rob Gronkowski (76), Packers tight end Jimmy Graham (69), Antonio Brown (59), Green (57), and Demaryius Thomas (57). Green is the youngest of the lot and Julio Jones has just 43.
Andre Johnson. Calvin Johnson. Here's another guy he thinks should be in the Hall. The Bengals' own Chad Johnson.
"I feel like people don't give Chad respect. But I feel like he's a Hall-of-Famer. Just what he brought to the game. And how he changed the game of receiver. Just the way he talks, the marketing. I think he put Cincinnati on the map that one year he was on every commercial. Chad was one of my favorite receivers," says Green, even though he is the opposite of a diva and who only changes his name when Bengals announcer Dan Hoard calls "Adriel Jeremiah Green," when he scores.
"But at the end of the day we're still football players," he says. "I love Chad's feet. One of the best route runners I've seen. I studied him all the time in college. High school."
He knows Chad's numbers. His Bengals record is 66 receiving TDs and he know he can pass it this year. He needs ten. He also knows he can get him with career 100-yard games. They both have 31.
"I know the numbers. I definitely know the numbers," Green says. "He paved the way for us. It's an honor. No matter what my numbers are. Whether I pass him or not, I still have that same respect I had for him when I was still in high school."
But there will be no holdouts. No half-time explosions demanding the ball. In fact, no celebrations with the ball when he does get it. Green's non-celebratory toss to the official is delightfully old school.
"People ask me why I don't get my name out there. I don't really care. At the end of the day I'm a football player," Green says. "That's my foundation. That's who I am. A guy that comes to work every day. I don't care about the accolades … When I was growing up my mom and daddy always told me whatever it's going to be it's going to be. You can only control what you can control and that's coming to work every day."
Now it also means baths and soccer and tigers that have paws and not cleats.
"He wants a dog," Miranda Green says of Eazy, soon to be the big brother. "A bulldog. I think that's the Georgia thing."
It is also the Bengals' big brother setting his jaw on history. He knows the numbers.