FOR IMMEDIATE RELEASE; FRI. JAN. 9, 2015
FROM CINCINNATI BENGALS PUBLIC RELATIONS
BENGALS VOICE DAN HOARD WINS
STATEWIDE BROADCASTING HONOR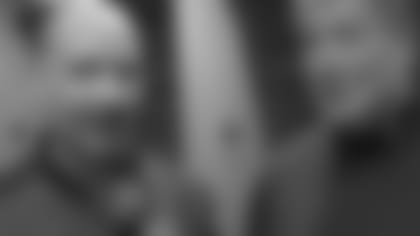 Dan Hoard, Voice of the Bengals on the team's radio network, has been named Ohio Sportscaster of the Year by a group of his peers, winning the award from the National Sportscasters and Sportswriters Association & Hall of Fame (NSSA).           
Hoard won the honor in voting by Ohio members of the NSSA. He and the winners from other states will be honored at the NSSA's national awards banquet in June in Salisbury, N.C.
"I'm very surprised and humbled," Hoard said. "In a state where Marty Brennaman, Paul Keels, Tom Hamilton and Jim Donovan ply their trade, to even be mentioned in that kind of company is a real honor."
Hoard is also the radio voice of University of Cincinnati football and basketball. He will be in his fifth season in 2015 as the Voice of the Bengals. He is a former sports director and broadcaster for Cincinnati's WXIX-TV (FOX 19), and he also was formerly the play-by-play broadcaster on Bengals preseason television.
A native of Jamestown, N.Y., Hoard first came to Cincinnati in 1995, with WXIX-TV.