Last week's balloting on the proposed collective bargaining agreement virtually split the NFL players in two. But Sunday's announcement that it passed, securing labor peace for another decade in the process, answered at least one question in the whirlpool of what-ifs engulfing pro sports and the nation they entertain.
The passage of the CBA was promptly followed by an afternoon conference between officials for the league and NFL Players Association and the noon Monday timetable for the negotiating window for free agency and Wednesday's 4 p.m. start to the NFL new year remained intact amid the coronavirus crisis.
Two Bengals veterans on each side of the ball who weren't for the final CBA product don't envision the close vote (the yes ballots won by 60 votes out of nearly 2,500 cast) to split the locker room.
"It's not the perfect deal we wanted. But at least we know there is going to be football. We know what the plan is going forward," said Bengals sack ace Carlos Dunlap. "Now I know what I have to prepare for."
What he and the Bengals have to prepare for is a 17th game (but not before 2021) and that extra week appeared to be the major stumbling block for the Nos who didn't think it came with the proper compensation.
"I'm not excited about the 17th game," said center Trey Hopkins, who would not elaborate on his no vote. "There's a lot of wear and tear on your body as the season goes on. A 17th game just adds to that."
Hopkins is moving on to the next obstacle, which is trying to find a place to work out this week. He says his local off-season facility has been closed and on Friday it was reported the Bengals recommended employees to work from home this week as the NFL grapples with the world-wide pandemic.
"Until they shut down the parks, fields are free," said Hopkins, who plans to move his aerobic workouts outside while looking for some free weights.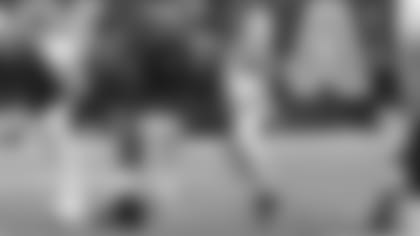 But he doesn't think the crisis is going to impact how he prepares for the season and believes the NFL is going to end up playing the year.
"Too early to tell. Too far away," Dunlap said. "I think the lockout had a higher chance of us missing the start of season than the corona. The corona is obviously a dangerous thing. I would like to hope we have it under control before then."
A lockout or walkout was avoided with that tight vote that got rancorous between players on Twitter. What bothers Hopkins is that about 500 players didn't vote.
"That's the most disappointing part," Hopkins said. "Just those meetings in the six years I've been in the building in the NFL and how we talked through it and at the end of that for some guys not to have a strong enough opinion one way or the other is disappointing."
But Hopkins also saw some progress in an agreement that saw the players receive upgraded pensions, reduction in pre-season games and regular-season padded practices as well as an increase in rosters to 55 from 53 and the game day active list expanded by two players that must include an offensive lineman. Supporters also pointed to minimum salaries raised by $100,000 and this year's salary cap of $198 million and the players getting an increase up to 47 percent of league revenues.
"There are steps in the right direction," Hopkins said. "It's great for guys at the minimum. There were some good things to it."
The Nos were fueled by the players' cut for a 17th game they believe isn't tied to the proper revenue increase as well as no resolutions on restrictions and tags in free agency and added mandatory fines for veteran holdouts.
"There are positives. And negatives that we were fighting for that we didn't get," Dunlap said. "If we added an extra game, how do you allocate the extra money? An extra game is a liability for the player. So many players already can't make it through 16 games. It's not like we're trying to rewrite a whole novel."
It was close, but both guys don't see this thing splitting a locker room. Hopkins says, "You have to respect everyone else's opinion," and Dunlap said, "I'm pretty sure guys just want to play football."
Plus, there are a lot more important things going on. Dunlap has spent the last couple of days at the restaurant he owns in Miami, "Honey Uninhibited." He says when he looks around at the competition, he feels fortunate business is down just 20 to 30 percent.
"We're doing everything we can," Dunlap said. "Washing hands more frequently. We already clean things frequently and we're cleaning them more. We've stepped up our level because of the awareness of what's going on.
"I'm operating with the mindset I already had. You're aware of your body. Wash your hands more, carry hand sanitizer, you're mindful of what you touch. As an athlete you always operate under heightened standards."