Tonight is a big night for Bengals preseason TV play-by-play broadcaster Mike Watts. Just like the rookies on the team, Watts will be making his NFL debut.
"Everybody has a story. Every one of these guys was the best player at his high school and one of the best players at his college, from an undrafted guy to a first-round pick," said Watts. "This is a chance to reach an NFL dream. For every rookie that you don't know a lot about, this is the biggest moment of their career to this point and to be able to document that, while also experiencing the biggest moment of my career, is pretty cool."
Watts will be calling the game on the Bengals Preseason TV Network (Cincinnati's Local 12) alongside Pro Football Hall of Famer Anthony Munoz.
"He's Cincinnati royalty," said Watts. "Anthony Munoz is the best offensive lineman of all-time. He's so impressive as a human being, that meeting him for the first time, it felt like I've known him for years. We hit it off very quickly."
When the Bengals preseason TV play-by-play position opened up, the NFL reached out to the team recommending Watts. Watts may seem young stepping into the booth at the age of 25, but he's got a lot of experience under his belt already. He has covered a variety of sports, including broadcast experience with ESPN, SEC Network, Major League Soccer, CONCACAF and various colleges and conferences.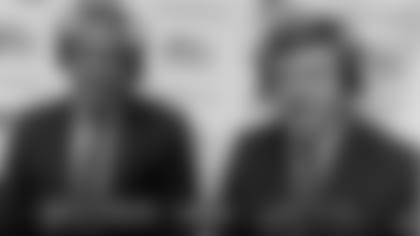 "Like a pilot who has how many flying hours, Mike's got a lot of hours in the cockpit flying left seat," said executive producer David Ashbrock. "Even if it's not football. Play-by-play people, like producers and directors, we adjust. We do our homework and Mike will come prepared."
Watts believes in a team-first philosophy.
"It's about our producer and director getting good pictures and setting up good storylines," said Watts. "Anthony describing why things are happening and giving an angle that no one else can provide. And Mike Valpredo being able to go on the sidelines and provide reports or talk to players and give fans deeper insight. And I'm just trying to help all of them combine together for the best possible show."
Watts admits there will be a few nerves as he puts the headset on tonight, but he is excited for the opportunity and to see the team in action.
"I'm from Ohio and I know what the Bengals mean to people here in the Tristate," said Watts. "You want to be as prepared as possible and live and breathe this like everyone who will be at the game tonight. I want to be able to share this experience of loving Bengals football with the fans in Cincinnati."