Larry Ogunjobi made a tough day at Paul Brown Stadium a little easier Friday.
It's not many days in the history of a franchise you say good-bye to a potential first ballot Hall-of-Famer, but the Bengals had to do it to get the things done they need to get done when they released eight-time Pro Bowl defensive tackle Geno Atkins.
But, and you can't make this stuff up, the guy they brought into replace Atkins is a Geno protégé. Ogunjobi, a 6-3, 305-pound gnat in the eye of the Bengals during his four seasons in Cleveland, considers Atkins family.
"He's helped me tremendously in my career," Ogunjobi said in his first Bengals Zoom Friday morning. "I have nothing but respect for Geno. Thank you, Geno. For real, for real. I appreciate you, dog."
At the command of his coach at the University of Charlotte, Ogunjobi reached out to Atkins before Cleveland took him in the third round of the 2017 NFL Draft. Next thing he knew, he was working out with Atkins during his first two seasons in the league, sending him clips of his pass rushes and Atkins, the Bengals' reigning NFL Man of the Year, sending him snippets of everything else.
"He gave me a lot of life lessons. A lot of nuggets. We spent a lot of time together during the offseason just talking about life, progression and how to become a great player," Ogunjobi said. "And I'm still going to be talking to Geno all the time. Just to have somebody who did it that well. You are talking about a Hall of Famer here. Somebody who has done it at the highest level consistently. To have him in my corner is a blessing."
The Bengals are glad Ogunjobi is finally in their corner after eight games they couldn't block him while he hit the quarterback four times and had six tackles for a loss in eight games.
"Having just competed against him, he's been a pain for us," said head coach Zac Taylor. "He's a tremendous player."
They thought enough of him to give him a reported one-year, $6.1 million deal, 6.1 million of the reasons they had to let Atkins go, saving them $9.5 million. That took them out of some other derbies, too, but they needed a young three technique like Ogunjobi with pretty much everybody behind Atkins unsigned.
And since he'll only be 27 when the season starts, Ogunjobi, they believe, is an ascending player. He actually had more sacks than Atkins in 2019 with 5.5, the second straight year he had 5.5, giving him 11 in the same 2018-19 stretch Atkins had 14.5. Ogunjobi had just 2.5 last season, but he thinks he'll be more productive here moving out of nose tackle and playing next to one of the league's best noses in D.J. Reader.
"It gives me more ability to use my ability," Ogunjobi said. "A guy in D.J. who can really stop the run and is a premier run defender. I just think this pair can work out really well. We prepare with each other, we work off each other. We can make a lot of plays together."
That's exactly what defensive coordinator Lou Anarumo has in mind to get pressure from him.
"A guy like D.J. who is going to command respect and now Larry and you put Trey (Hendrickson) on the outside and Sam (Hubbard)," Anarumo drew it up Friday. "Hopefully you're going to get some one-on-ones there. He's got the ability and athleticism to win. He's proven that and that's what we're excited about."
They also have to love what this guy brings to the room. The media does. He's coming off a season he was named the Good Guy by the media up in Cleveland. The first player to ever get drafted from Charlotte, he was a double major in science and biology. He also taught himself to play the piano and can play Mozart and Beethoven.
And, he's already got good friends in the room, starting with Reader and strong safety Vonn Bell, his workout partners in Miami last year with COVID. He's into Bell's early morning wake-up calls, too.
So Ogunjobi says deciding on coming to the Bengals just wasn't a tough call.
"I trained with Vonn every morning at 5 a.m. These are guys I consider my close friends. This wasn't hard for me," Ogunjobi said. "I spent like seven months in Miami. You see somebody every day, train with them and talk to them during the season, its' always just love. To see the want. They want to win and want to be around guys who talk about camaraderie and bringing the team together and what it's going to take. You are developing the pieces. I feel like it's very big. For me, it wasn't a difficult decision."
Atkins is famous for not saying much of anything. To anybody. Media. Teammates. Coaches. But in a poetic way, he's talking through his successor.
"So I'm in this whole conversation by myself with him," Ogunjobi recalled of their first conversation. "'Here's my story.' And he's like, 'Yeah, OK, cool.' I was like, 'That's it?'
"Now I talk to Geno and he won't shut up. It was definitely a relationship that blossomed for sure. This guys like my mentor, my big brother. He's family to me."
As he remains in Bengaldom.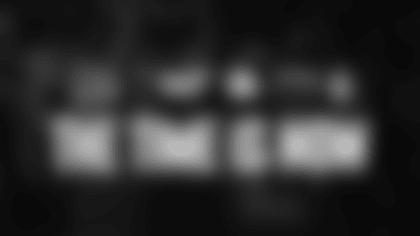 Be A Part Of Something Special
Join the team with your own Season Ticket Membership. WHO DEY!