On a night for tears when they learned of his passing at age 67, Ross Browner's teammates Tuesday remembered his infectious laugh that lit up the locker room of the Bengals' first Super Bowl team.
"He was always upbeat. If he was ever down because of a loss, he wasn't down for very long and picking up everybody else," said former cornerback Louis Breeden.
Breeden said Browner died of complications from COVID after battling the illness for a month, passing just three weeks shy of the 40th anniversary of his greatest game as a pro.   An explosive defensive end who is fifth on the Bengals all-time sack list with 59, Browner had a game-high 10 tackles and the Bengals' only sack of college teammate Joe Montana in Cincinnati's 26-21 loss to the 49ers in Super Bowl XVI.
"Ross was a unique player in the sense you just didn't see that kind of athleticism on the defensive line," Breeden said of the 6-3, 262-pound Browner. "He wasn't the biggest guy weight-wise. But Ross was quick off the ball, extremely athletic and used his hands well."
Browner attended the 1981 team's reunion in September at Paul Brown Stadium and brought the laugh with him.
"That big laugh. Heh, heh, heh," recalled former wide receiver Isaac Curtis. "You could hear it all over the place. He brought sunshine into the locker room. He just had that energy that was contagious."
Curtis remembered how careful Browner was at the event. A diabetic, he fist-bumped his old mates rather hugging them or shaking hands. But as always, they were drawn to him.
"He took on the responsibility of a leader just because of his personality," Breeden said.
Ross Dean Browner was born on March 22, 1954 in Warren, Ohio, the oldest of football's legendary first family.  Six brothers were all high school All-Americans and three of them followed Ross to the NFL. The next youngest, Jimmy, played with him for a year in Cincinnati. His son, Max Starks, a tackle, played nine of ten NFL seasons with the Steelers and won the Super Bowl twice that his father lost once.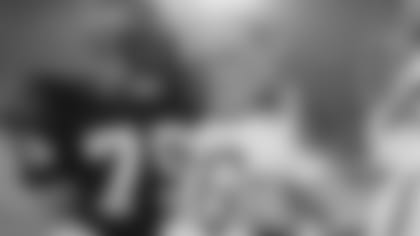 Browner was the eighth pick in the 1978 NFL Draft, an all-everything out of Notre Dame. In South Bend he was named the winner of the Outland Trophy as the nation's best lineman and the Maxwell Trophy as the nation's best player, the only lineman to win it in the 1970s.
Last year he told Bengals.com's Old School Scribe Podcast that it seemed fated that the Bengals would draft him. When Browner played in the Ohio all-star game after his senior season at Western Reserve High School, he remembers Bengals founder Paul Brown coming into the locker room. Brown, still the Bengals head coach, asked Browner where he was headed to college and assured him he'd keep an eye on him.
"If you were around in that draft, I knew I was going to pick you," Browner recalled Brown telling him. "Because he had seen me through high school, college and when I went to the pros he said, 'Hey, I didn't want to play against you, so I had to pick you.' That was a real honor coming from him."
Browner started 121 games in his nine seasons with the Bengals and retired after playing 11 games with the 1987 Packers. His career-high nine sacks helped fuel the AFC champion Bengals' 12th-ranked defense in 1981 and was a big part of "The Web," defense that also got 11 sacks from linebacker Reggie Williams and 10 from the other end, Eddie Edwards.
"The clock beat us," Browner said of the Super Bowl season that began with the new striped uniforms and helmets. "We were either going to be the clowns of the NFL or we were going to be disrespected by the NFL. We were after respect."