Bobby Hart didn't win the popular vote, but he decisively carried three major precincts in Bengaldom manned by head coach Zac Taylor, offensive coordinator Brian Callahan and offensive line coach Jim Turner.
"It's hard to find guys that look and play like him as far as his athletic skill set," Callahan said Tuesday.
"He's played enough good football for us that we know what he's capable of. We know how he fits. You look at a guy with those skills and that size and we can use him and he' going to get better. He's going to fit with what we want to do. I'm excited to have him back."
According to reports, they've also re-upped tight end C.J. Uzomah and middle linebacker Preston Brown and are waiting for their signatures as the Bengals continued their first phase of acquiring players this offseason. That entails keeping the best of their young players with Brown not turning 27 until mid-season, Uzomah just turning 26 and Hart not turning 25 until training camp. Tight end Tyler Eifert and slot cornerback Darqueze Dennard are still on their radar, it seems, before they mix it up with free agents from other teams. Then comes the April 25-27 draft.
Brown barely played in his first season as a Bengal last year because of a spate of ankle and knee injuries, but he's just one year removed from leading the NFL in tackles and if he can regain any kind of movement they hope that's going to be an upgrade. Callahan is bullish on Uzomah because of his presence as a popular locker room guy as well as his athleticism in the pass game and physicality in the run game.
Hart jetted in from Fort Lauderdale Tuesday to sign a three-year deal that can max out at $21 million, guaranteeing he'll be the Bengals starting right tackle for the second straight season. For a new coaching staff that now has two tackles under contract, it feels a lot better than it did over the weekend. They feel like they've got an athletic guy with 37 starts before his 25th birthday that can do what their scheme dictates.
"That's what you do with everybody," Callahan said of Hart's tape. "There are some things that aren't that good and some things that are really good and you work with what is really good and there's a lot there with Bobby. When you have guys that have played in this league and know how to play the game and can take to coaching in the scheme and you make it fit, that's what happens."
It's been a typically wild first 24 hours of free agency. Former Patriots tackle Trent Brown, taken by the 49ers 22 spots before Hart went to the Giants in the 2015 seventh round, made a four-year $66 million killing in San Francisco. Ty Nsekhe, 33, who has 12 career starts, got $14.5 million over two years in Buffalo. Billy Turner, a third-round pick of the Dolphins in 2014 with 25 starts at tackle and guard, went to his third team for four years at $28 million in Green Bay.
As always, the demand for tackles outstrips the supply.
With Hart getting a base salary in the $5 million range this year, the Bengals feel like they're getting a player not that far off Trent Brown. Last season Pro Football Focus rated Brown the 70th best pass protector in the league while allowing 35 quarterback pressures. Hart finished 79th and 39th, respectively.
But the coaches aren't going off web sites like PFF that had Hart for allowing 10 sacks or the league stats that had nine NFL-leading false starts as a part of Hart's 14 penalties. They're looking at the tape and his history. Coming into last season, Hart had ten total penalties in 33 games before getting called for 14 in 2018.
"I don't think it's a normal occurrence," Callahan said. "Every penalty has its own story. It's not always necessarily on him. There might have been a miscommunication in the silent count. He did have two different quarterbacks last year. There are a lot of things that go into it."
Hart had five false starts in the last five games started by backup quarterback Jeff Driskel. His last flag of the season was one that's rarely called on a field-goal attempt when he lined up a little deep on the edge. He got hit with one false start because he was at tackle and got credited with it even though everyone moved before the ball was snapped. A review of his false starts shows many close calls as he straightens to pass protect in sync with the cadence. Hart relies on his quickness at the snap and there were times the officials said he jumped the snap and others when he didn't on plays that didn't look all that different.
But there's no question that "playing sudden," is one of Hart's strengths. The coaches like his ability to play quickly off the snap and Turner said at the NFL scouting combine earlier this month that the cadence of the snap count is going to be a point of emphasis. In the end, when the coaches dissected the film on Hart, they just didn't think the stats matched what the tape showed. Ten sacks and nine false starts aren't what they saw.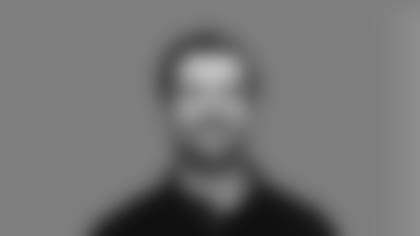 "A lot of times people will look at the stats. Stats are misleading a lot of times. It really comes down to, there are a lot of different pieces to that," Turner said in Indy. "I think what happens a lot of time is the snap count can be tricky. You have to make it tricky for them and not tricky for us. A lot of that is chemistry.
"The tackles sometimes, your tackles in a game at critical points, they will jump the snap count and be a little bit offsides and they will throw the flag and everybody will say, 'Oh my God.' What he is trying to do is get a jump on that defensive end. You just have to work it and work it and work it. In all my drills we use the snap count in every single drill. We will never just walk up and say go, go, go. Every rep they take they use that snap count. It's just a matter of gelling together. You got to do it from day one."
On day one, Hart was extremely impressed during his 45-minute meeting in Taylor's office.
"You can just feel his energy," Hart said. "What he wants to get done and how he wants to go about it."
Hart got the same vibe from Turner as the three bounced ideas off each other. He did a little research on his new line coach coming from Texas A&M, which was easy. Turner has a great relationship with A&M head coach Jimbo Fisher, Hart's coach at Florida State. Hart not only talked with Fisher, but two of his former teammates in Tallahassee that coached with Turner at A&M, former quarterback Sean Maguire and one of his mentors on the Florida State line, David Spurlock.
"They just told me how much they liked him and how much he knows the game and (Fisher) threw in his two cents," Hart said. "I really liked his energy, too, and his understanding of the game."
No, Hart isn't playing attention to Twitter. With a big smile he'll remind you, "I came from New York," with the Giants. Besides, he's on Instagram more. But either way he's not listening to the grumbling greeting his return.
"That's the fan's job," he said. "Every fan can't be happy about everything."
There are also just too many other things going on to think about all that. At the end of April, three-year-old Bobby Hart Jr., is going to have a sibling and now he and Brittney have to think about buying a home in Cincinnati after they rented downtown last year. He'll be here when the Taylor Era begins the second week of April in the off-season program, but he'll also be on call.
"It's a great time in my life," Hart knows.
There had been other inquiries. The Bengals weren't the only club trying to get an athletic tackle for a good price. But the Bengals just made sense for the Harts. There was the Florida State connection with Turner. Bobby loved the camaraderie in the Bengals locker room and the Thursday night dinners with his linemates during the season. Brittney, who has been with Bobby since they met when Bobby cut through a building to get to the football facility when they were at Florida State, loves Cincinnati. That building houses the students going for their master's degrees and Brittney was going for one in health care administration. Hart was just going to the field.
"I had no intention," said Hart of a master's. "I just cared about football."
Brittney completed her degree while pregnant with Bobby Jr. and has remained active running Senior's charity group, The Hart to Greatness Foundation. They'll be hosting their fourth annual youth football camp in Lauderdale this June and then later they'll have another backpack giveaway when school starts. They also adopt some families at Christmas.
"I'm sure she'll want to do the outreach in Cincinnati," Hart said.
Tough guy to hate. Even on Twitter.
"It is what it is," he said.
Like he said. He knows the score. He played in New York.
"Everything ties in together. At the end of the day it's to get my job done," Hart said. "It really doesn't matter. The thing that matters is moving forward. Keeping Andy (Dalton) clean. Making sure Joe (Mixon) can run and show his ability. We talked about (the cadence), but no one wants to hear why you jumped offsides. Don't jump offsides."