The Bengals began rebuilding their offensive line more than a year ago when new head coach Zac Taylor insisted on Jim Turner as his offensive line coach. Now after taking it from the ground floor Turner is looking to finish it off in his basement next to a water heater and ping-pong table as he meets with his crew in cyberspace.
"That's a new water heater because the old one broke down," Turner says Tuesday, a couple of hours before he begins another Zoom session. "Thanks to our friendship with an ice rink owner, we were able to get some hot showers."
The O-Line is just as new and the Bengals have been just as resourceful assembling it. There are draft picks and veterans. Free agents and waiver wire pickups. A No. 1 pick from last season and a sixth-round pick from last month that Turner coveted even before he met him at January's Senior Bowl.
"When I got on the plane, I had already watched tape of him, loved him and when they handed the roster to me he was on our team and I was very happy," says Turner of Kansas tackle Hakeem Adeniji. "When we landed, I found out they put him on the other team and I wasn't very happy. He was the best tackle in that game and separated himself from everyone there. No question."
Not only that, Turner thinks Adeniji is symbolic of the culture he and Taylor are creating up front and in the locker room with a core of young players and new veterans that have now planted a flag after this offseason's massive turnover.
"Talk about character and toughness," Turner says. "When I talked to him at the Senior Bowl, he was no BS. He never hesitated answering a question. A lot of guys, you can see the script in their heads. He's no phony. All about playing ball. You can tell he was raised right. He'll make an impact here. I can feel it."
The Bengals line up at Paul Brown Stadium in the Sept. 13 opener with two different Opening Day starters but only one that didn't practice with Turner and assistant line coach Ben Martin last season. Next to the linebackers, welcome to the most scrutinized position on the team as the line emerges from a withering offseason of analysis. Take a good long look.
Turner, the son of a Boston Globe pressman, has built the line with a blue-collar shade. Hard-nosed power. Lunch-bucket approach. Finishers. For the first time in three years this group has had back-to-back offseasons with the same line coach. Plus, they have an entire offseason with that dead last running game Turner and Taylor revamped in midseason that ended up finishing sixth in NFL rushing over the last half of the season.
"Do we have the character up front? Do we have the talent up front? I think we do," Turner says. "I think we're going to have a good, solid offensive line."
Now that Turner and Martin have the pieces, the biggest challenge is making them mesh. The best offensive lines aren't the most talented, but the most finely tuned. And that's only after walk-throughs, practices and games. How can they can reach that precision in a pandemic is the next step.
"Obviously, it's not the real deal. They can't feel your presence. We'd love to be together," Turner says. "But at the same time you make it work and everyone is playing by the same rules. Every coach is doing the same thing."
Turner is banking on the hard-hat intangibles smoothing out the wrinkles. Not that his guys lacked them last season, but he's looking at his two new starters, red-shirt rookie left tackle Jonah Williams and veteran free-agent right guard Xavier Su'a-Filo, taking them to the next level of chemistry. He sees the pair as huge additions in Taylor's cultural blueprint. 
"That's an understatement," Turner says. 
Williams, the 11th pick in last year's draft, came out of Alabama with a reputation for using the work habits of a 10-year pro that included microscopic attention to detail that he brought to last season's weekly scouting reports.
"You don't have to go far to see how character can help our team. Bringing him in here makes a difference for us that way at left tackle. He's what you want when it comes to character," Turner says. "Will he be a great player? We project he'll be a heck of a player or we wouldn't have brought him in here in the first round. If you watch how he performs and how dedicated he is and how smart he is. All the pieces fit."
Su'a-Filo, 29, who has 53 career starts, is the second 33rd draft pick on the Bengals. The 2014 top-of-the-second-round pick for the Texans joins Clemson rookie wide receiver Tee Higgins and is well known in Bengaldom from scouting and playing him.
"First of all, you watch the tape and he's a finisher," Turner says. "He's in great condition. He plays as well in the fourth quarter as he does in the first quarter. The tape tells you the kind of toughness and character you want. You spend time with him and he's a soft-spoken guy, but you can just feel it from him. A presence. This is a guy that wants to be a great player and he wants to be a part of everything Coach Taylor is putting together."
Turner looks at the two-deep and sees more competition than last season. Alex Redmond and Billy Price at guard behind Su'a-Filo and left guard Michael Jordan (last year's fourth-rounder) and tackle Fred Johnson (last year's waiver wire pickup) behind Williams and right tackle Bobby Hart. For those who always question when the Bengals are going to address their offensive line, look how Turner has made it in his own image brining in those monstrous guards he covets in Su'a-Filo and Jordan joining Redmond. Plus, he moved a smart, mobile guard in Trey Hopkins to center and helped make Williams the first tackle drafted in 2019.
"All three of those guys are bouncing between 315, 320 and 325 pounds," Turner says of his guards. "Mike is an enormous human being. Love the size, love the ability. He has tremendous intangibles, tremendous work ethic and look at how much he played. Total of 667 snaps, 14 at right guard, 15 as an extra tackle and the rest at left guard. I said to Mike in the offseason, 'We're obviously planning for you. We brought you in here to play.' He got banged up halfway through but played well down the stretch.
"Redmond is the obvious veteran prototype, having a mean streak, playing with an edge. They have the power, they like the contact. I love the wide bodies. That's why we drafted Mike. It's why Redmond is still here. It's why Xavier is here right now. It's very important to have that power, to be able to run the ball in there and stop the twist game (inside) in drop-back pass."
Now that Turner has his guys, he's got to do the seemingly impossible. Get five guys working together who are thousands of miles apart. The incumbent center is in Cincinnati, the new right guard is in Arizona, the first-year left tackle is in San Diego. Turner is in his basement.
"This is what we do," Turner says:
"The majority of what we're doing right now is watching the tape and installing. The same thing we'd be doing in the building. The great plus compared to last year is you have videos of most of these players playing last season. When you go into the tape to install plays, Mike Jordan is watching himself. Trey Hopkins is watching himself; Bobby Hart is watching himself. When you're the guy on the tape, you're a little more interested. You can critique them as you go through the different techniques and watch that human being right there do the exact thing you're trying to coach or not what you're trying to coach and straighten him out."
Turner and Martin can't grab them to show a move or refine a technique. But they can do the next best thing on Zoom. And Turner says his guys are doing individual drills before or after they meet.  
"If you're coaching Trey Hopkins on a single block, as you're talking to him you're talking to every player there," Turner says. "The bottom line is when you're coaching one of them, you're coaching all of them when going through the techniques. The techniques don't change from man to man. The techniques are constant. They do change slightly based on your body type, but in general they all remain the same."
Jonah Williams doesn't have much tape from last season, when most of his rookie year got wiped out by a shoulder injury. He did return for the last few weeks of practice and they are able to work with that.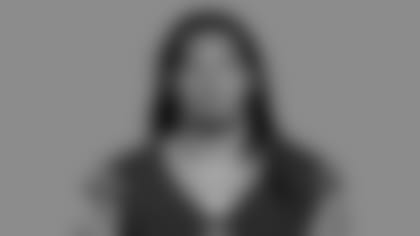 "It's the issue everyone is dealing with, not just us," Williams says of the line's quest for chemistry. "The best way to learn as an O-Lineman is actually physically doing stuff with the muscle memory and repetition. But the next best way is watching yourself and critiquing yourself and having Coach give you input on what you did wrong and what you can do better.
"That's what it comes down to. Everyone is their own individual player. If you're not going through drills in person with the coach, the best way is to be coached on your own tape through the Zoom meetings."
Turner isn't thinking about how many reps his guys need in how many practices or how many pre-season games to make them look like a ballet when it comes to unified line play. He's relying on those blue-collar principles.
"I feel confident with the character we have upfront, no matter how it unfolds, we'll be as ready as possible," says Turner from the basement. "Will we be better in the fourth game than the first game? Yes, we will. Like every other team. The question is will we be more prepared than the other teams we're playing."