The fate of the alternative onside kick is about as easy to predict as the mystifying bounce of some odd ball shaped like something called a prolate spheroid.
But since the NFL's most-tenured special teams coordinator resides at Paul Brown Stadium you can be sure one of the oldest gadgets in the game remains in the Bengals' arsenal even as the NFL mulls a trial run that would replace it up to twice a game this season.
The way Darrin Simmons sees it, as long as the old-school onsider is an option it has to be in the playbook. He'll continue to have kicker Randy Bullock practice as many funky kicks as he can, from worm-burners to sky-scrapers. He thinks the Bengals practice them plenty, but he also thinks more kickers should practice them more.
"There is going to be a lot more discussion now. There are a lot more options if it passes," Simmons says. "It can't change your focus a whole lot. If called upon, we still have to execute it."
The league can give the thumbs-up this week to put the fourth-and-15 proposal in place for a year after a two-year stretch the onside kick has gone from a longshot to a veritable miracle in the wake of player safety rules.
When they gave the numbers to Simmons and the coaches at the scouting combine, he wasn't surprised. From 2010 to 2017, onside kicks were converted 16 percent of the time, he says. When they changed the rules in 2018, it dipped to nine percent for the past two seasons. According to profootballtalk.com, that first year was jarring. The success rate went from 21 percent in '17 to six percent in '18.
"When they moved the start line up, you only had a one-yard start and it just made it much tougher on the timing," Simmons says. "It's just very difficult to get to the 45 with the ball kicked from the 35 in time to make a play."
But then, it's a little bit easier to convert the long pass. According to PFT, last season teams converted third-and-15 or fourth-and-15 at 15.9 percent of the time. But given it's from your own 25 and the clock is running.
"It becomes more risky to me if you don't get it," Simmons says.
Simmons, Zac Taylor's assistant head coach, spends a lot of time with assistant wide receivers coach Troy Walters, the man in charge of situational football. He has already envisioned some of the scoreboard clocks they may see this season.
"I do think more people will be inclined to use the alternative, but there are certainly some timing things that come into it," Simmons says. "You're down three points with 2:05 to go in the game. The clock is going to start on the touch on the kick. If you go onside kick there and don't get it, you still have the two-minute warning. If you do a fourth-and-15 play and the offense uses more than five seconds, now the game clock is under two minutes and if you're unsuccessful in executing, the defense takes over and takes a knee if you have no timeouts left the game is over because it's under two minutes. I think timing really comes into play.
"In the past, five seconds to go in the game, you attempt the onside kick and recover it and you have enough time for a play. But the fourth and 15 alternative from the 25 is a Hail Mary."
So maybe fourth-and-15 isn't the end all and be all. Just go back to the next-to-last game they played, last season's 38-35 overtime loss in Miami when, according to Elias, they became the first NFL team to score 16 points in the final 29 seconds to get a tie or a win.
They couldn't have done it without Simmons and his guys pulling off what may be one of the last successful onside kicks ever. They couldn't have done it with a fourth-and-15 completion from the 25, either, because with no timeouts they needed every yard, every second, every bounce.
It took exactly one second off the clock, from 29 seconds to 28, for kicker Randy Bullock to pull off the Bengals' first successful onsider in nine years with help from rookie wide receiver Stanley Morgan, Jr.'s jump-ball tip back to linebacker Jordan Evans at the Dolphins 46. On second down with 23 seconds left quarterback Andy Dalton whistled a 29-yarder to wide receiver Tyler Boyd over the middle and after he spiked it with four seconds left he lofted a 25-yard touchdown pass to tight end Tyler Eifert on the game's last play.
"A perfect storm" is what Simmons calls it. "Randy had the perfect kick. Stanley makes a nice play. Jordan gets the recovery. It has to be almost perfect to work."
Those back-to-back games in December showed the unpredictability of the onside and that damnable spheroid. The Bengals were a laughingstock at PBS against the Patriots when Bullock put the ball on the ground and the thing spun for a sad five yards before dying like a bad punch line. Then the next week in Miami Bullock skinned the grass with a textbook grounder-then-big-bouncer.  
"It's a very precise act. A very precise motion and you have to hit the ball perfectly to get the ball to do exactly what you want it to do," Simmons says. "It's like a golf shot. Do you want the ball to spin up or do you not want it to spin and bounce forward? You have to take into account a variety of things. Direction. Getting it to hit in the exact spot, and that's where the inconsistency comes in. Yeah, literally it's how the ball bounces. We have control over something and some we don't."
Simmons has built one of the more reliable special teams over the years and despite the Bengals' struggles last season on both sides of the ball they finished first in the NFL's combined kicking game, according to football outsiders.com
But Simmons has never been happy with their onside kicks. He can take you all the way back to a Mile High Christmas Eve in 2006. With a win putting them into the playoffs, the Bengals had just mangled an extra point and were down, 24-23, when tight end Tony Stewart recovered Shayne Graham's onsider at the Bengals 46 with 40 seconds left.
But rookie linebacker Ahmad Brooks was offsides and when they did it again, Denver grabbed it to end it.
"And he wasn't near the play. He was on the backside," Simmons says. "We've just never been able to execute it well."
Now, Simmons wants to see, first, if the proposal passes this week. And if it does, just how much it is used and who uses it?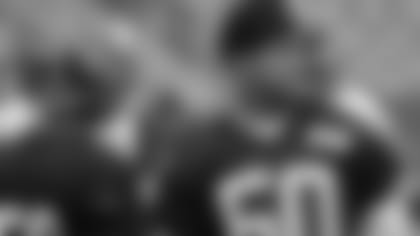 "I think a lot of it is going to depend on who your quarterback is. Is he a playmaker?" Simmons says. "Guys like Patrick Mahomes, Deshaun Watson, Lamar Jackson. You'll see guys like that use it."
But, at some point this season, even with A.J. Green and Joe Burrow, the clock and score might only allow the old-fashioned way to get the ball back.
"We have to be ready when called," Simmons says. "You have to go off what you see as your success rate. Not the league's. But how you see it for your team."