James Brown, his heart still racing with Bengals stripes, his blood still running with Who Dey orange and his voice still sounding like the spikes scraping across the Riverfront Stadium asphalt the day Paul Brown invited him into his locker room, is back.
For a year-and-a-half the COVID curtain has cut him off from his team. Since the day he said good-bye to his quarterback, Andy Dalton, the pandemic has screened off the team from their beloved J.B.
Until Sunday. When they both absolutely, positively Got To Have It.
Forrest Gregg asked him to lead the Bengals on to the field. Sam Wyche asked him to lead their victory chant in the locker room. Marvin Lewis asked him to come back and do it all again. Now nearly 50 years after he invited him to go on a road trip, Paul Brown's great granddaughter has brought him home to start another tradition.
With COVID protocols still reigning, J.B. can't do any of those things except light another fire in Bengaldom lore and this is how Elizabeth Blackburn is doing it. Blackburn, the Bengals director of strategy and engagement, calls the ceremony "The Ruler of The Jungle," and it happens about 15 minutes before each Paul Brown Stadium kickoff with a designated celebrity or Bengals personality leading the crowd in the Who Dey chant from a jungle-themed throne.
J.B., still sounding like that high-pitched ball of energy 79 years young, goes public with what he's done for years behind the locker room door as the first Ruler of The Jungle at Sunday's preseason finale (4 p.m.-Cincinnati's Channel 12) against the Dolphins. It's at the stadium named for J.B.'s friend on the first day they open the gates in more than a year.
"He took time with me," J.B. says of P.B. "A great man. The greatest I've ever met in my lifetime. A truly great one."
"I haven't met my quarterback. I haven't met the wide receiver. I haven't met anyone," J.B. says earlier this week, a gentle reminder that a year-and-a-half in the NFL might as well be a decade-and-a-half.
"You're always going to miss being there. But I didn't want to take the chance of messing something up. I want everyone to be safe. You have to do that sometimes. You have to make sacrifices for something you love when you dearly care about it and you care about all the people that are involved."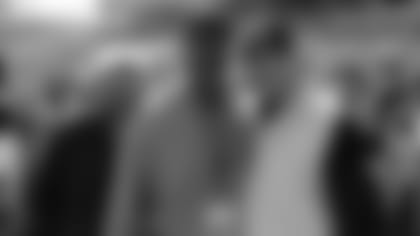 Like every great legend, the story of how J.B. and the Bengals became one in the same emerges from that mist of time that yields a little bit of myth, a little bit of truth and a lot of love. Really, it began about the time J.B. moved from Alabama to Middletown, Ohio with his three children and wife Catherine. That's about the time Paul Brown settled the Bengals in Cincinnati. After watching Joe Willie Namath quarterback the Crimson Tide, J.B. was a football guy all the way and he took to meeting the Bengals at the airport after every game.
Justin Williams, who penned the seminal J.B. story in a 2015 issue of Cincinnati Magazine, had to go to Hollywood to best describe a purely Ohio story:
There's a scene in the movie Groundhog Day in which Bill Murray walks through the local diner with Andie MacDowell, relaying the personal secrets and anecdotes he's learned about each customer as a result of reliving the same day over and over. "Maybe [God's] not omnipotent," Murray deadpans. "He's just been around so long he knows everything."
That quote could very well apply to JB. It's part of the reason he's garnered so much reverence in the locker room, why his history with the club is passed down from player to player as something approaching legend: He's always been there.
This is how long he's been here:
In' 72, Paul Brown poked his head back out of the locker room and asked him what he thought of his mid-season blockbuster trade that brought him Charlie Joiner.
When Paul Brown introduced J.B. to his first-round pick in '76, he told Archie Griffin, "This is our No. 1 rooter. Our No. 1 rooter."
In '81, he led them on the field during their first Super Bowl season.
In '88, he helped them celebrate a return trip to the big game with such a resounding Who Dey chant after the AFC championship it would catch the eye of a future Bengals head coach.
In the '90s, J.B., who always met the team at the airport before the rules changed after 9/11, carried Willie Anderson's luggage through the airport terminal after he got hurt in a road game.
In 2010, J.B. extended his work to training camp when he led them on to the field at Georgetown College for Terrell Owens' first Bengals practice.
While Lewis led the Bengals to seven postseasons in 14 years in the early years of the 21st century, Domata Peko once had shirts made with J.B.'s picture and his signature "Got To Have It," saying and gave him a box for his friends and family.
Sam Hubbard, the Cincinnati product who currently wears Peko's No. 94 into the Zooming '20s, tells you to this day, "I think J.B.'s energy and traditions like that are what makes being a Bengal special."
He's not a coach. Not an employee. He's not paid. But he's blood.
He's been here so long, Marvin Lewis remembers meeting J.B. nearly a full decade before he became the head coach. When he was coaching the Steelers linebackers, his fellow Pittsburgh assistant, future Bengals head coach Dick LeBeau, introduced them before a game.
"My first year there we were bringing in the alumni players for the rookie camp dinner and (video director) Travis (Brammer) was putting together the video so the draft picks would understand the heritage and history of the team," says Lewis of 2003, when, like Blackburn 18 years later, he wanted to start a tradition by honoring tradition.
"Travis is showing me the video and there's J.B," Lewis says of the Sam Wyche days of the Who Dey chants. "I remembered meeting him and I said, 'Where is this guy?' I'd been there two or three months and I hadn't seen him. 'Oh, he doesn't come around as much anymore.'"
So Lewis hunted down Bill Connelly, then the Bengals Mr. Fix-It director of operations, and consulted with Bengals president Mike Brown.
"Connelly got a hold of him and Mike told me the story," Lewis says. "How he would come out after every game back when his dad was coaching. And one day Paul went over to him and struck up a conversation and he became part of the fabric.
"He would lead the team out and that was cool. The guys loved that … Mike was gracious enough to send him on one road trip a year … My biggest job for him was after every win, if he was there, he would lead the Who Dey chant. The guys just loved that. I think being a rookie you don't appreciate it as much as the guys tended to do later on. It's a great tradition and he was able to carry it on."
Even before Lewis came, the players had a feel that J.B. had a feel for them. Willie Anderson remembers when J.B. would be on the road, veterans like him and Lorenzo Neal would ask him questions about the team's history.
"He had such knowledge of what came before. He saw it and it was great to be able to talk to a guy like that," Willie Anderson say. "He was great. He was always there for us."
Former running backs coach Jim Anderson, the longest-serving Bengals assistant, was with J.B. for all 29 years. He loved the loyalty and the commitment, showing up at the airport in all kinds of weather. The positive vibes. The selfless support.
Anderson remembered when first-round pick Glen Collins was still a young player, J.B. would growl, "Take the baby diapers off. Let 'em play."
There is Got To Have It. But Willie Anderson also remembers, when they were on defense, "HumDee." And there was, "Roll over."
In his first year in 2019, head coach Zac Taylor kept the J.B. tradition going. He led them out for that win over Cleveland in the 2019 finale and chanted after, but he hasn't been seen since.
Until Sunday at 3:45 p.m.
Now Joe Burrow is his quarterback. Now Tee Higgins and Ja'Marr Chase are the receivers. He still hasn't been able to say hello.
"When a new player comes in and meeting and greeting them. That's what I miss the most," J.B. says. "You miss that part. You do. It's going to be nice to be there and to be part of the activity and being on the program."
Last year, the farthest J.B. could get was the press box. On Sunday he'll be in the club seats. But only after he does the chant and he'll do it even better than he did after that win in Cleveland a few years ago.
That's one of the games that J.B. can drive, so the players were happy to have him around and were chattering while easing to a rout. After it was over and Lewis was talking to them, the players couldn't contain themselves.
"They were all fired up. The guys were hollering at me to go and get it started. But he was still talking. You have to listen to the coach," J.B. says of the chant. "I got along with all the coaches."
Suddenly, Lewis abruptly stopped, sat down and waved in J.B. "Come on. Let's go."
"That's when I hit it," J.B. says. "We all wanted to beat Cleveland. Everybody on that team wanted to beat Cleveland. We turned that place out. Yes we did.
"I'm telling you, that was the thrill of a lifetime. I hit that thing as hard as I ever hit it. I really hit on that one. They were hollering for me. But I never get in front of the coach. You can't get in front of the coach. You have to do what he says."
J.B. is a by the book guy. A P.B. guy. Lewis used to kid him about how slow he drives his van. "55 and gripping the wheel," Lewis still says.
Sunday's drive down to The Paul is going to be just like all the rest.
"I've never got a ticket going down there," J.B. says. "I'll just roll down."