BENGALS INVITE FANS TO PAUL BROWN STADIUM
FOR FAMILY DAY TEAM SHOWCASE  AND ATTRACTIONS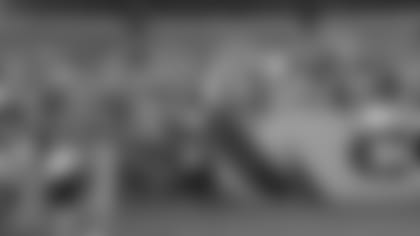 The first of two "Family Days" during Bengals Training Camp, presented by Fifth Third Bank, will be held Saturday at Paul Brown Stadium. It's the first Bengals event this season inside PBS.  Free parking will be available in stadium Lots D and E.
The team practice will feature the Mock Game, with QBs Andy Dalton and Jason Campbell leading different squads in skills drills against the defense. A range of kid-friendly activities will be available, and the full team will sign autographs after the practice. Fans can also win Bengals prize packs by submitting photos via social media with #LetsRoar.
Gates will open at 12:30 p.m. Players and coaches will start taking the field shortly after 1 p.m., and practice begins at 1:30. It's expected the autograph session will begin around 3 p.m.
"There is plenty of room in the stadium for everyone," said Bengals vice-president Katie Blackburn. "We want to welcome all fans to our 2014 season, and we hope the date being a Saturday will help people make it."
Kid-friendly attractions on Saturday -- all free to all fans -- will include inflatables, face painting, balloon artists, pictures with team mascot Who Dey and an NFL Play 60 Activity Zone. Also in the lineup are cornhole games, the Ben-Gals Cheer Zone, and appearances by "The Growl," the team's drum line.
The first 1000 fans to enter will receive a gift card for a free pizza from Papa John's, the team's official pizza sponsor.  The first 1000 kids to visit the Kids Club Booth will receive a Bengals cinch pack, a poster and a chance to win a Kids Club membership. All fans will have an opportunity to win one of 10 Bengals Prize Packs by simply tweeting a photo from practice with #LetsRoar.
The second Family Day at PBS will be held on Sat., Aug. 9, with practice beginning at 3 p.m.
For more information on Bengals Training Camp or Family Days click here.
](http://www.bengals.com/team/training-camp.html)